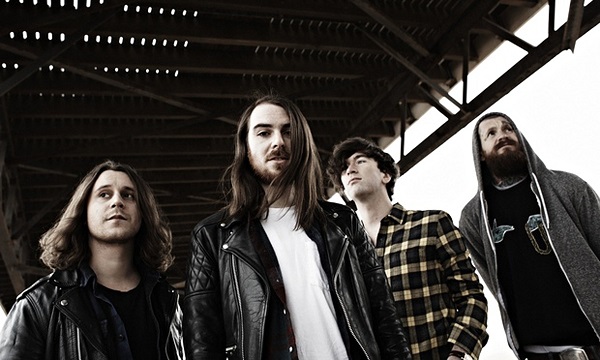 "…it's mainly about performing and the atmosphere when you do perform and one of the most important things for us is to have this sense of well almost community, we want everyone to be involved and we don't want anyone to feel left out and it's more about everyone in the room than it is us…"
From Bio: Pulled Apart By Horses are less a gang and more one big fucked-up dysfunctional family. The Leeds quartet are a tightly-knit rock band who make music that thrills and menaces, their songs armed with suckerpunch riffs and zinging choruses. They formed in 2008 out of the ashes of various bands in Leeds. Since then they have existed in their own chaotic ecosystem, embarking on relentless tours around the world and stopping only to make 2010's punkily infectious self-titled debut and its snarling 2012follow-up 'Tough Love' (produced by Gill Norton – Pixies/Foo Fighters etc.) . Everything they've done has been drenched in a sense of youthful recklessness, of all or nothing ardour. With third album 'Blood' they have taken things a step forward with wider musical and lyrical themes, embracing their love of psychedelic cinema and developing as a band whilst retaining the thrilling 'Horses sound.
In nice and cold England, James Brown called in for a chat about the band's upcoming return to Australia, their latest album, their upcoming NEW album, highlights, and much more… so lift your shoes high and get up with James Brown…
You're heading back to Australia for some shows, what can fans expect on this run?
Actually on this run that we're doing, we're doing a few gigs in the UK, warm up shows with a band called The Cribs and then we fly out to Australia after that, and we've already started work on the new record and it's gone quite well and happened quite fast. So we're actually going to be playing some new songs on this tour, we thought we'd road test some of them in Australia, so we'll be doing some new stuff and I'd say to expect a lot of hair, a lot of sweat and loads of riffs *laughs*
No strangers to Australia, do you have a great memory of a previous tour here?
Oh yeah, we did a show at one of the smaller festivals called Golden Plains festival in Meredith and we came over to play that, there was loads before us but towards the end of the set everybody started taking their shoes off and pointing them in the air and the entire crowd at the stage that was watching us all had their shoes in the air. We were really worried that we'd done something wrong and everybody was going to throw shoes at us *laughs* because we said something that we shouldn't have said, then we came off stage and spoke to the promoter and we were like "Oh no what did we do wrong?" and they were like "You got the boot" we said "What does that mean?" he said "It means best band of the festival, when everyone takes their shoes off and holds them in the air it means they think you guys are the best band of the festival" but we genuinely thought we were about to have a thousand shoes thrown at us like we'd said something really offensive to Australia *laughs* it's great, that's what's cool about coming out to Australia, stuff like that wouldn't happen in England, no one would even think of taking their shoes off at a festival and holding them in the air, it's just like things like that make you want to go back, it's just a cool thing.
You guys are a relentless touring band, what is it that you enjoy and get out of the live aspect of being in this band?
I think the live thing, I think any band is the same, it's mainly about performing and the atmosphere when you do perform and one of the most important things for us is to have this sense of well almost community, we want everyone to be involved and we don't want anyone to feel left out and it's more about everyone in the room than it is us, we're there to kind of make people smile and dance or hum or whatever, it's all about the atmosphere and I think when there's good atmosphere at a show especially like a smaller show, like an intimate show that it's just like the best feeling ever for us and it's probably a good feeling for everybody watching. I think the best thing about live is getting to see people and meet people and play to people and talk to people and we like to and it sounds cheesy but to engage with the fans and the audience because I think people remember that and it's just a nice atmosphere to be in rather than going to see a heavy band who don't speak a word, speed through a forty five minute set and stick their middle finger up and throw their guitar on the floor. Yeah that might be cool but we're not really about that, we want people to have a good time and remember and get involved.
You've had the chance to play massive festivals all over the world and with some huge bands, has there been a specific so far can't be beaten highlight for you from any of your shows?
I always say this, but there's a couple. There's a festival here in England that you might have heard of called Leeds and Reading Festival and we've played that about seven or eight times or something stupid *laughs* we're the house band, and I think it would have to be festival wise when we played the main stage at Leeds and Reading because we all went to the festival as kids and we'd always be at main stage watching these huge bands like Rage Against The Machine, and Metallica and Slipknot and all sorts of massive bands and none of us ever thought for a single second or a day that it might be us on the other side of the barrier playing to the audience. We didn't really think about it and the first time we played the main stage we went out and we looked down and we'd not seen it from that viewpoint before and I think it was just really kind of emotional and overwhelming for us, so much so that it was kind of difficult to play the first couple of songs because we were like "OH MY GOD" *laughs* so I'll probably never forget that. There's a band we've made really good friends with over the years called Biffy Clyro and we toured with them, a fantastic band, absolutely amazing lads and we did a tour, our first ever big sort of tour was with them in the UK and we were just young idiots and they showed us the ropes. They showed us how to tour basically, like professionally, because we were just a couple of lads with a guitar and a little van and we never did a tour like that and they literally took us under their wing and showed us how to tour and how to basically not get drunk and mess up and sort out your equipment, and we learned loads of stuff from them and kind of became good friends with them. So I'd say definitely the Biffy boys because it was amazing to play with kind of like minded band and stuff and they just kind of showed us how to do it I guess.
'Blood' is your third album and being out for over a year now, how has the last year been for the band?
It's been really good, 'Blood' in the beginning before it was released it was quite difficult because we decided to spend a bit more time making the record, like the other records we made were written and recorded very quickly in between touring, so we purposefully took some time out from playing live which is really, really hard and kind of fucked us up a little bit because that's what we do and we're good at. People do sometimes say that 'Horses' are a better live band than they are recorded and so we purposefully kind of sat down and took some time out and spent a year writing and over three months recorded the album which we'd never done before, so kind of a proper taking some time out and thinking about making a record rather than just being thrown into a studio for two weeks, which was kind of tough in the beginning but then once it was released we got a top 40 album in the UK which we never expected because we're a noisy bunch of lads or whatever, so that was fantastic. Being locked away for so long and then getting to get out and play the album was so much more exciting because it was like we were building up this sort of nervous energy so when we did actually go out it was this cathartic release and it was just really, really kind of amazing for us to be able to get back out and play all these new songs. It was good because I think that album went down a bit better in some other countries, got some radio play in Australia and Europe, so it was a really exciting time for us, but with such a high like that, when it comes to an end it's kind of like 'Oh… now what?'  So… and I probably shouldn't say but we pretty much have got a new album ready *laughs* because we're so eager to do it again.
Are you finding it's becoming easier to create music now as a band with seven years and three albums under your belt?
I think with Horses it's kind of always been easy to do it because there's not one song writer, we all kind of write together and everyone's always got some ideas, and I think the thing with us is it's always been easy to write and we've probably got close to sixty songs we've never released, but that's the thing, we can write, but it's more kind of like what's the good stuff? So we can keep writing but you get to a point where you don't know what's good and what isn't and it's strange with us, people are quite precious about the music but we're not, we kind of like to send it around to people and say 'what do you think of this?' but we've always found it easy to write, it's just whether the songs are shit or not *laughs*. The only way it could become easier is if we decided to just make sort of punk songs or we just decided to make rock songs or decide what to do and continue making that same thing, but if it became too easy I think it would become boring and we'd lose interest in it, and I think fans would as well if we just put out the same sort of stuff, at least try and do things a little different, I mean it's not worlds apart but each album you can hear there is a different sort of angle, but yeah, it is quite easy but I think if it becomes too easy it just stagnates and we'd just get bored.
So is the new album going to be along the same lines as 'Blood' or are you going for something a little different?
It's really hard to explain *laughs* it's kind of at the moment, it's sounding quite garagey like garage sort of thrash but some of it's sort of happy like almost glam like bordering on T-Rex kind of stuff and I think they're kind of feel good songs at the moment, 'Blood' was kind of a bit or an adventure in stereo, it wasn't progressive rock or anything, but it was a more kind of subdued with the you know hundred miles an hour riffing and more of a sort of subtle sort of laid back vibey tracks. Whereas this one's more like in your face, kind of not thrash but kind of rocky pop, it's a bit more feel good at the moment. But yeah, it's hard to put our finger on it because it's not quite finished and stuff but yeah, I'd say it's pretty feel good.
My photographer Annette adores you guys and wanted me to ask about the Blood Red Shoes 7", and how you decided to do the covers /collaboration and how did fans respond to it?
Oh yeah, I forgot about that *laughs* that was another band that, you know you tour with a lot of bands and I'm not gonna lie, some of them are horrible *laughs* and some of them are really nice people and Blood Red Shoes was the later of the two and we got on with them really well and we both really like each other's music, and I think it was in some downtime when we both didn't have anything to do and we literally said why don't we do something together, and we couldn't think of anything then I suggested we picked the favourite song of each band that we all liked and we just covered it. Yeah we just spent the day each recording it and we thought how can we make this cooler, we were like well, let's do a double sided vinyl, so each side each band does their own cover and we make it sort of cool and for the fans and stuff. So we kind of put that out not thinking much of it, it was kind of for our own purposes, we just wanted to do it for ourselves because we thought it would be funny and cool to hear each other play each other's songs, and we put it out on vinyl and it sold out in about a day or something which was really unexpected. So that was great to do, it was like a bonding really *laughs* it was a bit of bonding between the bands, but everyone really liked it. We should do another one really, but it's always times are difficult, part of being in a  band you never really find time to do anything other than touring and writing albums.
Lastly, let's look ahead to the future, so finish this sentence for me, in 2016, Pulled Apart By Horses will…
Be undoubtedly touring the world again, and probably losing a few more hairs and gaining additional injuries *laughs*
Catch Pulled Apart By Horses in Australia at the following dates
Wednesday 28th Oct Dr Martens Party, Sydney – BUY TICKETS
Thursday 29th Oct Crowbar, Brisbane – BUY TICKETS
Friday 30th Oct Ding Dong Lounge, Melbourne – BUY TICKETS
Saturday 31st Oct Ding Dong Lounge, Melbourne – BUY TICKETS
Presented by XIII Touring
Essential Information
From: Leeds, UK
Band Members: Tom Hudson – Vox/Guitar, James Brown – Guitar, Rob Lee – Vox/Bass, Tommy Davidson – Drums
Website: http://www.pulledapartbyhorses.com/
Latest Release: Blood (Out Now)