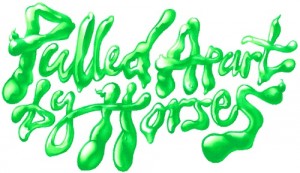 Pulled Apart By Horses announce their return to Australia in October with East Coast shows in Sydney, Brisbane and Melbourne
Well known as a tight-knit rock band who make music that thrills and menaces. They formed in 2008 out of the ashes of various bands in Leeds. Since then they have existed in their own chaotic ecosystem, embarking on relentless tours around the world including performances at Golden Plains and Soundwave Festivals.
Pulled Apart By Horses released their infectious self-titled debut in 2010 followed by sophomore album 'Tough Love' in 2012. Now with their third album 'Blood' they have taken things a step forward with wider musical and lyrical themes, embracing their love of psychedelic cinema and developing as a band whilst retaining the thrilling 'Horses' sound.
Pulled Apart By Horses can't wait for you to hear the mind-blowing album they've made. Having received incredible responses across the board from critics.
"Best album yet, Pulled Apart By Horses have captured their own genie."– Q
"One of the smartest bands to occupy a position on the heavier side of British rock." – 8/10 The Line of Best Fit
Surely the greatest live band in Britain? Yeah, Buddy! Be sure to catch them when they come your way!
TICKETS ONSALE WEDNESDAY 12th AUGUST
Wednesday 28th Oct Dr Martens Party, Sydney – BUY TICKETS
Thursday 29th Oct Crowbar, Brisbane – BUY TICKETS
Friday 30th Oct Ding Dong Lounge, Melbourne – BUY TICKETS
Saturday 31st Oct Ding Dong Lounge, Melbourne – BUY TICKETS
FOR TIX GO TO WWW.XIIITOURING.COM
www.pulledapartbyhorses.com www.xiiitouring.com