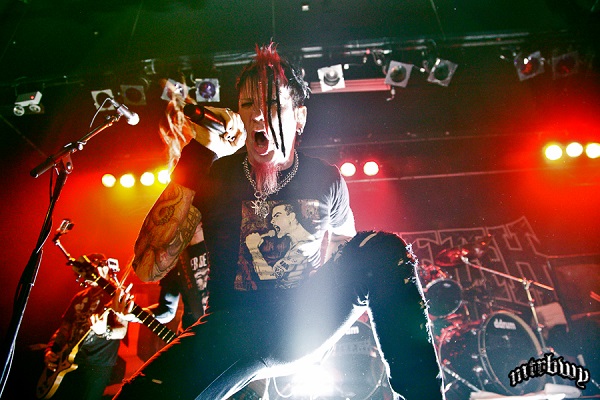 It's been three years since Hellyeah have hit Aussie shores, and with a new album 'Blood For Blood' in tow, I'm sure tonight is gonna be off the hook, the chain and anything else things can be off. So get ready…
Carbon Black opened the show to a nice little crowd that grew ever so slightly after each song. These rockers from the Sydney / Wollongong area play it loud, heavy and it's the perfect way to open tonight's festivities. Big riffs, big vocals and driving rhythms, all ticks in my book and it's been a while since I've been to a gig so it's nice to get the ears back into condition with some excess volume.
Bellusira are back in Australia after spending much time in the USA away from their home here to go and make waves over there and doing it ever so nicely by recently recruiting Static X guitarist Koichi Fukuda and drummer Tosha Jones, I can't wait to hear some of the old stuff I already love, as well as hopefully a taste of what is to come from a new album. Opening with old favourite 'Cachango' they get rockin from the start, a couple of little technical glitches but once underway again we get their new single 'Black seed' all surprisingly all new stuff to follow. Crystal is energetic and vocal as ever and judging by the number of people I saw coming back from the merch stands with Bellusira's CD after their set, they won over a number of people tonight. Bring on the new album!
Hellyeah… Lights out at exactly 9:45 and as Vinnie Paul takes his place behind the kit, the crowd roars as he spins his sticks and smiles, then as the remainder of the band take the stage, they launch straight into 'Soul Killer' and it's mental! Chad is on fire, his voice sounds fucking on point, wow. The band are as tight as you would expect and this is gonna be fun!! Straight into the title track from their newest album 'Sangre por Sangre (Blood for Blood)' and as the floor goes nuts and starts to open up, strobes flash, the intensity is second to none tonight.
'Demons In The Dirt' is crazy as shit, fuck, if this intensity stays up for the whole gig, I'm gonna be tired and I'm only watching ha ha. 'War In Me' somehow takes it up a level and although it's hard to take your eyes off Chad, man he's a killer front man, but of course it's not just about Chadness, the other guys really help make this show with new additions Kyle Sanders on bass and guitarist Christian Brady slaying and not missing a note and along with guitarist Tom Maxwell just nailed one hell of a harmony guitar solo. Then there's the effortless playing of Vinnie Paul, he's beating the hell out of the skins but he makes it look so easy, goddam legend he is.
"You have to embrace this shit to the full fucking potential…" Chad's message for us all as we embrace the band and their message and there's always time for a little Slayer… Discussions about Heavy Metal continue as the crowd hangs on every word. 'Moth' is heavy yet practically a ballad for Hellyeah and fills the room sounding outstanding. Ballad be gone… 'Cross To Bier' helps blow the roof off again as does 'Say When' which is crazy!! 'Hush' slows it down again for us, and a well needed slow down that's for sure, as it helps to catch your breath once in a while. This song is a highlight tonight, I guess after Chad explained its message it took on a bit more meaning and that helped me love it even more tonight. Of course the sombre moment lasted the length of the song as we are now getting 'Drink Drank Drunk' and getting fucked up. This is heavy and definitely the highlight of the set so far for me. Brutal!! 'Gift' intensifies once again as Chad gets down amongst the crowd and if I'm counting, that's eight tracks off the new album we've heard which is kinda cool in the way they suit the set and watching the crowd from the back It's obvious they dig the new stuff too.
Chad once again reminds us how awesome we are, and it's time for 'The Cowboy Way' and by the looks of the floor they've been waiting for this one. Holy shit, Chad just held the last note perfectly and slayed it. That was impressive!!  After the band introductions and crew love, it's time for a singalong with 'You Wouldn't Know' and leaving us with the bands namesake song 'Hellyeah' they gave us everything until the very end.
Oh but hold the phone, they're back! 'Alcohaulin Ass' is definitely where we leave it tonight, although I personally enjoyed how it was written / possibly autocorrected on the set list 'Audible & Ass' it works just as good.  So, in my three or four times seeing Hellyeah, that's by far the best I've seen the band, and that was exactly what I needed tonight, a heavy, tight, entertaining metal show. Hellyeah delivered. Will I catch them again? Hellllllllllyeahhhhh!!
Essential Information
Venue: The Metro Theatre – Sydney
Presented by: Metropolis Touring
Supports: Bellusira & Carbon Black
Date: August 27, 2015
Website: http://www.hellyeahand.com
Photo by: Annette Geneva – Every Day Is Saturday  – Check out our full gallery HERE
Check out our recent interview with Vinnie Paul of HELLYEAH – HERE
Set List:
Soul Killer
Sangre por Sangre (Blood for Blood)
Demons In The Dirt
War In Me
Moth
Cross To Bier (Cradle of Bones)
Say When
Hush
Drink Drank Drunk
Gift
Cowboy Way
You Wouldn't Know
Hellyeah!
Alcohaulin Ass