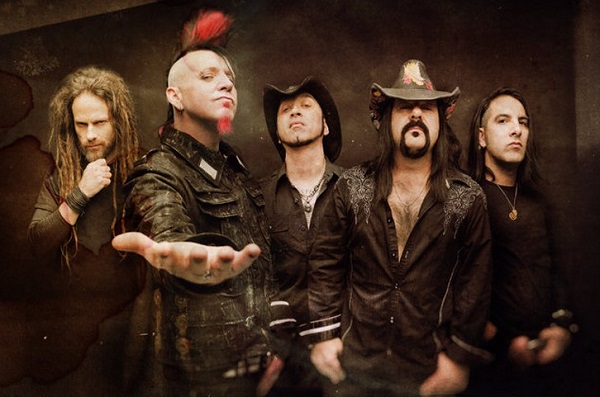 "…it's hard to keep the ship floating in the right direction when you've got some people that are trying to lean it off to the side. So once we were able to get rid of the people that were the problem, everything really fell in line with myself, Tom and Chad, we've always been on the same page and we just needed to get two other guys that were really on the same page, had the same focus, vision and everything that we did, and we did that."
From release: After eight years, three albums, countless tours as headliners, festival favourites and as Special Guests to A7X, Volbeat, Five Finger Death Punch and more, HELLYEAH have gone for the jugular with their latest album Blood For Blood. Every song on the album is a belter and doesn't give the listener an inch. And the bands live shows have been more intense than ever! With the recent addition of Sanders and Brady, the guys have a new found energy that feeds the crowd relentlessly and sees them going nuts and moshing from the front row to the back every single night. HELLYEAH Live in 2015 delivers the best of both worlds. Fans are clamouring for this tour all over the world!
In a 111 degree Las Vegas we chatted to the legendary Vinne Paul about Hellyeah's return to Australia, their most recent album 'Blood For Blood', his love for this band and music in general and much more…
We're here because you're heading back to Australia in August, and mate, it's been a long time since your last headline run, and with new blood in Kyle and Christian now in the band what can we expect from a Hellyeah show circa 2015?
Oh man you know they definitely help bring a fresh new energy to the band you know, we just came across some problems with Greg and Bob and they just weren't dedicated to the band like the rest of us, and it was getting in the way of what we wanted to do. So we knew to make the best record possible and to really give the best shows possible, we had to part company with them and bring in Christian and Kyle and it's just been a dream, man, those guys give it every night and it helps drive us farther and the shows have just been fantastic. So I think you guys are going to see the very, very best Hellyeah you've seen yet.
With a new album in tow and as the catalogue grows how do you go about putting a set list together these days?
Well you know with the success of the new record we really focus on that, I think we do eight out of the ten tracks live every night. So we do all those, then we just mix up some stuff from the previous three records but definitely the focus has been on the 'Blood For Blood' record.
Australia has always loved you guys and you in particular, but besides the shows, what's your favourite thing about Australia?
Man I tell ya, people ask me all the time where's your favourite place in the world to tour and I always say Australia, it reminds me of one gigantic Texas, the people love to drink there, there's barbeque there and they love their music hard, loud and fast, man, it's always a great time down there, I've never ever been disappointed and I'm really looking forward to coming back. It's been almost five years since we've been down there last, so way too long and we're glad everything fell into place and we're able to do an Australian and New Zealand tour while we're down there.
My friend Megan said I had to ask you if we can expect one of your famous Vinne Paul BBQ's while you're here?
Absolutely, if we get a chance and the right stuff is there, it'll be a little more difficult than normal here in the US because I always have the barbeque stuff with us on the road in the bus and everything, but since everything is flying down there. I might try and advance it and make sure that one of the shows has some barbeque stuff, but if there's a chance I would definitely love to do it.
'Blood For Blood' has been out for just over a year, so how has the last year been for you guys since its release?
It's really opened a lot of doors for us, we knew it was a make it or break it record for our career and once we completed the record we really felt we had made the Hellyeah masterpiece that we'd been looking for all along. It started with a tour with Avenged Sevenfold last year in April all over the United States and Canada, then we did a really great tour last summer with Five Finger Death Punch, Volbeat and we did a lot of super badass festivals, as a matter of fact we just finished over in Europe playing Download and a lot of other large festivals, that was amazing. Now we're about to start on the Mayhem tour with Slayer and King Diamond which is going to be the biggest metal tour of the summer here, man. So we've been very busy and the 'Blood For Blood' record really has opened a lot of doors for us and we're really happy that things have worked out for us that way.
It is such a raw, brutal sounding album, did you go into the studio with an idea of how you wanted to make this album or was it almost a case of natural progression for the band?
I think it's a very, very natural progression you know, with the first two records they were very experimental for us and we really wanted to not put any boundaries on anything that we did, we wanted to do things we didn't do in our previous bands and we did that, we tried songs with Southern Rock, almost country, blues, straight up rock and roll and some metal mixed in there, but it was a really big diverse melting pot of music you know. Then we kind of got that out of our system on the 'Band of Brothers' record we decided we really wanted to get back to our metal roots and bring the elements that we brought to our previous band into it and I think we made a very metal record. Then 'Blood For Blood' we took it to a whole other level and really focused on the song writing and the production and it all really came together on that record for us.
It sounds like this has lit a fire under you guys, so can we expect more from the band sooner rather than later?
There's definitely more fire, man, like I said, it's hard to keep the ship floating in the right direction when you've got some people that are trying to lean it off to the side. So once we were able to get rid of the people that were the problem, everything really fell in line with myself, Tom and Chad, we've always been on the same page and we just needed to get two other guys that were really on the same page, had the same focus, vision and everything that we did, and we did that.
It's now eight years that Hellyeah has been with us, what is it that you enjoy about being part of this band?
I love playing live, man, I love playing for people, there's nothing like travelling around and just seeing different faces and different places, you know, one night it might be a 500 seat club and the next night might be 80,000 people at Download, so they're all different, special situations and they're all kick ass. Just playing, that's something that keeps me young, I enjoy it, and whenever I'm off the road I feel like for five minutes I needed a break from that, but five or ten minutes later I'm like, man, when's the next tour date I need to get back out there…
Looking back to your debut album, now besides the obvious band member changes, what for you has been the biggest and most notable evolution that you feel has taken place within the band?
I just think it's become more focused over the records, it really came all the way full circle to being something very different from our previous bands and something more like our previous bands, just a real Metal force, and I think that's what people expected from us from the start, but we really wanted to step out and experiment with something different and I think like I said I think it's just come full circle, back to where we all started with Heavy Metal fans, ourselves, and just making good kick ass Heavy Metal music.
You've been making music and in the industry for quite some time, and from a veteran of it, I'd love to know what the biggest thing you feel you've learned about the industry that you didn't feel would be a part of it all when you started in a band?
Man, you know, when we came out early on in the 90's there was hardly and digital technology, unfortunately it ruined the industry basically, it made piracy available, it made things for people who don't even know how to play instruments program computers and make music, I would've never foreseen anything like that happening. I've always been a traditionalist in terms of music and when you look back at the classic records that are amazing, Black Sabbath, Judas Priest, Iron Maiden, Journey, Rush, Heart, all those records man, those people had to play every single note on those, they had to sing every note, there wasn't this thing called cut and paste, you couldn't pitch correct things and fix things for when people can't sing. So I think they took a lot of the human factor out of it and I think that's why a lot of today's records don't have much feel to them and just feel like they're manufactured so to speak. Digital is great, it makes things simple and easy, but it also took a lot of the quality and TLC that went into making records.
So after everything you've done, is there something you haven't done or somewhere you haven't been that you still need to tick off the list?
You know I've pretty much been there and done everything that I could ever dream of with Pantera when I was a part of that, and my goal is to just keep having larger and larger success with Hellyeah right now, we bust over hurdles and it feels like a big accomplishment, you know this has been a complete starting over in my career, like when you're in Pantera or Mudvayne or Nothingface or something and all of a sudden you go to a band called Hellyeah you're not at that same level and you go right down to the bottom of the totem pole and you really gotta claw and scratch your way back up to the top. We've been fighting really hard and working at it and with the years we've stayed with it and with the 'Blood For Blood' record things are really starting to fall in place, we had two top ten singles in the United States off this record so far and we've been embraced by the European fans and we feel like we've got a great fan base down in Australia and it's just been too long since we've been back so we're looking forward to coming back down there and I bet all the shows are gonna be sold out and kick ass and we're just excited that we get to come back.
Now of course you've toured with a lot of bands, but I know how much you love music too, so who are you listening to at the moment that we should be looking out for?
Yeah I'm a really big fan of this band called Royal Blood, man, I'm sure you guys have probably heard of them, but they're a two piece band, a bass player that sounds like a monster guitar player *laughs* and they've got some really cool jams and that's probably the newest thing I've heard that I really dig. I've never seen them live but I love the music and all the clips I've ever seen looks like it would be a great live show, so hopefully I'll get a chance to check them out soon.
After Australia what's next in terms of touring the band?
Well the Australian run is going to be really cool because it starts in New Zealand, we do three dates there, then we come and do a complete Australian tour, then we go to Japan and so four dates there and it's been a while since we've been to Japan, then we come right back here to The US and straight into the studio with Kevin Churko to work on our fifth record, man. So this whole year is cut out for us, all the way to the end of the year, then next year we have a headlining tour starting January / February in the United States which ends with the Shiprocked cruise and then by that time the single from the new record will be out and then who knows what tours and how soon we can get back Down Under but we'll be definitely looking forward to doing that.
So have you already started writing for the new album?
We have a lot of great ideas, we've never really written on the road, but we all take notes and Tom is always keeping up with all the riffs that he comes up with and things usually go pretty quick for us when we start writing, we get in that mode, we just get focused and start jamming and things just start coming out, man.
Lastly, let's predict the future, so finish this sentence for me, by the end of 2015, Hellyeah will?
Will be in the studio *laughs*, will have completed a year and half of non-stop touring and be in the studio with Kevin Churko and looking forward to 2016.
HELLYEAH Australia / New Zealand Tour Dates
Thurs, Aug 20: The Studio, Auckland NZ
Fri, Aug 21: Bar Bodega, Wellington NZ
Sat, Aug 22: Bedford, Christchurch NZ
Tues, Aug 25: The Gov, Adelaide SA
Thurs, Aug 27: The Metro, Sydney NSW
Fri, Aug 28: Eatons Hill, Brisbane QLD
Sat, Aug 29: Corner Hotel, Melbourne VIC
Mon, Aug 31: Rosemount Hotel, Perth WA
Tickets are only $59 + booking fee and available HERE
Presented by Metropolis Touring
Essential Information
From: USA
Band members: Vinnie Paul – Drums, Chad Gray – Vocals, Tom Maxwell – Guitar, Christian Brady – Guitar, Kyle Sanders – Bass
Website:  http://hellyeahband.com
Latest release: Blood For Blood – (out now-  Sony Music Australia, Eleven Seven Music)