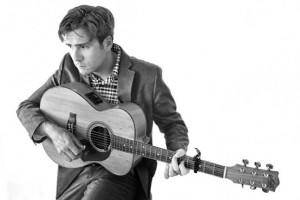 Jim Adkins, lead-singer of multi-platinum rock band Jimmy Eat World, is excited to announce a series solo tour dates in Europe and a string of digital singles to be released this summer, beginning with 'I Will Go'this Friday, July 10. Every Friday between now and August 14, Adkins will release a new digital single, with all of the singles being released as a set of three 7'' singles in September. The singles series will also be available as a onetime purchase digital subscription through HERE . Three songs of original material will accompany three cover songs over the six Fridays. The schedule of digital and physical releases is below.
Following the last few years, which consisted of Jimmy Eat World touring extensively behind their most recent album DAMAGE and to celebrate the 10th anniversary of their 2004 album FUTURES, Jim Adkins is embarking on a solo tour of Europe this August and September, following his previously announced solo tour in the U.S. this July. The exclusive pre-sale is available now at JimAdkins.net
About the new solo singles and upcoming solo tour, Adkins noted, "2015 seemed like as good a time as any to take a second and experiment with life outside the pattern. In the past I have been involved with solo work, playing mostly benefit concerts locally in my home of Arizona. Toward the end of our last European tour I decided to stick around and play a solo show in Berlin, DE. I thought to myself: hey, this is different and also pretty fun…I could keep going. So why not?"
Upon returning to the United States in September, Jimmy Eat World will celebrate the end of summer with a show in their native Arizona at Tempe's Summer Ends Music Festival on September 25, followed by a concert in southern California at San Manuel Amphitheater in San Bernardino on October 3rd.
Jim Adkins Digital Releases (All Digital Providers)
July 10 – 'I Will Go'
July 17 – 'Give Me A Sweetheart' (Everly Brothers) ('I Will Go' b-side)
July 24 – 'Love Don't Wait'
July 31 – 'Don't Act Like Your Heart Isn't Hard' (Beck) ('Love Don't Wait' b-side)
August 7 – 'Hell'
August 14 – 'Girls Just Want To Have Fun' (Cyndi Lauper) ('Hell' b-side)
7'' Singles – September 11
1. 'I Will Go' b/w 'Give Me A Sweetheart'
2. 'Love Don't Wait' b/w 'Don't Act Like Your Heart Isn't Hard'
3. 'Hell' b/w 'Girls Just Want To Have Fun'
Jim Adkins Tour Dates
July 11 – Birmingham, AL @ Saturn
July 12 – Little Rock, AR @ Juanita's Cantina Ballroom
July 13 – Springfield, MO @ The Outland Ballroom
July 14 – Columbia, MO @ Rose Music Hall
July 15 – Maquoketa, IA @ Codfish Hollow Barn
July 17 – Colorado Springs, CO @ Black Sheep
July 18 – Fort Collins, CO @ Hodi's Half Note
July 20 – Billings, MT @ The Pub Station
July 21 – Missoula, MT @ Stage 112
July 22 – Spokane, WA @ The Bartlett
July 24 – Bellingham, WA @ The Shakedown
July 25 – Bend, OR @ The Annex
July 27 – Oakland, CA @ Oakland Metro Operahouse
July 28 – Los Angeles, CA @ Masonic Lodge At Hollywood Forever Cemetery
August 17 – Numberg, Germany @ Serenadenhof Open Air
August 18 – Hamburg, Germany @ Nochtspeicher
August 20 – Stockholm, Sweden @ Bar Brooklyn
August 21 – Oslo, Norway @ Parktheater Bar
August 22 – Copenhagen, Denmark @ Ideal Bar
August 24 – Amsterdam, Holland @ Paradiso
August 25 – Cologne, Germany @ Kulturkirche
August 26 – Essen, Germany @ Bergmannskirche
August 28 – Munich, Germany @ Ampere
August 29 – Berlin, Germany @ Passionkirche
August 31 – Tel Aviv, Israel @ Barby
September 02 – Birmingham, UK @ Glee Club
September 03 – Glasgow, UK @ Cottiers Theatre
September 04 – Manchester, UK @ Royal Northern College of Music
September 05 – London, UK @ Union Chapel
September 07 – Brussels, Belgium @ Rotonde
September 08 – Paris, France @ Le Backstage
September 09 – Neuenkirchen, Germany @ Reithalle
September 10 – Prague, Czech Republic @ Café v lese
September 12 – Vienna, Austria @ Chaya Fuera
September 13 – Zurich, Switzerland @ El Dorado
September 14 – Bologna, Italy @ Locomotiv
September 16 – Barcelona, Spain @ Capilla del Monasterio romanico de Sant Miguel
September 17 – Madrid, Spain @ Teatro Alfil
September 25 – Tempe, AZ @ Tempe Beach Park, Summer Ends Music Festival*
October 03 – San Bernardino, CA @ San Manuel Amphitheater*
*Jimmy Eat World shows