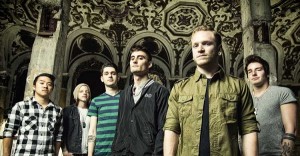 We Came As Romans have officially announced their highly anticipated self-titled new album, which will be released July 24th, 2015 via Spinefarm Records  / Caroline Australia. The album was recorded with multi-platinum, award-winning producer David Bendeth (Bring Me The Horizon, Paramore, Of Mice & Men), and is now available for pre-order at one of the following links:
"Writing this record with David Bendeth was very intense," states vocalist Dave Stephens. "If a song wasn't great, it was rewritten until it was, and if it still wasn't great, it was cut. We wrote close to 40 songs for this record and only ten made the album. Beyond becoming better writers and musicians, it made us stronger as a band and as a team."
Today, We Came As Romans release a brand new song taken from the album. Fans can now stream the lead single, "The World I Used To Know", here
The band explains the new song by stating, "When we were younger, we had a youthful spirit that made us less fearful of the changing world around us. Even though we've lost that and are now more aware of the negativity in the world, we need to remember those days and view the world with a hopeful spirit."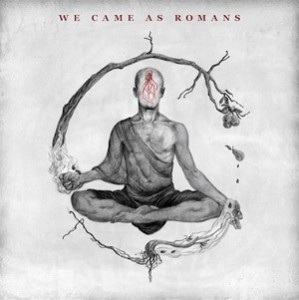 "The World I Used To Know" will be offered as an instant grat track when pre-ordered digitally from iTunes.
Now Available For Pre-Order
We Came As Romans – Track-listing
Regenerate
Who Will Pray?
The World I Used To Know
Memories
Tear It Down
Blur
Savior Of The Week
Flatline
Defiance
12:30
Composed of vocalists, David Stephens and Kyle Pavone, guitarists Joshua Moore and Lou Cotton, bassist Andrew Glass and drummer Eric Choi, We Came As Romans have already seen massive success with their first two full-length albums To Plant A Seed and Understanding What We've Grown To Be each topping 100,000 sales in the US alone. Their most recent release, Tracing Back Roots topped the Billboard charts coming in at #8 on the Billboard 200. The album also charted #1 Independent Album, #1 Internet Album, #1 Hard Rock Album and#2 Top Rock Album.  The band's recent live DVD release Present, Future, and Past debuted #1 on the Billboard DVD charts, beating Metallica for the top spot.
AUSTRALIAN TOUR DATES:
28.05.2015: Brisbane, The Triffid – w/ In Hearts Wake, Beartooth & Storm The Sky
29.05.2015: Brisbane, The Triffid – w/ In Hearts Wake, Beartooth & Storm The Sky
30.05.2015: Sydney, Roundhouse – w/ In Hearts Wake, Beartooth & Storm The Sky
31.05.2015: Canberra, Magpies – w/ In Hearts Wake, Beartooth & Storm The Sky
02.06.2015: Perth, YMCA HQ – w/ In Hearts Wake, Beartooth & Storm The Sky
03.06.2015: Fremantle, Metropolis – w/ In Hearts Wake, Beartooth & Storm The Sky
04.06.2015: Adelaide, HQ – w/ In Hearts Wake, Beartooth & Storm The Sky
05.06.2015: Melbourne, 170 Russell – w/ In Hearts Wake, Beartooth & Storm The Sky
06.06.2015: Melbourne, Arrows – w/ In Hearts Wake, Beartooth & Storm The Sky
For more information:
Follow We Came As Romans:
Facebook: https://www.facebook.com/wecameasromans
Twitter: https://twitter.com/wecameasromans
Instagram: http://instagram.com/wecameasromans