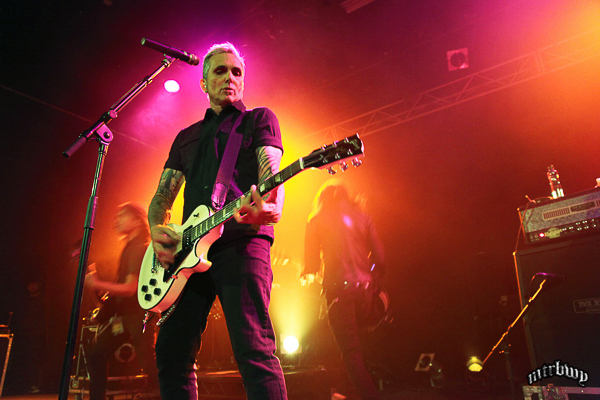 It's time for another celebration album, I love these things, I love when bands take the time to remember and relive a landmark album for them, and tonight we get to feel a little old as we celebrate an album twenty years old… man… that's over half my life… but it's time to feel 19 again…
I made it in in time to catch The Dead Love and I have to say I'm impressed! These guys can play!! These songs are great, there are hooks, passion and a whole lot of rock and roll happening right now!! For a three piece these guys know what they're doing and they do it well. I love when I hear a local band that stands out, and tonight The Dead Love just did that, stood out, so I urge you to check these guys out if you get a minute, you won't be disappointed.
It's time for Everclear…
"This is called Sparkle and Fade" as the band launch into this twenty year old album, the band all in black kick off 'Electra Made Me Blind' and you get the feeling that this is going to be fun… and when the small circle pit opened that I somehow ended up in for 'Heroin Girl' I had the feeling that this was only going to get better, mind you this one was the first single from the album and for some the introduction to the band, so the excitement was well warranted.  'You Make Me Feel Like a Whore' got plenty of love no pun intended but of course the one that people recognize Everclear for is up next and as you'd expect 'Santa Monica' had a huge sing along and it's just one of those songs that is etched in my musical history and you can't help but turn this one up when you hear it, so staying down in the pit for this one was intentional and I love evert second of singing along to this 90's classic.
We then took a trip to 'Summer Land' and as I moved out of the pit and made my way to the back to take the gig in and watching the way that 'Strawberry' was revived was great but when 'Heartspark Dollarsign' kicked in then it was on, obviously due to the fact that it was a single here makes it more notable, but in thinking about it from up here and from what we've already seen, it's the album that people attached to, so to single one or two out from tonight is somewhat redundant. Each song is getting as much love as the next and rightfully so as it meant a lot in 1995 and means a lot now.
The band though sound great, they're nailing these songs, though 'The Twistinside', 'Her Brand New Skin' and 'Nehalem' the band blast through the album tracks that usually don't even get a thought let alone a slot in a live show, that treat them as they would a single, belting them out and delivering Sparkle and Fade the way it should be played, loud and proud.
'Queen of The Air' was great as was 'Pale Green Stars' but as the call of "Let's rock" comes in from Art, they do just that and rock… 'Chemical Smile' is a beast live and it's crazy to think that there's only one to go from the album, it's gone so quick and maybe because it's one of those albums you can just listen to and it doesn't drag… They close 'Sparkle and Fade' with 'My Sexual Life' and an apology to all four of Art's wives and the reception at the end of the 'album' was great as the band leave the stage…
They return for the remainder of the set and now it's time for the hits…
'So Much For The Afterglow' sends them off as Art floated the idea of coming back in a couple of years to play that album in full… Yeah they liked that idea here. 'Everything To Everyone' gets the cheers of course and professing his love for Australia, Art has a chat and it's great asking for us to sing along to 'Father of Mine' worked as it way into the set, but I don't think he would've had to ask as this crowd was in fine vocal form tonight and when you have these songs in this hits section is impressive so far!!
Ok so the band has just released a new album called 'Black Is The New Black' and from it they deliver the new single 'The Man Who Broke His Own Heart' which fits into this set with no worries, and if you haven't checked out the new album I highly suggest you do, after you finish this review though… So now things get a little 'Wonderful' in here… Obviously a little slower too and much more subdued than the previous songs, but this track was pretty big here and it went down well. With some big 'na na na' sing alongs, the place is happy as it has been all night but before the applause was finished Art ripped into 'Local God' and from where I am it looks like a lot of people like this one, and I remember Art telling me a couple of years ago how big the song was down here due to it being on the 'Romeo and Juliet' movie soundtrack, and so it seems. Leaving the stage with a simple "Thank you good night" the crowd want more… No one has moved and within seconds the band are back on stage…
Closing the night with 'I Will Buy You A New Life' and as Art put it "this is not a song about life it is about love…" and it was a cool way to close a fun night. The band gathers around the microphone for a slight reprise of Santa Monica which sees the night end. These songs are great, just good old fashioned rock and roll and really, isn't that all we want? I know it's what I want…
Essential Information
Venue: The Metro Theatre – Sydney
Presented by: Killrockstar Entertainment
Support: The Dead Love
Date: May 10, 2015
Website: http://www.everclearmusic.com
Photo by: Annette Geneva – Check out our full gallery HERE
Check out our recent interview with Art Alexakis HERE
Set List:
Electra Made Me Blind
Heroin Girl
You Make Me Feel Like a Whore
Santa Monica
Summerland
Strawberry
Heartspark Dollarsign
The Twistinside
Her Brand New Skin
Nehalem
Queen of the Air
Pale Green Stars
Chemical Smile
My Sexual Life
So Much For The Afterglow
Everything To Everyone
Father Of Mine
The Man Who Broke His Own Heart
Wonderful
Local God
I Will Buy You A New Life
Comments
comments