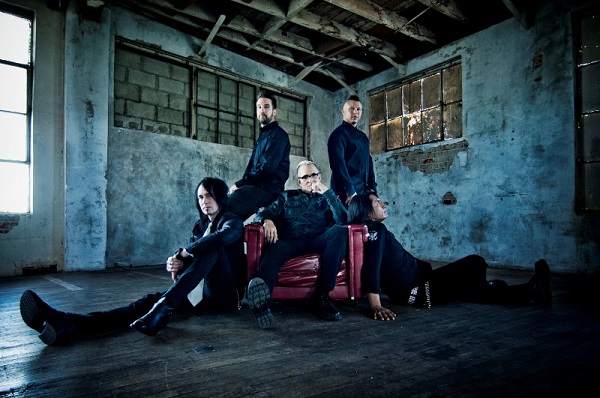 "A lot of people who had success and are not as successful look at it as some sort of commentary on themselves and to me it's cyclical man, you do what you do and put your best in to it, sometimes it connects with people, sometimes it doesn't, doesn't mean it's not as good, just means it's different. You just accept it."
From release: Lead by founder and main songwriter Art Alexakis, Everclear blazed a trail through the 90's with their infectious hooks and articulate lyrical content, scoring multiple smash hits and galvanising a generation of long-time fans. To celebrate the 20th Anniversary of Sparkle and Fade, Everclear are back to treat Australian fans to a live incarnation of this game-changing album in full, songs from the brand new album Black Is The New Black, plus all your favourite Everclear singles!
Just after finishing a rehearsal of playing through the 'Sparkle and Fade' album a few times in preparation of the Australian tour, we caught up once again with Art of Everclear about the upcoming shows, the band's new album 'Black Is The New Black' and much more…
So of course we're here because you're heading to Australia to celebrate the 20th anniversary of 'Sparkle and you'll be playing it in its entirety, what was it like going back and essentially relearning songs you may not have played for years?
You know, it feels a little stupid sometimes, like wow, I forgot that whole part and my guitar player is like 'no it goes here and here and here' and I'm like 'ok' but it comes back right away, I think there's some sort of cognitive memory and body memory that remembers it, but it takes a minute if you try too hard you know?
Set wise, what else can we expect on the night, have you figured out how these shows will be structured?
We're gonna play some more hits, we're gonna play some songs off our new record 'Black Is The New Black' which came out today, so we'll be playing some songs off that and some other songs that are hits down there, fan favourites, it's going to be a long set.
So let's jump back to when you released 'Sparkle and Fade', what do you remember about releasing it?
I remember finishing that record and mastering it, and just freaking out in my hotel room because all these songs finally sounded like an album, like a real big label album that just excited me. I remember calling the guys in the band and my wife at the time and just freaking out. Then I remember two months later about a few weeks before the album came out, getting on the phone with the president of Capitol and it was like he didn't even know who I was and I was just like 'oh this is gonna be bad'. Then we put the record out, the first single was a little too hard for The States, 'Heroin Girl' and then 'Santa Monica' took a while but it connected really well, then it just kinda took off from there, but I think 'Heroin Girl' was a pretty big hit down there. I know there are songs that were big down there off the album that weren't huge here on the radio, but were big down there. We sold about a million and a half over here, we sold platinum and a half and we sold over three times platinum there, so it was one of those weird record that really connected outside of The States in a big way, it was kinda cool.
What do you think it is about that album that people attached to?
I think when it came out it wasn't very produced, it was very raw, I think the songs and some people just really liked the aspect of the intimacy and the combination between the singer songwriter type lyrics and songs with the hard rock / punk rock for the music you know, I think it's a dichotomy that really connected with people.
On top of this 'Black Is The New Black' has just been released and what an album! In the three years since 'Invisible Stars', what inspired what became the album?
You know, man, just touring and seeing rock bands every night and getting back into writing rock songs… I don't know, I got a fire in my belly again, it's weird, I went between our albums 'Welcome to the Drama Club' and 'Invisible Stars' I went six years without really wanting to make an album and then I started writing songs and wanted to make a record, but I've been writing songs since 'Invisible Stars' I'm ready to make another record…
Well I have to say from the first second I put the album on, I was into it from the start, it's a big rocker man, I dig it…
Thanks brother, I really love it too, we all do, we're really proud if it, I mean I just listened to it, I got my wife a new car and it's got a really good sound system in it and I hadn't listened to the record for a couple of weeks, I put it in there and cranked it up and I thought 'Man, if this wasn't my album I'd think this was a pretty badass album' *laughs*
Can you tell us about the title, it's a pretty cool statement but why was it the choice for the album?
See, it just seemed like it kind of epitomised the way I feel about the way everybody loves to talk about how everything is new and this is different, it really isn't… it's just like you've gotta work in things that are unique, you've gotta have a unique voice and I'm not just talking about your singing voice, you either have a unique vision on things or you don't, and just painting it one way doesn't make it so and it's kind of tongue in cheek too. We're all just a bunch of old rocker dudes that dress in black look in my closet it's all black *laughs* so we're kind of poking fun at ourselves too. If you can't take the piss out of yourself then what can you do? People just take themselves too seriously.
In particular I wanted to ask about 'The Man Who Broke His Own Heart' it instantly had that Everclear feel to it, is there a story behind that song you can share with us?
You know, there is… I wrote that song in 2004 for an album that was more of an acoustic type album and it didn't really seem to work with the guitars and stuff and it didn't really seem to fit, so I demoed it, we didn't like it, put it in the back pocket, but when we started this record I broke out that riff on the electric guitar and just played it really heavy and it worked you know. I rearranged a couple of things, wrote a couple of new breaks for it, a new bridge and it just came together like nothing, I kicked the boys out of the room for an hour, said go get a Starbucks, come back and by the time they came back I had a song, two hours later we were ready to record that song.
When you released 'Invisible Stars' it felt like the passion was well and truly back and now with this album it continues, what is it about Everclear circa 2015 that drives that fire?
I don't know if it's just the band, but I love playing with this band, we're tight as hell, we all have a great time, everybody knows their place in the band, everyone contributes, it's pretty great, but I think more about it is just where I am in my life, I'm very present, very grateful for what I have not for what I don't, not pissed about what I don't have. A lot of people who had success and are not as successful look at it as some sort of commentary on themselves and to me it's cyclical man, you do what you do and put your best in to it, sometimes it connects with people, sometimes it doesn't, doesn't mean it's not as good, just means it's different. You just accept it.
To me it sounds like you truly do this for the love, not so much for the job…
I do, I mean it pays my bills but at the same time I'm totally blessed, I get to play rock and roll for a living *laughs* I get to play my music to people who want to hear my music, I mean that's just living the dream and I'm present enough and aware enough to know that I'm very grateful for that.
You've been doing this for a long time now, so over this twenty plus years what's been the biggest thing you've learned about the industry that you didn't think was a part of it all when you started the band?
Nothing really, I was old enough when I got signed to know the industry was filled with a bunch of weasels and horrible people, I knew it then, so nothing's surprising. I didn't foresee sampling coming at the time, that kind of changed everything, but at the same time there's always something, you can't look at like thinking it's not going to change. It's like being in a relationship and someone thinks that it's not going to change, that's just immature and ludicrous you know? You've gotta know that, things are gonna change and if you don't like it, do something else… there's no shame in that.
Lastly, let's look ahead and predict the future, so finish this sentence for me, by the end of 2015, Everclear will…
Everclear will… take a break *laughs* we will take a break by the end of the year, I guarantee it. Actually I don't know what we're going to do, I don't tell the future, I don't think anyone can tell the future, but I think we're gonna tour all year from tonight on, I get on a plane in a few hours and there's no looking back, we're just gonna put our whole selves into it and see where we're at at the end of the year, call me at the end of the year I'll tell you where I'm at…
Catch Everclear on their 'Sparkle and Fade' Australian tour at the following dates:
*Tickets Selling Fast!*
Thursday 7th May, Fowlers, Adelaide
With Special Guests The Motive & Glass Skies
www.moshtix.com.au www.oztix.com.au
Friday 8th May, Corner Hotel, Melbourne (SOLD OUT!)
With Special Guests Antiskeptic & Klinger
www.cornerhotel.com
Saturday 9th May, Eatons Hill FMX Festival, Brisbane
With Bodyjar,Art vs Science, The Strums & Antiheros
www.oztix.com.au
Sunday 10th May, The Metro, Sydney
With Special Guests Wasters & The Dead Love
www.ticketek.com.au
Tuesday 12th May, Small Ballroom, Newcastle
With Special Guests Yours Alone & Capeside
www.oztix.com.au
Wednesday 13th May, 170 Russell, Melbourne (NEW SHOW ADDED!)
With Special Guests Antiskeptic & The Drop Bears
https://170russell.ticketscout.com.au/gigs/3616
Thursday 14th May, Rosemount, Perth
With Special Guests Tired Lion & Pat Chow
www.oztix.com.au
Presented by Killrockstar
Essential Information
From: Portland, OR, USA
Band members: Art Alexakis – Lead Vocals, Guitar, Davey French – Guitar, Vox, Freddy Herrera – Bass, Vox, Josh Crawley – Keyboards, Vox, Sean Winchester – Drums, Percussion, Vox
Website: www.everclearmusic.com
Latest release: Black Is The New Black (out now)