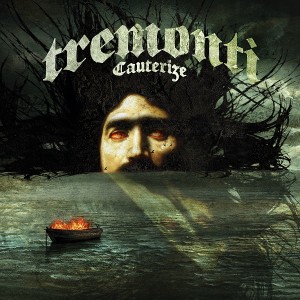 TREMONTI TO RELEASE SECOND ALBUM CAUTERIZE ON JUNE 5 VIA FRET 12 RECORDS
The new solo album from the Grammy-award winning guitarist responsible for over 40 million album sales worldwide
Listen to debut single "Another Heart"
Pre-order Cauterize: www.fret12.com/tremonti
Alter Bridge's Mark Tremonti has confirmed his forthcoming solo release Cauterize will be released in Australia on June 5 via Fret 12/MGM. His second album under the TREMONTI moniker, Cauterize was produced by long-term collaborator Michael "Elvis" Baskette (Slash, Incubus, The Amity Affliction), and follows the 2012 debut All I Was
Featuring Grammy-award winning guitarist Mark Tremonti on vocals/guitars, Eric Friedman on guitars, Wolfgang Van Halen on bass, and Garrett Whitlock on drums, TREMONTI has reached a new level on Cauterize. "We are extremely excited for fans to hear this album," enthuses Mark Tremonti. "We feel it's our best work to date.
Their colossal and unmistakable hard rock and heavy metal influences shine through on the album, from the first riffs of album opener 'Radical Change' to the final notes of epic close 'Providence.' Lead single, the up-tempo 'Another Heart' was released internationally and debuted in the Top 5 US Rock Singles Chart (watch the lyric video here).
TREMONTI are about to embark on a tour across the US and Europe, performing on some of the biggest rock festival stages (Download, Graspop), and a headline show at the O2 in Glasgow in June.
About Mark Tremonti:
Mark Tremonti is the Grammy Award-winning guitarist and songwriter known for his work in Alter Bridge and Creed. Having sold over 40 million records globally, crafting colossal rock hits and performing at some of the world's most famous arenas, his recognisable sound has garnered a loyal and growing fan base worldwide. Guitar World dubbed him "Guitarist Of The Year" for three consecutive years, Metal Hammer bestowed the title "Riff Lord" at the 2014 Golden God Awards, and he was lauded as the "fourth greatest heavy metal guitarist ever" by Total Guitar, as well as co-writer of the "Greatest Guitar Solo Of All Time" (for Alter Bridge's 'Blackbird') by Guitarist, amongst many other accolades.
Cauterize track list: