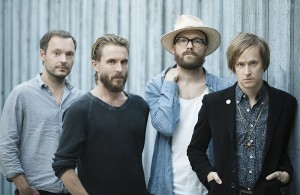 Refused are fucking alive. There's no escape. The Iconic Swedish hardcore band is releasing Freedom, their first new album in 17 years on June 26 via Epitaph.  Listen to the first new song Elektra at Pitchfork now.
In 1998 Refused released their iconic album The Shape of Punk to Come. It was also the year that the band broke up and declared "Refused Are Fucking Dead". Fourteen years later, the band reignited in 2012 for a Coachella performance. The group started contemplating new music within the first four months of the reunion tour, a process greatly aided by the fact that drummer David Sandström, guitarist Kristofer Steen, and bassist Magnus Flagge had already been writing together informally for several years under the auspices of a new, vocal-less band.
Frontman Dennis Lyxzén states: "It's not a reunion anymore. "This is one of the most radical things we've ever done, both musically and lyrically."
Drummer David Sandström adds: "Nobody wanted us to fuck with the image of the band who makes a great album and splits up. Nobody wanted us to dilute it. That actually provoked us."
Freedom explodes out of the speakers with opening track Elektra, as Lyxzén throat-shredding declaration that "nothing has changed" catapults Refused into the 21st century. Production for Freedom was overseen by Nick Launay (Gang Of Four, Public Image Ltd., Nick Cave, and Arcade Fire. Elektra and 366 were produced and co-written by fellow Swede and long-time Refused fan Shellback, who has scored eight No. 1 hits on the Billboard Hot 100 with artists such as Taylor Swift and Pink.
ABOUT REFUSED: Released in 1998, The Shape of Punk to Come has become one of the most influential albums in decades, fusing punk,  metal, hardcore, techno, jazz, emo, and hip-hop into a meld of intricate, politically charged punk that has graced 'best of' lists since its release. Refused's most critically acclaimed album exploded on the scene with the jaw-dropping hardcore anthemNew Noise, which helped change the game forever by influencing a range of genres to this day.
FREEDOM' TRACK LIST:
1. Elektra
2. Old Friends / New War
3. Dawkins Christ
4. Françafrique
5. Thought Is Blood
6. War On The Palaces
7. Destroy The Man
8. 366
9. Servants Of Death
10. Useless Europeans
FOLLOW REFUSED
OFFICIAL WEBSITE | FACEBOOK | TWITTER