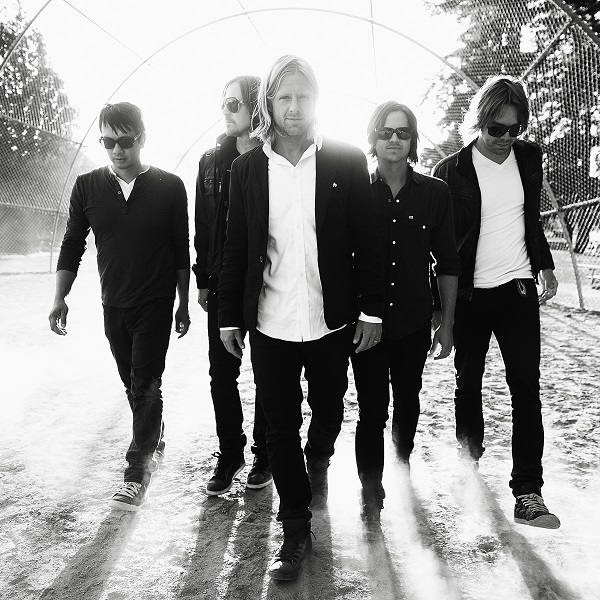 "…it's connecting with other people through the medium of music, we love playing in our studio, we love recording the songs but they never have the same passion as when you're trying to play them in front of someone. I think almost the goal of our band is to be like a magician who's equally as surprised when the rabbit comes out of the hat every time *laughs* to never lose that magic."
From release: Switchfoot is a prolific, multi-platinum selling artist, with nine albums to their name. They won a Grammy® Award for Best Rock or Rap Gospel Album in 2011, eleven GMA Dove Awards and twelve San Diego Music Awards. Their songs have also featured on major Hollywood film soundtracks including 'A Walk to Remember' and "Hawaii Five-0'. Formed by brothers Jon and Tim Foreman and their buddy, Chad Butler in 1997, it is now a five-piece band of endorsed, surfing champions and passionate musicians, enjoying commercial success and ardent fans across rock, blues and Christian genres. They're also highly philanthropic, having founded the Switchfoot Bro-Am Surf Contest: an annual benefit contest and concert to raise money for the homeless in the band's hometown of San Diego, as well as supporting many other causes…
In the band's studio in San Diego we got a hold of Jon Foreman for chat about the band's return to Australia, new music, surfing and Point Break…
Thanks for your time, Jon. Now you really seem to have a great connection with Australia, what is it about our fine country that almost makes it like a second home to you?
Oh we love Australia, I'm not sure what it is *laughs* but I think it's similar to where we're from, San Diego because there's a strong connection with the ocean, a lot of people like to be outside kind of a salt water community you know? Yeah so there's something about that that has always appealed to me, but as a kid I did a foreign exchange trip to Australia so I'm not sure who I was exchanged for but I loved my time down there.
No stranger to a festival in Australia, this time around you're headed to Bluesfest, a slightly different crowd to that of Soundwave… do you have to prepare for your festival shows differently to that of a typical headline set?
You know for a festival show I come to the table, whenever I go to a festival I'm kind of bouncing from this band to that, so when I'm playing a show I kind of have an empathy for the fact that a lot of people are sleeping in tents and use port-a-jons, so for me I think when I'm playing a festival set I'm trying to bring something to them that they might not be getting at other stages you know? I think a lot of that has to do with getting down and dirty with it, running around through the crowd and seeing what happens.
Of course you're also hitting up Sydney and Melbourne for a couple of your own shows, what can we expect from a Switchfoot show circa 2015?
We have a strong connection with a lot of folks that sing along with us, so my favourite moments of the night are when the crowd is kind of carrying the song for you and you can hand them the mic and they finish the set. Those are the experiences I look forward to, the idea where you really come into contact with the connection that music can have half way around the world.
I've seen you guys a few times before and your show is always somewhat of an experience and I say that in the way that the passion exudes from you guys, what is it that you enjoy so much about performing live?
You know ironically it's connecting with other people through the medium of music, we love playing in our studio, we love recording the songs but they never have the same passion as when you're trying to play them in front of someone. I think almost the goal of our band is to be like a magician who's equally as surprised when the rabbit comes out of the hat every time *laughs* to never lose that magic.
I recently watched 'Fading West' again for I don't know, maybe the fourth time, it was such a great and different insight into a band, what was it like putting it together?
It was phenomenal… I had an incredible time. It was one of those things of getting to go on a dream trip around the world with Tom Curren, Rob Machado and four of your best friends, that's what dreams are made out of. I think that being said, there were a lot of things that caught me by surprise and I think the challenge became what do you show? How much do you let people in on? That was the hardest part of the firm, taking the footage and making something out of it, not actually recording it but figuring out exactly what we wanted to say *laughs* how much we wanted to let everyone in.
As a band you guys always seem so calm, in all honesty watching the doco does the surfing help keep you guys grounded and zen?
It does, I think looking out at the horizon and realising how small you are is a grounding experience and all your problems seem to be a lot smaller when you're in contact with an ocean that is in control where you're not.
Are there places that you want to head out to to surf that you haven't been t before?
Oh yeah, gosh, there's so many spots all the way from Perth to down in around Sydney, I mean we've done a fair bit of exploring but not nearly enough.
In terms of new music, we had 'Fading West' out as an album and then the EP out late last year, but do you think we can expect a new album anytime soon?
Yeah maybe, actually my brother's in the studio with me right now and we're working on some new tunes, I'm trying to sneak up on him *laughs* so we're not calling it a record, we're just having fun, as long as you're having fun then that's when the good stuff happens. I've been working on some solo stuff as well, so later this year I'm going to release twenty four songs that are corresponding to the twenty four hours in the day, so a project that I'm calling 'The Wonderlands' and I'm pretty excited about it.
You last solo release being about the seasons…
Right, it's always been linked to time.
Talking about solo material, how do you tackle solo material compared to that of a band release? Do you have to look at it with different eyes?
You do, I mean we've been talking about it a lot recently about what's the best way moving forward, my bandmates have been incredibly giving of me saying 'yeah, go ahead, do this solo thing' it's a passion mine and I feel it's very different to Switchfoot, so they've been supportive and have been cheering me on and all that. This project in particular has been different because I kind of wanted to enlist other bandmates so to speak, so I have different people to produce different tracks, so Taylor from Paramore, Darren from Mutemath, Andrew from Group Love, Jeff Coffin from Dave Matthews Band, a bunch of different people working on different tracks and kind of having sparring partners really helps when you have someone to hit back and forth.
So twenty four songs, much like the twenty four hours in the day will be different because every song will in a way be different?
Yeah that's correct.
So, as a band you're nine albums in, countless EP's, singles, world tours, been doing it for almost twenty years, so what do you still enjoy about being a part of Switchfoot?
The people, the friendships that I have is at the top of the list. I love the people that I get to work with if you can call it work *laughs*, so yeah not just Tim, Chad, Jerome and Drew but our team, they're incredible and among my best friends. Then I think the chance to be able to dream big, for the past ten years I've been able to throw a party on the beach that raises money for homeless kids, it's a surf contest and a concert right on the beach there in our home town and it's called 'The Switchfoot Bro-Am' and that would probably be among the highlights of my career… bigger than a Grammy, bigger than platinum albums or anything. That event means more to me than pretty much most of it you know, so the reason why that event means so much is it's the chance to dream with your best friends and see what happens.
Also in your time with the band, what's the biggest thing you've learned from being in the band you didn't expect was going to be a part of it?
I didn't expect that we'd be playing music for a living first off *laughs* I'm really surprised that we get a pay check from this kind of thing. I think the surprises that come along the way are I think maybe the connectivity of music and how it's this universal language, that's been surprising to me, being in foreign countries where somebody doesn't speak English and having them singing along to every word. Those are probably the surprises that stay with you.
 OK let's throw in some quick fire questions to get a little insight into you:
First album you ever bought?
I think it was Whitesnake, the one with 'goin' down the only road I've ever known?'
Oh yeah, 'Here I Go Again' From 1987…
*laughs* Yeah, that's the one
Favourite band to see live?
Oh man… I don't know if this counts but I just got to see Paul McCartney and that was incredible.
Is there a song throughout musical history that you wish you'd written?
Hmm… gosh… I mean most everything from The Beatles, Led Zeppelin, I'd say… maybe Bill Withers *laughs* and Jimi Hendrix… that's hard to limit.
How many times have you watched Point Break?
Hmm… Not as many times as I've watched 'North Shore' or 'The Endless Summer' I don't think I've ever watched 'Point Break' all the way through… it was a little bit like yeah I don't know, I missed the boat on that one.
Well do yourself a favour in some downtime, throw it on and have a look…
*laughs* There's this theatre in LA where they do a live version of Point Break, they pull someone out of the audience and hand them a script and he plays the role of Keanu Reeves. So maybe that'll be the way I need to see the movie for the first time, really experience it.
Lastly, let's predict the future, so finish this sentence for me, by the end of 2015, Switchfoot will…
Not have been to the moon…  I'm pretty sure, I would bet money on that one… *laughs*
Catch Switchfoot in Australia at the following dates:
170 Russell, Melbourne
Tuesday 31st March
The Hi-Fi, Sydney
Wednesday 1st April
Tickets on sale NOW via HERE:
Also appearing at Bluesfest Byron Bay

Friday 3rd April
All festival and camping tickets are on sale through www.bluesfest.com.au or phone the office on 02 6685 8310.
Essential Information
From: San Diego, CA, USA
Band members: Jon Foreman, Tim Foreman, Chad Butler, Jerome Fontamillas, Drew Shirley
Website: http://www.switchfoot.com
Latest release: The Edge Of The Earth – (Out Now)