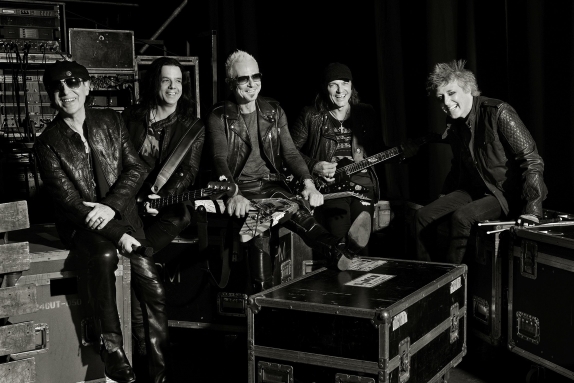 "The Scorpions have been doing this without a break, meanwhile other bands take a break for a few years or a member does a solo album while the others do nothing or whatever. We've been continuously touring or making albums and so we thought let's get out of the routine, we didn't want to split up, we were ready to do projects, whatever would be coming up…"
Fifty years for a band to be around is almost unheard of, The Scorpions though in 2015 mark that momentous occasion…  after a short lived 'farewell' in 2012, an amazing Unplugged release was released, and now they're back, well, never went away but 'Return To Forever' is their newest album from these German rockers and it's straight up vintage Scorps. It's hard to believe a legacy like this, I mean you know the songs, you know the look and well, you know The Scorpions!!
Early in the morning over in Germany we had the honour of speaking with Matthias Jabs of The Scorpions, I mean, come on… crazy! We chatted about the band's fiftieth anniversary, their new album 'Return To Forever', their so called 'farewell' tour and oh yeah, if they're ever coming to Australia…
Thank you so much for your time today, Matthias, now 2015 is the 50th anniversary of The Scorpions, an unbelievable feat, what do you attribute this longevity to?
I mean fifty years is a very long time and it goes back to Rudolf founding the band when they were all school kids in 1965, he just found the proof so to speak because his mother made some notes and when he was moving offices he found it and it reminded all of us that it was the start fifty years though, it's unbelievable, but it only concerns him though because Klaus came in 1970 to this band and I joined in 1978, so it's not fifty years for everybody. The name exists for fifty years and so there's a reason to celebrate it. Don't ask me why we haven't been to Australia in fifty years, I don't know…
Well I was going to but I felt that might be the answer…
*laughs* you know, it's one of the goals, we keep saying this, we cannot call it quits before we've been to Australia, honestly. I think chances on this probably final tour, the fiftieth anniversary tour, chances are getting bigger because we have a new agent from England who is dealing with Australia for a very long time, so hopefully it works out.
So 'Return To Forever' is your newest album coming this February, it's vintage sounding straight up Scorps album, sonically is it a case of if it ain't broke, don't fix it?
Yeah, I mean we learned from a big mistake in 1999 at the end of the nineties when our type of music, 80's classic rock seemed to be very much out of fashion and all we kept hearing was this is past, this is dated, this is out of what we need today and after a while when you keep hearing this from the business like record companies, management and said let's try something new, we were *laughs* unfortunately influenced by those comments and recorded something which we regretted later, I'm talking about the album 'Eye to Eye' late 90's a release that we shouldn't have done, but then again… maybe it was our best mistake because we learned quickly this is not what the fans want, this is not what The Scorpions are about and that's why it's best for us to stick to what we know best. I don't want to hear AC/DC sounding like a pop band either.
Obviously technology has changed so much since you began making music, what for you has been the biggest and most notable change in the way The Scorpions make music?
I mean since many years we are recording digitally with hard discs, with pro-tools, with a way of recording that speeds up the process so to speak and I remember looking back to the early 80's when we were still recording analogue and putting out on vinyl, I just checked back because we were looking for some ideas from songs from back then, from that period and it's only eight or nine songs on the vinyl release, so meanwhile you're used to twelve, fifteen, sixteen, whatever songs on a CD and it took us like three quarters of the year to record those nine songs. Meanwhile we record nineteen for the 'Return To Forever' album within two or three months, so the process if much faster, and we work simultaneously in two different studios, and everything is possible, so we actually recorded this album and the recent releases also while we were on tour, so if we had a break of three or four weeks in between we recorded two or three songs, and then we went back out to play some shows and that means it keeps you fresh and before it gets boring *laughs* it's over, you go back out on the road. In the old days we hung in some studio somewhere in the world for months and months and it gets tiring. So that's why it sounds so fresh even though we celebrate the fiftieth anniversary.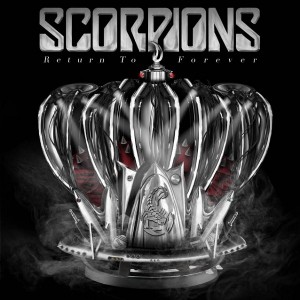 What's the process like in writing songs these days compared to previous releases, does it help being out on tour and writing at the same time?
Absolutely, I mean the road is still the biggest inspiration for a touring band at least, and the original idea for this album 'Return To Forever' was to and it was called 'Outtakes' for a long time as a working title, and so because we were looking for material that was unfinished from the days of 'Blackout' and 'Love at First Sting' where the fans say this might have been our most creative period in the first half of the 80's, and so we found some great stuff, finished it because they were not really recorded, they were demos and were unfinished with no lyrics and stuff so we were taking care of those. During this process everybody wrote new songs and even our producers, two guys from Sweden, Mikael and Martin, they are very creative people and they came up with a lot of song too, so in the end we had like nineteen songs and it was hard to decide which ones go on to the album, which ones are the bonus tracks and it was a very creative recording.
As you mentioned, you have been in the band for 37 of these 50 years, what do you personally still enjoy about being in The Scorpions?
I mean it's fun, we are not only a band, we are friends and I think that's the basis for sticking together for such a long time. I really enjoy the road, for me it's fun to play in the studio, I love the stage first of all, but it's fun to play in the studio because you can create something new, on stage you reproduce it to a certain extent and then you get the immediate reaction and it's basically nothing better. We tour the world, we play to sold out places and we get paid for it, so it's fantastic.
You also would've seen generations of fans now come along to your shows, is this something you've witnessed personally and how does it make you feel to see how much the music has allowed this to happen?
Meanwhile, we really play to three generations, I noticed in the last 80's early 90's when I saw The Rolling Stones I went 'wow' it's actually like three generations, like somebody having the kid on the shoulders, so meanwhile we are also playing to three generations and in younger years we have a much younger audience, we believe it's part of the facebook community. The Scorpions have more than six million members and the research say that 80% are between 18 and 28 years old which is to me amazing because they're younger some of the fans than most of the songs we are playing live and those younger people are always rushing to the front of the stage, it might only be 10 – 15% of the entire audience but those are the ones that we see and it gives us a very good feeling because we have the feeling that we are playing to a younger audience than ten years ago.
Does that then give you a better sense of energy that then comes across in your performance?
Absolutely, yeah it makes it more fun, we in a classic rock band play the greatest hits in a way and a couple of new songs in every show, so obviously we've played those songs many, many times and a new fresh audience makes us feel fresh about those songs even though we've played them so many times and it gives you a whole new feeling and it's much more fun.
Now in the recent past there were talks of farewell tours and final albums, why did the band decide this wouldn't be the case and decided to continue on?
We ended the farewell tour about five years ago in the beginning of 2010 with the release of the album 'Sting In The Tail' and we thought, ok, touring the world takes us something like two and a half years and we can go on until the end of 2012, not really splitting up but not touring the way we used to for the last thirty seven years, or thirty five years in this case. Like the routine we wanted to get out of the hamster wheel, the routine of making albums and then promoting them around the world and then going back to the studio, The Scorpions have been doing this without a break, meanwhile other bands take a break for a few years or a member does a solo album while the others do nothing or whatever. We've been continuously touring or making albums and so we thought let's get out of the routine, we didn't want to split up, we were ready to do projects, whatever would be coming up, and as soon as we finished the so called last show, December 2012 in Munich here in Germany, four weeks later right after Christmas, early 2013, MTV unplugged came around the corner and asked if we wanted to do a project. We were excited and said yes, I mean we couldn't say no, we couldn't say 'oh sorry we just stopped making music now' and we found this is a great challenge, let's do it, and then we recorded it in the summer in Athens, the first ever MTV unplugged outdoors under the open sky, great place in Athens and then all of a sudden we were back into the routine, and the record company said 'ok this is it' and gave us a contract for two new recordings, so here's the second one 'Return To Forever' so obviously we had too much fun to finish the career too early, now we do the final fiftieth anniversary tour.
Can you tell us a bit about the movie / documentary 'Forever and a Day' that is coming soon covering the band?
Yes, there's a movie coming out very soon and this movie is like the film team accompanied us on this so called farewell tour and Katja von Garnier she works in Hollywood, she works in Berlin, so she's not a typical documentary director; she is more into making the real movies. So it's not a boring documentary, it's a combination of of course documentary, travelling with us to the more interesting places and it's us for two and half years on the road. So they got inside views like nobody ever got, like into the hotel rooms, the dressing rooms, backstage, on stage a little it, not too much, not too much about travelling, it's inside views and moments and the movie is quite interesting. Personally I wouldn't know what to expect when a band releases a movie but this one is actually very good. Obviously they were expecting to film the final show, the one in Munich that I mentioned, December 2012 and having everybody in tears and all that, and unfortunately for them we had to rewrite the script because we continued with MTV unplugged as I mentioned before and continue in general making the new album. So the ending had to be re-edited so to speak, but it's very good, it just continues with this finale they have now.
Most of the world especially those growing up in the late 80's hair metal generation such as myself were introduced to you via 'Wind of Change', how important a song was that for the band?
Yeah the song was very, very important, it was our biggest single hit, the album 'Crazy World' was also very successful. I remember this, we were touring for I think almost two years and then the offer came to go to Australia and we were just burnt out and tired and we said 'ok, next time' and there was never a next time, that's the unfortunate part. The song itself of course this has been so very important, but on the other hand, since it's like a ballad it overshadowed the musical history and career of the band at this point and so many people thought this is all we do, we do ballads, and I remember people came to shows and everything like multiple shows were sold out at this time and they were just waiting for the one song and we played it cruelly enough in the encore of course *laughs* so they had to go through the entire show with hard songs, but it's a twisted thing, if one song that is not exactly the style of the band is more successful than all the other songs it's a situation with a twist, but meanwhile it's 25 years ago so it doesn't matter than much anymore.
I want to ask about the Moscow Peace Festival, although some time ago it's a privilege to talk to someone who played on it with that spectacular line up! Do you have a great memory of that experience?
Yeah absolutely, I mean we were the first western band to actually play in the Soviet Union in early 1988 in Leningrad, it's now called St Petersburg again, and in 1989 we had the chance to play Moscow, two big shows at the Lenin stadium with a great line-up of like Bon Jovi, Ozzy Osbourne, Motley Crue, Cinderella and a Russian band called Gorky Park who used to be our support band when we were there a year earlier. The greatest memory I have is that when we were playing 'Still Loving You' which was already a big hit in Russia even though there were no charts, no CD's, no nothing, it was like 100,000 Russians singing 'Still Loving You' in English with a German band and the Olympic fire was on, the Olympic torch in case you remember in 1980 when there was many countries like Germany and The U.S. and I don't know about Australia, but they didn't go to the Olympics due to the situation in the U.S.S.R. and they put on the Olympic torch for us, and that was quite amazing. So I have great memories of this festival, it was also the inspiration to write 'Wind of Change'…
Lastly, let's predict the future, finish this sentence for me, by the end of 2015, The Scorpions will…
Plan more shows for 2016…
Including Australia…
Absolutely…
You have to come and see us, everyone would be so disappointed if you didn't get to…
Me too, I was one day in Sydney, the whole band was because we played New Caledonia a couple of years ago, we were so close, I brought a guitar as always, I was sitting in my hotel overlooking the harbour and I played in Australia *laughs* but not with the band on stage… *laughs*
Essential Information
From: Germany
Band members: Rudolf Schenker — rhythm & lead guitars, Klaus Meine — lead vocals, guitars, tambourine, Matthias Jabs — lead & rhythm guitars, James Kottak — drums, backing vocals, Pawe? M?ciwoda — bass
Website:  http://www.the-scorpions.com  , twitter.com/scorpions  , www.facebook.com/Scorpions
Forthcoming release: Return To Forever – (February 20 – Sony Music Australia)