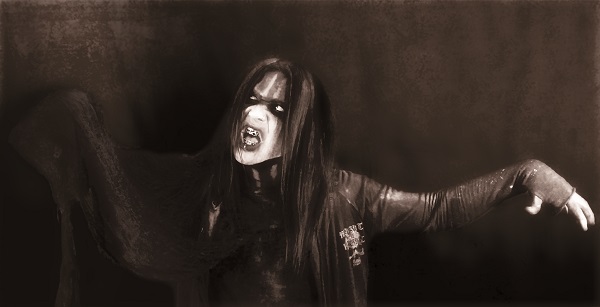 "…I think for the most part a lot of the fans hang around because it does always go back and forth between the sounds, but yeah, it's hard to please everybody, I'm just trying to make the best music I can, and I feel like I'm doing something that's new and is fresh to me."
Wednesday 13 seems like a man that never stops working, and not only working, but evolving as an artist… with his sixth and newest album 'Monsters of The Universe – Come Out and Plague', Wednesday 13 has delivered his first concept album and it is some of his best work to date in our opinion.
We chatted to Wednesday 13 about his new album and its concept, coming into his own and his relationship with Australia… Keep watching the skies…
Hey Wednesday, thank you for your time today…
Not a problem, man, we just got through with our rehearsal, we leave for the tour on Wednesday, ironically *laughs* and we just came down from Texas and it's the first time we've rehearsed with the full band in over a year. I am so happy, it sounds like the CD, the new songs sound like the CD, it's insane, it's amazing, I'm so happy with it.
So can you tell us about the concept behind 'Monsters of The Universe – Come out and Plague', and what you wanted to do with this new album?
yeah basically when to comes to concept records, I'm not a big fan of concept records by any means, I think the concept record that I owned and that would be my favourite would be Alice Cooper's 'Welcome To My Nightmare' which again I'm not even quite sure I understand that story, but you didn't have to because the record was awesome you know? I wanted to still make a record whether you understood the concept; you didn't have to get that to get the record. So with that in mind, I'm known for doing the horror thing and I did it for years and years and years and it's still what I do, but for me I always like to change gears and do things different, so I wanted to write about what I've been reading about and the things I've been into in the past several years. The things I've been into are like conspiracy theories, UFO's and crazy stuff like that and Intergalactic type things and I thought it would be really cool to turn it into a record. So I guess the concept is just the first song on the record where 'everything you know is a lie' is basically what if you woke up and everything that you had learned in school, everything you were taught was a lie, and then all of a sudden a plague breaks out and everyone on the Earth is dying, and so it's not a happy ending to this concept story at all, but that's sort of the theme of it, what if you woke up and everything you knew was a complete lie. It's a scary thought.
How did you tackle the creative / writing side of the record compared to your previous works? Did it become different when you had to make it somewhat of a story?
Lyrically I guess I wanted to tie some things together, but the music it really was just whatever we wanted to do, there was no rules to anything on this album, that's why you have such a diverse thing, we have a song like 'Planet Eater' then you a song like 'I Love Watching You Die' *laughs* which is at two opposite ends of the spectrum of songs. That's what was fun about this, there was no rules, I didn't have to follow anything, we just sort of did what we did, and it turned out really cool, I think we achieved a really atmospheric, dark, heavy fucking record and that's what I wanted to achieve.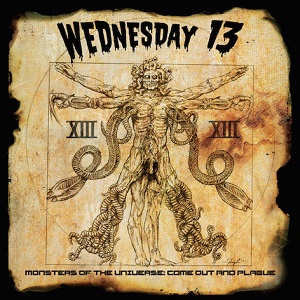 Are there plans in the works for any movies or videos to correspond with it all?
Absolutely, we are going to be filming a video for the song 'Serpent Society' in February when we get back from the tour, and it's sort of is about what the song is all about, the whole reptilian agenda if anyone knows about that, and it kind of ties in with my story of a reptilian race that secretly kind of runs the Earth along with the government and blood lines and so I'm going to sort of turn that into our video, so it's going to be very, very theatrical video, it's not a performance video at all and it probably won't even feature anyone but me in the video. So it's going to be something really cool and different and very high end on the special effects.
I must say I did love the 'Predator' throwback with 'I Ain't Got Time To Bleed' is that where that came from?
Yeah from Jesse Ventura, yeah!
Why did that line resonate for you to use as a song title?
Well when I was writing for the record and turned it into a concept record, it was one of the first songs I had wrote, and it was in my notebook, I had a list of songs, and I was like 'man, no one's ever written a song called 'I Ain't Got Time To Bleed' I've gotta do that' then I thought well how's it gonna fit into the theme of the song? And that's kind of the part of the story on the record where everyone finds out everything is a lie, and everything's gone to shit and it's kind of like the last stand of the people standing up for what they believe in and that's the part of the story, that's just them fighting until the very end. Like I said, there's no happy ending, so that's kind of the Rocky 'Eye of The Tiger' part of the story, and then it just goes to shit.
As you mentioned, it feels like each album has to be a little different for you, is that a way of challenging yourself or do you just want to keep things fresh and not so in a way routine?
Man, I mean with this record I like to do something different every single time and I've got a great band behind me, and years ago I was just working on things myself and would have guys come in here or there, but we've been a band now for five years and it shows. So for me, I'm finding new things we can do, I'm into different music and things now, and my brain is not where it was ten years ago musically. The roots are still there, but a lot of things I'm in to and a lot of it is heavier and I like to try and incorporate it in my sound, so far I'm liking it and the reaction from the fans so far has been great.
This being your sixth album, and with each release do you feel that you more and more come into your own as what you want Wednesday 13 to be?
Absolutely, and that's the tricky part because I feel like I'm getting into the zone of like where this is where I want to be and I think for some fans that maybe got into me because I've been doing stuff for so long and they're like 'that's too far removed from where it started' but again, I can' please everybody, but I think for the most part a lot of the fans hang around because it does always go back and forth between the sounds, but yeah, it's hard to please everybody, I'm just trying to make the best music I can, and I feel like I'm doing something that's new and is fresh to me.
You said you just got off rehearsal, so what's the plan for this tour and how is it all coming together?
It's a lot from the new record, we're playing mainly a lot of the new record and a lot off the 'Transylvania' record which turns ten years old this year, so it's kind of 'Transylvania 902-10' as the ten year, so we're playing a lot of songs off the Transylvania record and the new album and a couple of the old one that I have to play or the fans will kill me if I don't *laughs*. It's a whole new show, it's almost a whole new sound the way the band is, we've added a keyboardist into our band and everything just went up a level for us sonically and I've never been happier with the sound of the band.
You've always had a great reception in Australia, what do you think it is about us down here that gets what you do?
I don't know, but I love it *laughs* and I'm glad that you guys get it. I don't know man, I've just been really fortunate to tour there a lot and the fans are just rabid and it feels like it's growing more and more and more. Taking last year off from touring we're just really glad to have a new record back and hoping to get some dates there by the end of the year. I love it there, I don't know, I've just been really fortunate to have the fans there. I don't have anything set, but there's no reason we won't be coming back there, we just have to get the dates booked and everything so hopefully we'll get it all set up with AJ and Soundwave, and Soundwave Touring and get some dates, so probably the middle of the year, but it'll definitely be happening.
Last time you were here, I caught you on Halloween night in Sydney and it was a killer show…
Oh man yeah that was a really cool show, thank you!
Do you have a particular favourite thing about Australia besides playing the shows?
You know, I talk to a lot of the bands that tour there and they all say the same thing about Australia, it's the closest thing to America but without being in America *laughs* if that makes sense. So for a lot of bands that tour the same kind of circuit that I do, like Europe, and The UK and things like that, when you go to Australia it's such a different world and you feel like you're at home but you're so far away from home. I don't know, man, it's such a unique place, there's no other place like it on Earth, I love it there.
Lastly, let's predict the remainder of the year, so finish this sentence, by the end of 2015, Wednesday 13 will…
Hmm… that's a good question… will… be another year older, how's that one? *laughs*
Essential Information
From: Hollywood, California, USA
Band members: Wednesday 13
Website: http://www.wednesday-13.com
Latest release: Monsters of The Universe – Come Out and Plague (Jan 16 – 3Wise Records) – Check out our review HERE