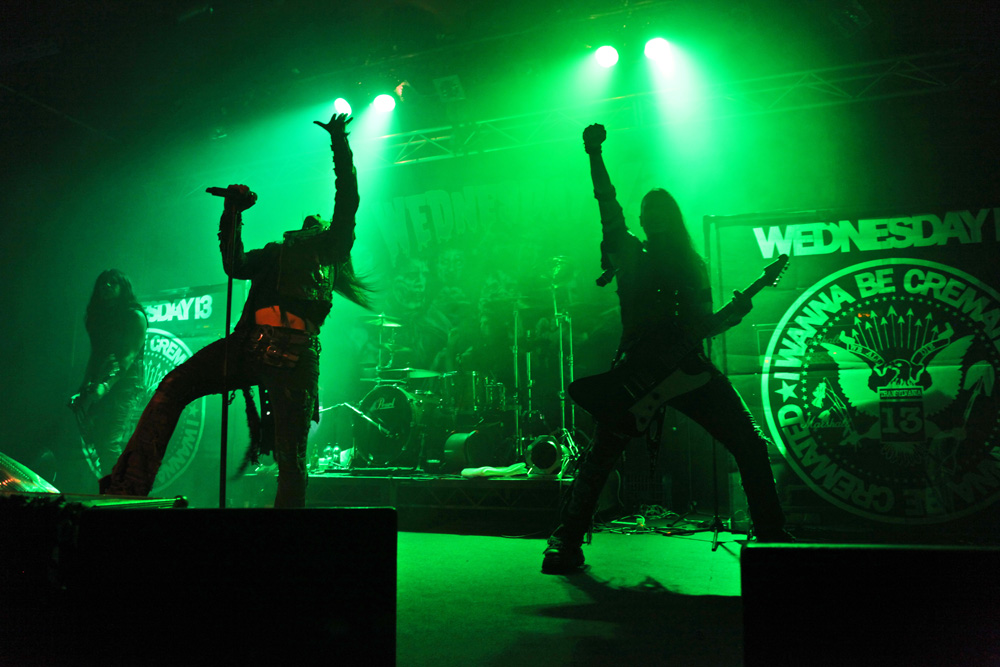 Could it be any more of a perfect night for this show? The answer is no. Wednesday 13 on Halloween in the year of his name… You almost get the feeling that tonight will be something a little different and hopefully something special. Judging by the number of people already here, this is going to be a pretty cool night.
Support act Witchgrinder are on fire tonight, playing to a very full crowd which is killer as they warm everyone up, well make them warmer, and just watching how they perform and the louder applause after each song is testament to a great opener and a perfect choice fit tonight's festivities. Great songs, super tight playing and just a bitchin' attitude, this is a band I need to find out more about.
Lights down, intro music on, smoke machine… smoking… It's time.
"Happy Halloween Sydney Australia… I want you dead… Trick or treat mother fuckers" is shouted by Mr 13 himself as aptly 'I Want You… Dead' is played and is the perfect opener. Yeah this band is here for a good time tonight, that's for sure. Man, Wednesday is seriously channelling Alice Cooper tonight and it's awesome, all in black, and adorned in face paint he's up there as a rock star and he fills that brief perfectly. 'Til Death do us Party' is the happiest heavy song I've ever heard ha ha it's like if 'Accidentally Kelly St' was a metal song, that would be it. But whoa, 'Scream Baby Scream' and its rifftastic musical onslaught is killer!!
'My Home Sweet Homicide' takes us straight into 'Get Your Grave On' and its bone crushing brutality has the mosh pit in full effect and what a track! What I dig about the music of Wednesday 13 is that it's so heavy but it's full of hooks, these are just out and out fun, heavy rock songs. It's almost a throwback to the glam days but completely modernized and given a dose of horror. We get to make some noise for Vincent price on this Halloween night which is pretty cool. Wednesday for the fifteenth time reminds us that once again we're in Sydney, Australia ha ha and now we're hunting werewolves with 'Silver Bullets' and all get to raise our pistols in the air which is cool to see as I look out over the crowd here tonight that are loving every second of this show.
Time for some ghost stories and some guitar solo work from Roman but now we're set for the title track of Wednesdays newest album titled 'The Dixie Dead' and it was easily my favourite on the cd and now hearing it about fifty times heavier tonight makes it even better! The machine gun comes out for crowd sing along favourite 'RAMBO' which was short and fast and then we're off into our time machine back to '197666' which they loved and with another interlude we come back to a heavy drum, a heavy bass and heavy guitar as we all behold Ming the merciless and show no mercy, destroy destroy and I swear the gig keeps getting better as it goes along and it is just so heavy. Even a song like 'We All Die' is full of 'whoa ohs' and a damn fun sing along as is 'I Walked With a Zombie' that got the biggest reception of the evening. As the band leave the stage…
After a long break the band returns to the stage "Sydney Australia… I'm not done with you yet" as we're treated to a few more starting with 'Blood Sucker' which was brutal but 'I Love to say Fuck' is where it's at. The place has their middle finger raised in the air and some audience participation has the place a rockin. Leaving us with 'Bad Things' which was the perfect choice and left us loving what we just saw and also wanting more!
As far as a musical outing for the night of Halloween in 2013, I couldn't have been happier with the choice and the opportunity to see Wednesday 13 on this night.  The band gets better every time I see them and I'm already looking forward to the next time… beware The Dixie Dead…
Check out our full photo gallery from the night, here…
Essential Information
Venue: The Metro Theatre – Sydney
Date: October 31, 2013
Support: Witchgrinder
Websites: www.wednesday-13.com
Presented By: Soundwave Touring
Photo by Annette Geneva
Set List:
I Want You… Dead
Til death do us Party
Scream Baby Scream
Home Sweet Homicide
Get Your Grave On
Haddonfield
The Ghost of Vincent Price
Silver Bullets
Ghost Stories
Coming Attractions
The Dixie Dead
Rambo
197666
Hail Ming
We All Die
I Walked with a Zombie
Blood Fades To Black
Blood Sucker
I Love to say Fuck
Bad Things…