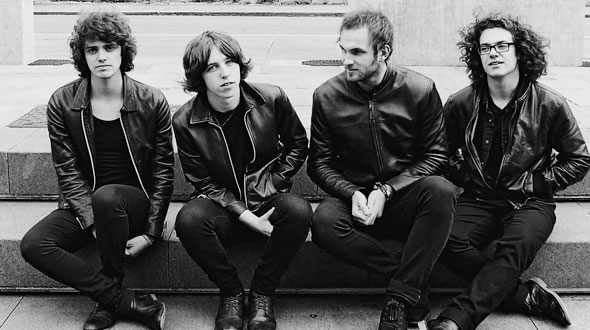 "…they've been calling us 'Oasis but with better manners' out there, that's what we get branded as and I don't mind at all, they say 'you're like Oasis but you guys are polite, man' and we say 'thank you very much'…"
From Bio: British indie rock outfit Catfish and the Bottlemen formed in Llandudno, Wales, with members moving to the seaside town from as far away as Sheffield and Newcastle to complete the lineup. Their initial set consisted of Beatles covers played to unimpressed local audiences, not content with playing covers, the four-piece holed up in a soundproofed room in McCann's family B&B, where they sowed the seeds of their gritty garage rock sound. They began to attract fans through their guerilla D.I.Y. gigs in car parks prior to shows, and in 2011 they played a rain-soaked evening in Manchester prior to a sold-out Kasabian performance while friends handed out free copies of their demo. Their D.I.Y. ethic led them to play over 250 official and unofficial events in 2012 and the first half of 2013 before they eventually signed to Mumford & Sons' Ben Lovett's Communion Records. They released three singles with that label before moving to Universal in 2014. Their full-length debut album The Balcony, which included the Jim Abbiss-produced single "Kathleen," saw release in the U.K. in September 2014. It debuted at 10 on the U.K. charts.
At home packing, the day before heading down to Australia, we chatted to Van McCann of Catfish and The Bottlemen about their upcoming debut tour of Australia, their amazing debut album 'The Balcony' and much more, there is truly something special about this band, and they are most definitely one of The Best Things You've Never Heard…
This will be your first time touring Australia, so for those that may not have heard of you or seen you live before, tell us what they can expect from a typical set of yours…
I don't know, I guess it's really, simple, it's energetic and electric and it's explosive and I don't know, it's very simple, we've not really many tricks, it's just us playing the songs as good as we can and me singing them as good as I can and stuff like that. So just a simple rock show really, not too much about it but it's just got a lot of balls.
So besides the shows, what are you most looking forward to about doing down here?
I don't know, I reckon the lads will be looking forward to the heat, but that's the thing I'm not looking forward to the most because I've got Irish skin, it'll melt me, I get sunburnt opening the fridge at night, you know what I mean when the light comes on… I'm just looking forward to playing, and sharing the stage with The Kooks every night, that should be good. I'm just that excited to play, man.
Now am I right in saying that you once lived here?
I spent the first two years of my life travelling around with my Mum and Dad there, we didn't really live there we just travelled in the back of a car pretty much. My Mum and Dad went across to get married and stuff like that, apparently they told me to tell anyone in interviews that we do that they were the last ever people to get married in I think it's called St. Dominic's church or something like that, first and last people to ever get married there apparently.
So is it true that the name of the band came from a busker you saw here?
Yeah, yeah there was a busker I saw on the harbour as a kid and it was my first memory of music and it was kind of reminder for me watching DVD's back and video clips that my dad used to record when I was a baby, but yeah, he was called Catfish the Bottleman.
So obviously Australia resonated with you?
Australia for me is like coming over and doing a 360 because like I said my parents ran off together over there and took me when I was a kid and I've got loads and loads of family over there, so as well as being on the other side of the world, it's a proper 360 for me.
Your debut album 'The Balcony' was released late last year, what is the feeling like as a band having that solid release and being able to now tour the world?
It's just like, it's unexplainable, it's indescribable the feeling of how good it is and to us it means the world as we'd been going for like eight years before anybody had even signed us or anybody had even found us. We just kept going at it and kept going at it and we just knew that there was something about us and that we could take it somewhere and it would resonate with people and stuff like that. It's all very just over whelming, we're honoured to have the opportunity, so we're just going to really try and blow it this year, go for it.
Being your debut album, what was the process like in putting it together to make sure it was the perfect introduction to the world of Catfish and The Bottlemen?
I just kind of asked my best mate really, asked him what were the best songs and he just told me. He's our guitar tech and been with us since he was fourteen, and because I have hundreds of songs I saved them all as I wrote so many when I was a kid because a label was going to give us a record deal and I need to be prepared for this, so as soon as they come knocking I want them to know that we're ready for this and we're not joking around kind of thing. So I just wrote loads and loads of songs, and in a gig we used to do I used to say meet us at the bar, we used to  play loads of songs and I'd used to say meet us at the bar and tell us which you think is good, which you think is shit, and people would literally come up and say 'don't put that one on the album, that's terrible' or 'put that one on the album, that's great' so a lot of that you know at the start as well.
Well they did well as it's a damn solid album from start to finish.
Thank you, thanks very much.
With the material around for a while though, have you already been concentrating on new music for a follow up?
Well it's done, like I said because I wrote so many songs, I wrote loads of stuff just left over for fault really, which is just kind of like I could've made a new album with what was left over from the first, but I've been writing lots of new stuff, really, so it's all done, all done as far as I'm concerned. There will be a few things to change as I've only got the songs really, I've not had time to sit down with the band and sort them out, but everyone seems really excited about it, everyone thinks we're onto something good with it, so I can't wait.
Inspiration wise, what would you site as your main source of what you create musically?
Stuff like my dad and my best mate coming in drunk and coming out with one liners and stuff that they do, they always say funny stuff when they're drunk and I always make a note of it. Just everyday stuff really, I like watching and I'm always taking notes of things, or street names, or one liners that people come up with, I guess that's my main thing, people watching and I'm just really into observing and trying to like, tell a story they real way. I try and write a love song like it happens in my life, a twenty two year old who's just kind of from like a normal town, where as The Eagles will write about driving off into the sunset in a Cadillac, you know what I mean? I try and do things like that really, that's my thing.
I saw the Letterman performance the other night, sounded great, what was the reaction like for you guys in the US?
Oh man it was awesome, they've been calling us 'Oasis but with better manners' out there, that's what we get branded as and I don't mind at all, they say 'you're like Oasis but you guys are polite, man' and we say 'thank you very much' but it was awesome man, on that show we just felt like The Strokes or any of the bands we loved growing up, like we're The Strokes, we're Oasis, we're The Arctic Monkeys, it's mad.
In the seven years since the band formed, what's the biggest thing you've learned from being in the band you didn't expect was a part of it?
Never seeing anybody again, which I don't necessarily mind because I like being away and meeting new people every day, but not seeing your Mum in six months and your Dad, and your little dogs and your girlfriend, you literally don't get to see anybody, so if you're not on the road with your best mate then your social life is out the window, because we've been touring for like the last three years straight, we haven't had time off in ages, we had a week off over Christmas, and this is now back out for the whole year now, so it's like just that kind of thing, but it's good at the same time, I wouldn't change it.
Let's get a bit of insight into you with some quick fire questions:
What band or artist made you want to be a rockstar?
The Streets. Love The Streets.
First album you ever bought?
The Streets, but I stole it I pirated it off my cousin, but I class that as the first album I bought because it was the first one I had.
A song you wish you'd written?
Happy Birthday, because I'd be a millionaire… *laughs* but there's a lot of National things that I think of because he comes out every now and again he comes out with and I think 'oh fuck that's just so simple, why didn't I come up with that' and he does that to me a lot every time I hear his lyrics I think 'oh that line is amazing, it's so easy, why didn't I think of that?' and then so there's a National song called 'Graceless' I wish I'd written, it's great, it just gets bigger and bigger, it's one of those songs that just develops itself, it's massive.
Tell us the truth, were Hootie and The Blowfish the actual inspiration for the band name?
*laughs* We get that a lot, and Echo and The Bunnymen we get as well… it was literally just that busker.
What's next for the band after Australia?
So tonight we fly to Holland, then we go to Australia, then to Tokyo, then we go to America for three months, then we come back to England for a sold out tour in like 5,000 counts which is just mind blowing, and then I guess the festivals in the summer, then I don't know what's next, do another English tour? Then do it all again next year, probably with another album and better haircuts.
Lastly, let's predict the future, so finish this sentence for me, by the end of 2015, Catfish and The Bottlemen will…
Hmm… have bought all their mothers Jacuzzis… hopefully.
Catch Catfish and The Bottlemen at their headlining shows:
Monday 19th Jan, Oxford Art Factory, Sydney
Supported By: Food Court  www.moshtix.com.au
Sunday 25th Jan, The Hi Fi, Melbourne
Supported By: Apes www.oztix.com.au
With The Kooks:
Saturday 17th January 2015 Belvoir Amphitheatre, Perth (18+)
www.ticketmaster.com.au 136 100
Tuesday 20th January 2015  Hordern Pavilion, Sydney (All Ages)
www.ticketek.com.au 132 849
Friday 23rd January 2015  Riverstage, Brisbane (All Ages)
www.ticketmaster.com.au 136 100
Saturday 24th January 2015 Sidney Myer Music Bowl, Melbourne (All Ages)
www.ticketmaster.com.au 136 100
Essential Information
From: Llandudno, North Wales
Sounds like: "Oasis but with better manners"
Band members: Van McCann (vocals & guitar), Billy Bibby (lead guitar), Benji Blakeway (bass) and Bob Hall (drums)
Latest Release: The Balcony (out now – Caroline Australia)
Website: http://www.catfishandthebottlemen.com/