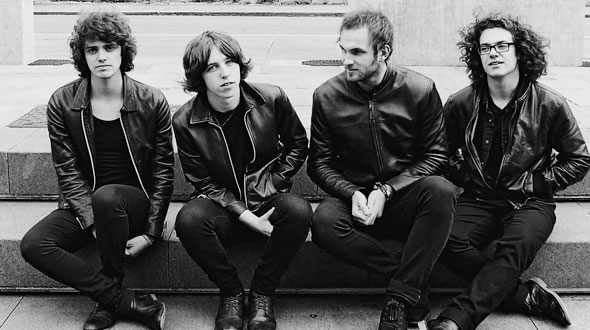 It's always exciting to me when a band is touring Australia for the first time, there's just that anticipation, not only from the concert goers, but I'd be assuming from the band, the questions of 'oh my god, I wonder if anyone will turn up?' and 'Do people even know us there?' and for the punters, 'Man, I hope I'm not the only person going to the show' or 'I hope they're good' as there's no true benchmark other than some footage you get to watch through a computer screen. So tonight, on their debut tour of Australia, we get to see and hear what Catfish and The Bottlemen can do…
Opening tonight's proceedings is 'Food Court' who's surfy come brit pop sound delivered some pretty catchy ditties with a whole lot of reverb. Belting out tracks from their newest EP, they were up there having fun and it shows, the crowd warmed to them after a few songs which was good to see, and their last two songs the standout.
The crowd has actually now grown to quite a nice size, I'm impressed and ready to hear what Catfish and The Bottlemen have in store for us…
The curtains open to reveal a smoky stage as 'Roses' by Outkast plays and the lads take the stage for what is their first headline show in Australia. They instantly get into their groove with a great musical introduction followed by a welcome and opening track 'Rango' delivering a high energy performance 'Pacifier' is up next, and what I already love about this band's live persona is that it just looks genuine, there are four guys up on stage playing rock and roll and I get why they've caught on so quickly around the world.
'Sidewinder' is one of my favourite tracks off their album 'The Balcony' and they nailed it, up next is 'Fallout' and as I stand up on the balcony at The Oxford Arts Factory, I get to look down at the floor and how much everyone is enjoying what they're hearing, that goes for those up here too, so what I'm saying is that everyone is digging this show!
'26' once again proves that persistence pays off as even though they've only just released their debut album, their years of playing together shines through as they are as tight as a catfishes, well you know… Oh man, what's funny is that I've listened through this album so many times but I'm getting a buzz when each song is played, there's just always something about hearing music live and tonight they're showing me why I love live music so much. 'Business' kills it, but 'Kathleen' takes this set to another level, this is one great track and worthy of the attention it's receiving around the world.
Ha ha I love it when a new band tours and they introduce their song which is followed by a cheer from the crowd and they say with such heart, 'thank you' it's so cute. 'Homesick' rips it up and hearing the crowd sing back to them put big smiles on their faces which is also cute and kinda un rock and roll but hey, lap it up, boys. Who knew they had a song on 'FIFA'? well if you didn't, now you do, it's the pointy end of the set now, so this one is 'Cocoon' and yet another favourite of mine on the album, and obviously for those here too as this is the one they would've heard on the radio and it shows as they get into it and sing it back to the band. Special mention to the little bit of Springsteen thrown in at the end.
Giving us the old 'this is our last song' bit, we have 'Tyrants', and they get a bit spacey and instrumental mid song and build it back up to the big rock ending. Oh and look at that, it was the last song… no encore, just ten songs of straight up rock and roll.
This short and sharp set was well worth the price of admission for those here, this was one of those gigs that you will wish you were at after you see the band the next time they come back playing bigger venues. Well played Catfish and The Bottlemen, well played.
Check out our interview with Van McCann of Catfish and The Bottlemen HERE
Catch Catfish and The Bottlemen at their remaining headlining show:
Sunday 25th January 2015 The Hi-Fi, Melbourne
Supported by: Apes www.oztix.com.au
With The Kooks:
Tuesday 20th January 2015 Hordern Pavilion, Sydney (All Ages)
www.ticketek.com.au 132 849
Friday 23rd January 2015 Riverstage, Brisbane (All Ages)
www.ticketmaster.com.au 136 100
Saturday 24th January 2015 Sidney Myer Music Bowl, Melbourne (All Ages)
www.ticketmaster.com.au 136 100
Essential Information
Venue: Oxford Arts Factory – Sydney
Date: January 19, 2015
Presented by: XIII Touring
Website: http://www.catfishandthebottlemen.com
Support band: Food Court
Set List:
Rango
Pacifier
Sidewinder
Fallout
26
Business
Kathleen
Homesick
Cocoon
Tyrants