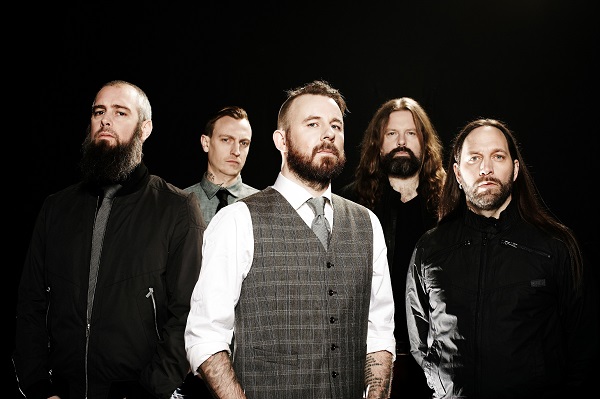 "… if we start paying attention to that and start focusing on what other people might think, then we lose ourselves. We always go into the studio and we always do things like this, we don't listen to any managers, we don't listen to any record company or anybody that want us to do the same things in a different way…"
From release: In Flames has proven to be an unstoppable force in heavy music and have proven time and time again that they refuse to stand still. From the first opus in 1994 entitled "Lunar Strain" to their new album "Siren Charms", the Swedish forefathers of Death Metal has risen to great heights in music history. They continue to take risks, push boundaries and challenge themselves and sees them "taking their game several steps forward, leaving both imitators and naysayers far behind."
On their way to Australia for shows with Trivium, we caught up with Peter of In Flames to fill us in on the tour, their new album, alienating fans and much more…
You're on your way back to Australia this November with Trivium, are you pumped to be heading back Down Under?
I'm very, very psyched to be back, we've been playing Australia way too little in the past so I'm really glad to be back finally. They're a good band to tour with, they're great mates and just a great band.
You've been here numerous times before, do you have a great memory of a previous tour here?
Yeah I mean all of the tours have been great, all the people that have been to the shows, all things have been awesome at all times. Last time we were there was Soundwave, and playing with all those bands, I was telling someone before, you get to know a lot of people in this business and when you get to tour with a line-up of over a hundred bands and you know over half of them, that's a huge party. It's been awesome every time, we always go deep sea fishing when we're there which I'm sure people do all the time, but for us it's something very cool, we don't get to do that a lot. You have a lot of different species than we have in Sweden.
'Siren Charms' has just been released, what are the feelings like for you around release time?
I guess I kind of feel like I'm sharing a secret finally that I've been having to hold to myself for a long time, since it was done at the end of last year, it was mixed in January. I've listened to this for six or seven months, and when I'm finally able to share it with everybody it makes me really happy.
Can you tell us the meaning behind the title of the album and what it means to you?
It's Anders who came up with it, but basically it's ancient Greek mythology about mermaids that lure sea men into a tragedy, and they show them their beautiful face and when they're lured in they show them their true self, their inner true self. I think Anders saw a lot of documentaries of people on the edge or with drug related issues and I guess they saw the drugs as their siren and they were lured into their abuse. There's a lot of stuff in the world that you can relate to, I mean a destructive relationship is one that we get lured in and I think it's a very appropriate title, and he always writes the lyrics as to where he is at this time and inspired by what goes on around him. I think that this title symbolises something that anybody can relate to.
The sound of the album is somewhat of a departure from what the band is best known for, what was the idea behind the differing style for 'Siren Charms'?
It wasn't a real idea, we went into the studio with a bunch of riffs and I guess we were inspired a little bit at the same time by where we were with classic Hansa Studios and all the classic artists that have been there; David Bowie, Depeche Mode, U2 and I think that some of it rubbed off to the energy on the record. At the same time, we've never done two records in a row and I guess this is just where we are today, as far as we're concerned we never go into recordings saying that we're going to do it differently or saying that we're going to change our sound now, we go into it with some ideas, some riffs, some song titles, whatever it is and we go in and we try to make a great record and whatever style comes out at the end is for other people to decide, for us it's always going to be In Flames but it's never going to be the same record as the previous one.
Was there any hesitation when you know you're about to release something that may alienate a fan base that isn't ready for a newer sound?
I think that some part of us might be, yes, but at the same time if we start paying attention to that and start focusing on what other people might think, then we lose ourselves. We always go into the studio and we always do things like this, we don't listen to any managers, we don't listen to any record company or anybody that want us to do the same things in a different way. At the end of the day we are the ones who make the music and we are the ones who have to represent us and we have to stand behind it 100%. So I'm very proud of it and I think if people were not to like it, I could never really focus on that, I can never really think about it you know what I mean? Hopefully they like it because they know we did it without any outside influence and if they don't then it's just a shame you know?
Evolution is a great word and bands do change and grow as they continue, what for you has been the most notable evolution that In Flames has encountered?
I think when we did 'Reroute to Remain' back in 2002, that's the time when I guess we didn't really change, but I remember going into the studio, it was a new studio for us, we started recording the record, we had everything done besides pretty much all of the vocals I think and then we were offered a tour with Slipknot. We went on that tour and as we were on the tour we noticed that on our forums and on our fan pages a lot of negativity started to come that we sounded like Numetal, and I just realised that wait a minute… these are the same people that loved 'Clayman', we haven't released anything new, what's different? Oh, we're on tour with Slipknot… so that's when I stopped caring about comments because it is what it is, we make music and we do evolve, but I think it's up to the people to decide if we've changed or not. I like to call it evolution.
So what do you personally see as the biggest difference between In Flames 2014 and In Flames 1997 when you joined?
Well there's a lot of kilos in all those years, less hair, more stomach… I guess we've matured a lot as we've been doing this for so many years and we've travelled so many times around the world and that affects you obviously, that music comes out in the way we write as well. The biggest difference is that then we could be considered melodic death metal, and I wouldn't say that the new album is melodic death metal, I would say it's Metal. So if it comes down to that comparison, it's Death Metal vs Metal, it's so hard to describe it in just a few words.
Touring wise, aside from the upcoming Australian shows, what else is in the works for you guys?
We do a full European tour, then we go to Japan for just the one show, Knotfest in Tokyo, then we head over to Australia to see you guys. Then from Australia we move on to The U.S. and Canada, then we keep on touring this way for the next three years I reckon. I really hope that this is not our last stop in Australia on this cycle, I think that if our plans go accordingly then we'll come back many times.
What do you enjoy most about being in In Flames?
I guess the freedom to do whatever I want basically. I get up in the morning or whenever I choose to and go out and play music and travel the world with friends, with people that have grown into being my family, my brothers, and being able to do that as a living has brought me more than I ever thought it could, I have the freedom to do a lot of stuff at home that I would never be able to do and I have a lot of time that I'm able to spend with my children and my wife and which I wouldn't be able to do otherwise if I didn't make a living the way I do. All of it. The thing of being on stage every day and being able to play in front of people and getting your ego stroked and meeting people that are friendly all over the world. The only negative thing about being in a band is that you sometimes have to leave your family for some time, but other than that, it's amazing.
Lastly, let's predict the remainder of the year, so finish this sentence, by the end of 2014, In Flames will…
Be at home celebrating Christmas…
Catch In Flames on tour in Australia with Trivium at these dates:
WEDNESDAY 19 NOVEMBER – BRISBANE, THE TIVOLI – 18+
www.ticketmaster.com
FRIDAY 21 NOVEMBER – SYDNEY, ROUNDHOUSE– Licensed All Ages
www.ticketek.com.au
SUNDAY 23 NOVEMBER – MELBOURNE, 170 RUSSELL – 18+ – SOLD OUT!!
www.oztix.com.au | www.170russell.com
SECOND AND DEFINITELY FINAL SHOW ON SALE NOW
MONDAY 24 NOVEMBER – MELBOURNE, 170 RUSSELL – 18+ –
www.oztix.com.au | www.170russell.com
TUESDAY 25 NOVEMBER – ADELAIDE, HQ – 18+
www.oztix.com.au
Presented by Soundwave Touring
Essential information
From: Gothenburg, Sweden
Band members:  Anders Fridén – Vocals, Björn Gelotte – Guitar, Daniel Svensson – Drums, Peter Iwers – Bass Guitar, Niclas Engelin– Guitar
Latest Release: Siren Charms (Sony Music Australia) Out now
Website:  http://www.inflames.com