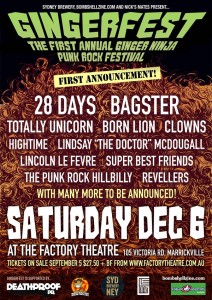 Some of the most exciting punk and rock bands from across the nation have joined forces to form the stellar line-up for the inaugural 'GINGERFEST' fundraising event, to be held at Sydney's Factory Theatre on Saturday December 6. 
Gingerfest is an exceptional and highly anticipated all day event to raise money for Vision Australia in memory of Canberra man Nicholas Sofer-Schreiber, who was tragically murdered in late 2013. Known widely and affectionately as 'The Ginger Ninja', Nicholas was a long-time and much loved stalwart of the Canberra punk rock community.  Event co-curator and close friend of Nicholas, Luke Griffis explains the concept: "The Ginger Ninja was more than just a friend to us, he was family, he was the heart and soul of our little music community. His legacy will live on. The best way we thought to remember would be just this, an annual punk rock festival. Celebrating his life with the thing he loved the most; music" 
And what awesome music there shall be! Beer-swilling fun time classics from 28 DAYS, long-time Sydney favourites BAGSTER, riot inducing (potentially nudity laden) rock from TOTALLY UNICORN, riff- lords BORN LION, rowdy Melbourne whippersnappers CLOWNS, beloved Canberran pop-punk dudes SUPER BEST FRIENDS, genre-straddling SA punkers HIGHTIME, ingenious bluegrass/Americana style punk covers from THE PUNK ROCK HILLBILLY and melodic punk vibes from Canberra veterans REVELLERS. An acoustic stage will feature unplugged performances from Frenzal Rhomb/Triple J funny guy LINDSAY 'THE DOCTOR' MCDOUGALL and Melbourne alt-country heartbreaker LINCOLN LE FEVRE. Plus plenty more amazing antipodean talent to be announced shortly.
The quality of the Gingerfest line-up is a stunning testament to the powerful impact 'The Ginger Ninja' made on the Australian punk rock community. An inspired and positive way to honour his memory, and help some needy folks in the process. Get on board with one of the most positive events on 2014's music calendar.
GINGERFEST – SATURDAY DECEMBER 6
THE FACTORY THEATRE, SYDNEY
Tickets $27.50 + bf
On sale Friday September 5th via www.factorytheatre.com.au 
28 DAYS, BAGSTER, TOTALLY UNICORN, LINDSAY 'THE DOCTOR' MCDOUGALL (ACOUSTIC), BORN LION, CLOWNS, HIGHIME, SUPER BEST FRIENDS, LINCOLN LE FEVRE (ACOUSTIC), PUNK ROCK HILLBILLY, REVELLERS