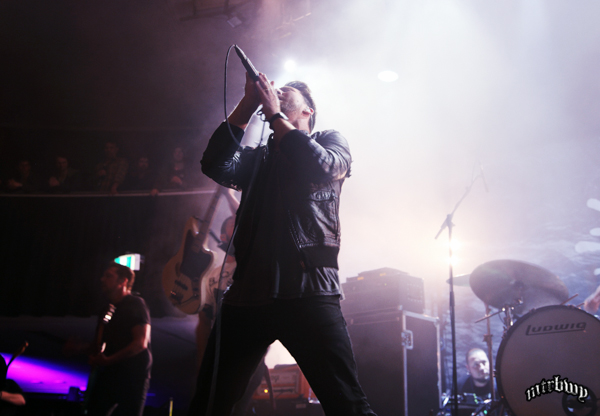 It was exactly a year ago to the day that Anberlin were in Sydney on tour, and I was reviewing them at the Hi-Fi. Tonight for the final time, here I am at The Roundhouse to say goodbye to this band that Australia and myself loves so much.
I managed to catch the last few songs from Breakaway who from what I saw sounded great, cool vibe great tunes and a fun band to watch, I'll be looking out for more from them. Then The Getaway Plan take on the main support tonight and a great choice too, with some mix problems during the first song, the levels seem to balance as they belt out 'The Reckoning' which is really powerful tonight and I've always liked the way it comes across live. They go old school with the heavier 'Sleep Spindles' and man, this one rocks, although the screaming vocals here didn't quite make the cut, you can forgive them for that as this track was killer. Getting the crowd involved for 'Shadows' is cool as I watch more and more people come in to get their spot for this special night. With only a couple more songs to go, and mention of their new album they're making through pledge music (free plug) they take us to 'Heartstone' that everyone enjoyed, but they leave us with the obvious choice of 'Where the City Meets the Sea' and a nice applause for the guys, but it's more than obvious that everyone is here to see Anberlin…
Warning: There may be some tears tonight.
The thunderous applause as Anberlin takes the stage is nothing short of magical, as 'Paperthin Hymn' opens it up and boy is this loud, and wow, this is gonna be special. Wasting absolutely no time, they launch into 'We Owe This To Ourselves' keeping the intensity up and you can kinda feel that the band are going to play extra hard tonight and I for one am loving it. 'Self-Starter' tears it up, and I don't know when they plan on stopping to take a breath. As the guitar riff to 'Readyfuels' rips in as do the cheers and I get the feeling that the band will be able to do no wrong tonight and could maybe throw a nursery rhyme in and people would still go berserk. 'Never Take Friendship Personal' levelled up and super impressive moment of the night came as drummer Nate threw a broken drumstick up, grabbed another, kept playing as the thrown stick managed to hit his crash cymbal on the beat. Whether he meant it or not, I saw it and that was outstanding. Points to you Nathan!
'Someone Anyone' keeps the tempo up and it was cool to see the entire place clapping along at one point, how can you not with a song like that though. For the first time tonight the band slows down albeit for only a moment as 'Other Side' begins slowly but as we all know explodes into a monster. It's also the first time they stop to chat, and it's hard to believe that Anberlin have been to Australia nine times which is an amazing effort for any band, somewhat bittersweet though that it's coming to an end. Another slower one '(The Symphony of) Blasé' is an apt song for this scenario and sounded perfect and Stephen Christian is singing better than I've ever heard in my four times seeing the band and what a night to pull out your A game. Oh man, in terms of melody this next one 'Take Me (As You Found Me)' takes not only the cake but the whole damn bakery, what a killer song and arrangement. Wow. Stop gushing, Troy… I know, but…
The acoustic guitars come out for 'The Unwinding Cable Car' and as Christian turns the microphone to the crowd, they acknowledge by singing back and the smiles on the bands faces says it all. Quiet time is over as the bass pounds in to signify 'Art of War' and what a song, they felt that one that's for sure and ha ha awww he thanks the crowd for singing along which is adorable. Oh they love this one, 'Breaking' and with a 'whoa oh whoa oh' 'Impossible' sees the band truly get into this one and get animated which is awesome, but with its hook of a chorus this one is a standout of the night thus far. 'Time & Confusion' keeps the hook in and the band rockin' and wow, if the last one was good then this one is better.
"This one's for you… Lose your voice" Christian says as 'A Day Late' takes its place and that one was killer!! "Thank you so much got all of the memories… This is for you…" (a running theme tonight) a song he explains was written for us of course it had to be 'Adelaide' which goes without saying that they lapped every note of it up. The set goes on with some more 'whoa ohs' in 'Dismantle.Repair.' and then it's time for one of my favourites in 'The Resistance' and obviously not only mine as the pit goes nuts for this one. What a fucking amazing song that is, sorry for swearing but it is. I'm gonna miss that one a lot, ahhh it's setting in… this is the end… but no…!!. 'Godspeed' gets plenty of love and admiration as does the absolute stand out and one played with so much heart, 'Feel Good Drag' and for the last time they blew the roof off the place with it. Christian risks his life by crowd surfing which looked amazing as he jumps back on stage to finish the song as the band says goodbye, but only for a moment.
They're back and all it took was the strum of a guitar and the roar back of love for '(*fin)' was there, this much slower one is a great addition to this final set in Sydney as it builds to what is in fact the end, but what I really love here is the emotion shining through in particular as they throw in lyrics to 'Harbringer' where he screams "we'll live forever… forever… FOREVER…" and maybe means it a whole lot more tonight, this is the only new one from their final album 'Lowborn' and it also closes the album and this chapter, if not closes the actual book.
Although… Now that I think about it, the last farewell tour I went to was KISS in 1996 and we all know how that turned out. So there may be hope for a return from Anberlin… One day. Until then, from me, thank you and goodnight.  Or as Stephen Christian put it "We are Anberlin, God bless and goodbye…"
*single tear*
Essential Information
Venue: The Roundhouse – Sydney
Date: September 7, 2014
Supports: Breakaway & The Getaway Plan
Website: www.anberlin.com
Set List:
Paperthin Hymn
We Owe This to Ourselves
Self-Starter
Readyfuels
Never Take Friendship Personal
Someone Anyone
Other Side
(The Symphony of) Blasé
Take Me (As You Found Me)
The Unwinding Cable Car
Art of War
Breaking
Impossible
Time & Confusion
A Day Late
Adelaide
Dismantle.Repair.
The Resistance
Godspeed
Feel Good Drag
Encore:
(*Fin) – (Featuring Harbinger lyrics near the end)