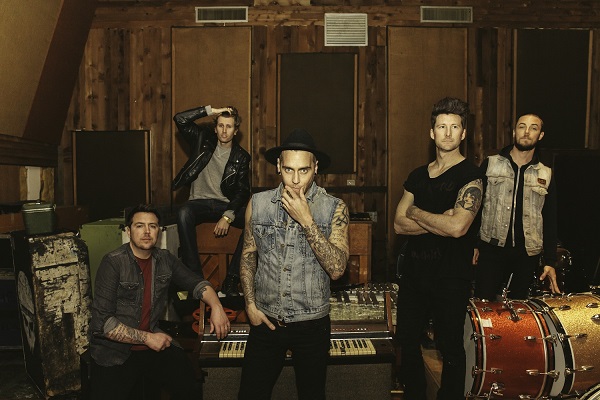 "…when our name is brought up and in the conversation of music and this genre and this decade, if it's just remember as good dudes and the guys that put music out that they loved and it felt real and it felt honest, if those were the words that were used to describe us and our career, that to me would just be the best."
From Tour Release: Beloved Florida pop-rockers Anberlin have a rich and long-standing relationship with Australian audiences and truly need no introduction. Throughout the band's illustrious 12-year career that spans six albums and endless world tours, Australian crowds have always welcomed the band with open hearts and minds. Now, dedicated local fans will have an opportunity to farewell this wondrous act, as the band expand their final world tour to include five Australian dates this September.
In Tampa Florida, drinking a beer and watching storms we chatted to Nathan about the end of Anberlin, why now was the time, what Australian fans can expect on their last trip Down Under, and what the future holds…
So… I guess the biggest question is why are you leaving us?
*laughs* Wow, that's quite the broad question, I figured we would get that a lot this year, wait, is that a real question?
Yeah… *laughs* I guess I mean what's the idea behind wrapping up the band now?
I mean there's so many reasons and different things and it's going to be tough to go into all of them but for us we just felt like we've done and said everything that we wanted to do, starting this band twelve years ago and just doing it and playing music none of us ever thought we'd ever get this far. You know we'd tour with different bands and some would start the same time we did and do one or two records and that would be it and that would be the kind of lifespan of those bands. So for us we always kind of wondered and just took it day by day and just kept moving, it wasn't like a big plan or anything that we were setting out to do, like 'oh once we hit six records we're going to call it…' or anything like that, so for us to make it this far was already a massive accomplishment, and then last year just how things were going we just had an honest conversation between us and where we were at as dudes and as a band and it's one of those things where the band is five guys and everyone has different thought and things and that's the beauty of it, and so for us we just felt like it was time, it just felt kind of obvious and it is hard to explain that to a lot of people, it's tough to understand and I totally get that and I feel it will be this whole year having these conversations will be tough to get our point across because really it's almost something you can't explain because it's one of those things that just does, it's almost like a feeling and it feels like the right time. Honestly, I mean seven albums is mind blowing to me, especially that the majority of our favourite bands have only done three or four albums, so to be this far is a massive, massive accomplishment for us so honestly the best answer is that it just honestly feels right and feels like the right time.
The title of your forthcoming and final album is 'Lowborn' why was this the choice for it and what does it represent?
Again there's a bunch of different reasons if you look it up, but Stephen and I always discuss the album titles and what it's gonna be and how it fits the music and the songs as a whole and I remember he text me one night, just text me 'Lowborn' and at first I wasn't actually sure what he was talking about, but he was obviously texting me about the album, but yeah there's a bunch of different thoughts as to what that means, 'Lowborn' just kind of means humble, kind of like someone that feels not lowly, but in a sense, we're just honest and humble dudes and it's kind of where were at  and we feel grateful to be where we're at and it kind of encompasses this final album for sure.
Tell us about the really unconventional recording of the new album and why you all did it apart…
Well we've always written separately, that's how we've always done it, none of us live in the same city so we would always write and send each other little snippets of songs or different parts or whatever and we would always kind of write that way. Normally we would get together and jam out the record, do it right there or move to a different city and do it together but for this we just kind of felt like with the timing of everything and where everyone was at, we just kind of discussed it and felt that this was the best move. It really did, it felt natural and I guess being on the outside looking in it does seem very strange with all producers and we did it ourselves but it felt natural and the right thing to do for this record, again, it wasn't just a random choice like we'd just pick different people I mean Matt Goldman who I did drums with is someone I've been trying to go back and do drums with him since our first demos we did with him, he's just an incredible producer and incredible drummer. So we did the music and the programming with Aaron Marsh and Lakeland and Stephen did vocals there with Aaron Sprinkle in Franklin, so we've worked with all these people and again they were just there and there wasn't one producer, they were just there for ideas and it was really cool, it just worked out really great.
Sadly, very sadly, Anberlin is coming to see us in Australia one last time this September, so do you have an idea of how the shows will happen and how you're going to say Goodbye?
Yeah that's gonna be tough, we know that every show is going to be emotional to think that's the last time we're going to be there, especially with how much Australia means to us, but were just really thankful to be able to come back because some bands get one show to say bye, but for us to get a proper tour in Australia is just amazing. I think it's going to be great, we're working on the set now and building the set list and seeing what the best thing is to play, but I think it'll just be a mix of all the albums, trying to pick the right songs, and not everyone will be happy, I'm sure there will be people that want to hear old stuff, or people that want new stuff, so just trying to find that balance will be tough.
Well the only song I'd love to hear is 'Breathe' so if you can throw that one in in Sydney that would be great!
*laughs* We've actually never played that song live, actually we've played it once, when that record came out we rehearsed it, played it and it after the show we all said 'man that just stunk' it was not good, we all felt it was a train wreck for some reason, BUT I'm not saying we won't, when we start rehearsing we're going to try everything.
Well then I look forward to hearing it…
*laughs*
Tell us the truth, will these Australian shows hurt the most?
Yeah I think so, I really do and I'm not just saying that, I mean we're going to Brazil and I love Brazil but Australia, we've been, I mean over ten times and it's crazy when we first went we were kids and now to be going back after all these years and having such good friends and such amazing times, I think it will be really tough. Plus it's so far for us, being all the way there and knowing this will be the last time we'll be there it'll be really tough I'm sure, and I'm an emotional dude, so I get the feeling I'll potentially be a wreck at most of these shows.
So, when does it actually all end, is there a date and place set yet?
Yeah, there is, we haven't announced it yet and we're working out all the details on what the actual day and actual city, but we have a rough outline for the year and what our last, last show will be but we haven't finalised anything or announced it.
So how does it make you feel when the word 'Final' is used for everything, final album, final world tour, does it stir up some mixed emotions?
Yeah it does absolutely, I've been in this band since I was fifteen, so it's a crazy thing to think that half my life I've been doing it and to then do something else how weird it will feel, but honestly I'd be lying if I said I wasn't excited about the future and even just doing something different is exciting to me, and I don't say that in a non-thankful way, I say it like this is it, being able to travel and tour with your friends, there's nothing better. I agree that it's been incredible, but obviously it's just such mixed feelings, like I said, we talked about this last year so for me it's been a longer time coming, so it's super hard to read and it's sad, but it's also this exciting feeling that it is wrapping up on our terms, something we've always discussed, we always had to have that discussion at some point in our career about what the end will look like, so to be here and to look back on all we've done and to have a final record, were all excited, I'd say it's more happy emotions that just plan outright depressing or sad for me. I don't expect everyone to understand that, but for me it's just an overwhelming feeling as opposed to just a sad one.
So let's reflect over the last twelve years, with a few favourites:
Favourite show or shows you've ever played?
Oh man, on our 'Never Take Friendship Personal' tour we played Melbourne and it sold out, and that was like one of our first shows that had ever sold out ever, and it blew our minds, people were singing along and it was just something that we'd never experienced, so on that tour for sure.
Favourite moment you've experienced?
One that always sticks out in my head for whatever reason is the first time we went to Singapore, it was one of those things, we expected a couple of hundred and it was just one of those insane shows were there were so many people and I just remember playing that show and just getting mind blown that we were at that point. Just how different it is from where we live, yeah I just always think back to that show for sure.
Favourite Anberlin song?
Oh man… dang… ever?! Oh man that's tough… we've just got so many good one *laughs* let me think… I think maybe 'Dance Dance Christa Päffgen' which is the last song on 'Never Take…' I've just always though that song to me, I was just sitting there and thinking how awesome it was that I was a part of it, so if I had to pick I'd say that song.
Favourite city in Australia?
Oh, Melbourne… I've got so many friends there and out of all the years we've been that's just always been my favourite city there.
What are your plans post Anberlin?
For me it's kind of one of the things in seeing what's next, but I'll always play music and play on friends records and I just got finished playing drums on our friends in Yellowcard's record, and I'd love to just keep doing that and doing studio stuff, it's just so much fun. Then I'm just going to be focussing on Tampa which is where I live and working on coffee… I guess that the broad way of saying that…
How do you want Anberlin to be remembered?
I just think that when people think back on us, that so many bands come and go and it's so tough to be at this point and try to have a hand in saying how we ended and how we go and how people remember us. Just when our name is brought up and in the conversation of music and this genre and this decade, if it's just remember as good dudes and the guys that put music out that they loved and it felt real and it felt honest, if those were the words that were used to describe us and our career, that to me would just be the best. For people to remember us like that, that we weren't contrived or tried too hard or whatever, obviously we've made mistake in our career, but I guess if our name is brought up and they have good memories and had good times with us then that's all I could ask for sure.
Normally I'd finish with a prediction for the rest of the year, but we know what's happening with Anberlin, so instead do you have a closing statement or message for your Australian fans?
Honestly, we're so pumped to get back there and I just feel that they're going to be some of the best shows of the year for sure, and I guess I'm looking forward to it being back like old school times, hot, sweaty, crazy shows that we first started when we got over there. Basically just get ready as it's going to be a good time for sure. It'll be tough but it'll be fun for sure.
Catch Anberlin in Australia one last time at the following dates…
Wednesday 3 September – Metropolis, Fremantle – 18+
Tickets from www.tickets.destroyalllines.com, www.oztix.com.au, www.heatseeker.com.au or Heatseeker outlets
Thursday 4 September – HQ, Adelaide – Lic AA
Tickets from www.tickets.destroyalllines.com, www.oztix.com.au, www.venuetix.com.au or VenueTix outlets
Saturday 6 September – The HiFi, Brisbane – 18+
Tickets from www.tickets.destroyalllines.com, www.thehifi.com.au or Oztix outlets
Sunday 7 September – The Roundhouse, Sydney – Lic AA
Tickets from www.tickets.destroyalllines.com, www.ticketek.com.au or Ticketek Outlets
Tuesday 9 September – The Forum, Melbourne – 18+ – SOLD OUT
Wednesday 10 September – 170 Russell – 18+
Tickets from www.tickets.destroyalllines.com, www.170russell.com or 1300 724 867
Essential Information
From: Florida, USA
Band members:  Stephen Christian – Vocals, Guitar, Deon Rexroat – Bass, Joseph Milligan – Guitar, Nathan Young – Drums, Christian McAlhaney – Guitar
Website: http://www.anberlin.com
Forthcoming release: Lowborn (UNFD / Tooth & Nail – July 25th) – Read our review HERE