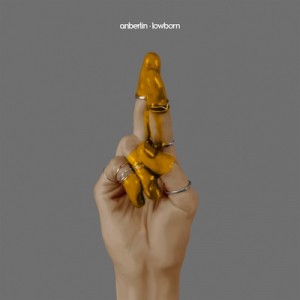 OK, yeah I know, this album has been out for a little bit now, and I've listened to it more than a handful of times, but what's interesting about this album is knowing that it's the band's last album, this made it a little difficult to express my 'feelings' towards it, so now after some digestion of the idea of Anberlin leaving us, it's time to review 'Lowborn'…
Being a fan of this band for quite some time, I had high expectations with this one and when opener 'We Are Destroyer' started somewhat different, electronic I made that confused face like I didn't know what was going on, but there it is, boom… loud guitars, big chorus and the great melody I've come to love from these guys. Not only does it have album opener written all over it, it has live show opener written there too and I'd be more than surprised if we didn't get this one kicking off their farewell shows down here in Australia next month.  Now we have 'Armageddon' which A) reminds me I need to watch Armageddon again, man that stupid movie makes me cry, sorry, distracted and 2) how supremely talented Anberlin are in terms of their song writing and arrangements, in fact this song feels like it's the best thing 90's Depeche Mode never did and I absolutely love it. It's ethereal at times, it's just a full song that if you really listen to it, there are so many things going on here, it's so well produced and I applaud that.
'Stranger Ways' not only has an outstanding video to accompany it (see below) but is just such a great tune. It's not a big rock track, it's not a big ballad, it's just a great tune and when you listen, and I say when because you just need to, you'll see what I mean. Lyrically I've always loved what Anberlin do and this one is up there as one that stands out in terms of lyrical content. Nicely played team Anberlin. No sooner have I finished saying how much of a big rock track that was comes 'Velvet Covered Brick' and enough guitars to make me happy and probably many more too. What I like about these songs so far is I feel like they have been written with the live show in mind, like they want to not only create this final album but want to play these songs for us on stage to show how proud they are of this final effort. Case and point with 'Atonement' and you simply need to listen to the lyrics to get this song to understand it, it to me feels like a wrap up, a thank you, a song for the fans, maybe I'm wrong but this song is outstanding, and with its fade out summing it up I'll just leave it at that.
Moving through the album with 'Birds of Prey' which is a cool little middle of the road rocker, followed by 'Dissenter' which kicks off with not only drums giving us what for, but buzz laden guitars and vocals and its pure intensity, it's really unexpected this far into an album that has been a lot more subdued and in a word tranquil at times, but this one comes out and kablamo!! What's cool is I dig the hell out of it, maybe purely because it is so different, oh and as I typed that it breaks down into a subdued and tranquil piece ha ha, you big trickers Anberlin… ahhh didn't last long, volume back at 11. 'Losing It All' keeps a foot tapping beat to it and is a perfect song for this late into the album as it keeps the standard high in terms of tracks, and the vocal arrangements here are so well done in terms of parts.
With only a couple of songs to go, we're nearing the end, the recorded end for Anberlin… it's somewhat sad to write that actually as this has been and will continue on being that through their recorded works, but knowing this will be the last one is somewhat bittersweet. So to round out the album is 'Hearing Voices' which I really like musically, and in terms of a chorus, that's how it's done and I'm a happy camper, this is a great tune as the verses keep an underlying guitar there and booming into the chorus I just mentioned, but this is actually probably close to my favourite on the album and it's this far in. I can't go past 'Atonement' as a favourite, but this is a close second. So, we come to 'Harbinger' the final song on the final Anberlin album… it's a truly fitting song to go out on, it's chilled out, it's smooth and with lyrics like "so many changes taking places we need to walk away…" that sum it up it perfectly with its last words "So you will remember me…" the final chapter is finished and the book is closed.
So, is it the most solid Anberlin album they released over their career? In my opinion, no… Is it the best way to say Goodbye? Hell yes. This album seems like a fitting end to a band that has been with us for seven albums, and countless memories. So make some more one last time with this album, with their farewell tour and let Anberlin know how much they'll be missed.
Read our interview with Nathan Young of Anberlin HERE
Catch Anberlin in Australia one last time at the following dates…
Wednesday 3 September – Metropolis, Fremantle – 18+
Tickets from www.tickets.destroyalllines.com, www.oztix.com.au, www.heatseeker.com.au or Heatseeker outlets
Thursday 4 September – HQ, Adelaide – Lic AA
Tickets from www.tickets.destroyalllines.com, www.oztix.com.au, www.venuetix.com.au or VenueTix outlets
Saturday 6 September – The HiFi, Brisbane – 18+
Tickets from www.tickets.destroyalllines.com, www.thehifi.com.au or Oztix outlets
Sunday 7 September – The Roundhouse, Sydney – Lic AA
Tickets from www.tickets.destroyalllines.com, www.ticketek.com.au or Ticketek Outlets
Tuesday 9 September – The Forum, Melbourne – 18+ – SOLD OUT
Wednesday 10 September – 170 Russell – 18+
Tickets from www.tickets.destroyalllines.com, www.170russell.com or 1300 724 867
Essential Information
From: Florida, USA
Produced By: Anberlin, Aaron Marsh, Matt Goldman, and Aaron Sprinkle
Release date: 25th July (UNFD / Tooth & Nail)
Website:  https://www.anberlin.com
Track Listing:
We Are Destroyer
Armageddon
Stranger Ways
Velvet Covered Brick
Atonement
Birds of Prey
Dissenter
Losing it All
Hearing Voices
Harbinger