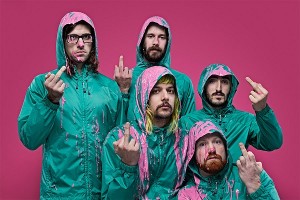 Closure In Moscow have kindly provided you with the funkiest pop rock jam of the Winter, the tune to set your day alight, the hook to torture your poor skull for the next fortnight.
Seeds Of Gold is the second single taken from the Melbourne band's long awaited second LP, Pink Lemonade. It's destined to leave newcomers and fans with gobs aghast, and drag even the most discerning listener into its unending loops of textured, layered, supremely tasty melodies.
Directed by Stephen Packer, and produced by Adam Camporeale from Passell Media in Adelaide, the single's accompanying video is as entrancing as the track itself. Destined to be watched in high-def, let it bastardise your bandwidth and enjoy saccharine sounds of this slinky, soulful soundtrack.  You'll soon see why Rolling Stone called the album "mind-bogglingly intricate" and Beat Magazine insisted it was "a unique adventure for the open-minded listener".
Go on, take a sip of the Pink Lemonade. It's sugary as shit, but too good to resist…
Check out our recent interview with CLOSURE IN MOSCOW HERE
Pink Lemonade – OUT NOW via Sabretusk/MGM
www.closureinmoscow.com
www.facebook.com/closureinmoscow