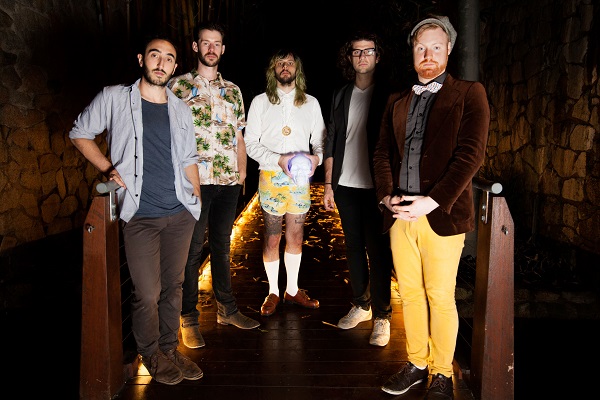 "A song would start developing and I would attach some ideas to it, then it would take a turn and start to fit somewhere else, say coupled with another song… This was definitely a challenge to try and juggle everything and try and keep a mental overview of everything at once"
From press release: It's been a while between drinks, so those boffins at CIM HQ ran focus groups day and night to hone in on exactly what would satiate the hungry masses, baying for more sexy tunes from the Melbourne quintet… The results are conclusive! Turns out it's all about quantity over quality, so this thing clocks in at over 60 minutes! That's longer than an episode of The Block, and since that's about to leave a gaping cultural void the guys figured it would be the perfect time to step up and slide up into that void like a warm kitten. Pink Lemonade was designed to be a voyage that is greater than the sum of its parts. It is the tale of a hapless fool's descent down the rabbit hole and through the Chapel Perilous… Smashing through the 4th wall with a novelty hulk fist, it is a fable laced with subversive sludge that will seep into your mind's eye and stir your soul like a rich pumpkin soup.
We had Christopher de Cinque of the band answer some questions for us about the band's new album 'Pink Lemonade', its creation as well as touring and the future…
You've just released your second album 'Pink Lemonade', so let's make this a tricky one to start, as it is your second, can you give us only two words that you feel sum up the album perfectly?
Cheeky monolith.
It's been a long time between albums, so in the close to five years, how did you go about creating 'Pink Lemonade'?
We put on our mental spelunker's hats and explored the dank caverns of our mind-sacks. Anytime we had to debate whether we should include a lyrical/musical idea that was too silly or over the top, we knew that debate in and of itself meant it had to be included. We had nothing to lose after falling off the face of the earth so we quietly tinkered away, crafting something that we felt was truly us.
Did you intentionally set out to do anything different compared to your debut?
The music on Pink Lemonade reflects the natural evolution of the band, it just seems drastic because it was an evolution that occurred covertly without putting out a few albums in the interim.
Concept albums are awesome in my opinion, so why was this record the right one to bring a concept to?
As songs started to develop, it became quite apparent that there was a theatrical/visual element to it all and we began to map it out as a whole rather than treating each song as a separate component, even though we feel the songs hold up as self contained pieces.
Is it somewhat challenging making a concept record or once the ideas flow is it as easy as Sunday morning?
It was especially difficult for me lyrically in regards to mapping things out where a song would fit in context of the wider narrative and track list as they were being written. A song would start developing and I would attach some ideas to it, then it would take a turn and start to fit somewhere else, say coupled with another song… This was definitely a challenge to try and juggle everything and try and keep a mental overview of everything at once.
So who or what inspired the songs that ended up on the album?
In no particular order:
Robert Anton Wilson, The Wizard of Oz, Adventure Time, The Love Below by Outkast, The Matrix, A Night at the Opera by Queen, The MightyBoosh, The Holy Mountain, The Shape of Punk to Come by Refused, The 'Get This' Radio Program, our time in Japan, The Presidents of the United States of America's self titled debut and WonderShowzen.
Working with Tom Larkin as producer, what was he able bring to the release that you may not have thought was there?
He helped trim the fat and simplify the arrangements in a few key places.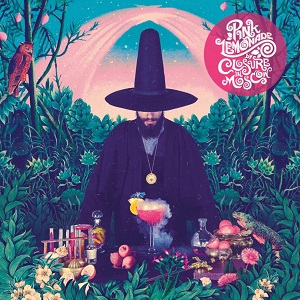 I have to ask about the title, what does 'Pink Lemonade' represent to you?
Not too sweet, not too sour, almighty effervescent power! All your troubles melt away, drink magical pink lemonade today! Does ya soul ache? Does yaheart bleed? A sugary cure-all is just what you need! Don't believe me? It's just a drink? It has more power than you might think! Trust in me, trust the soda I bear… It's good for what ails ya, I solemnly swear.
Can you also tell us a little about the creation of the artwork that accompanies the album?
It's fantastic isn't it? A gentleman by the name ofStéphane Casier from Paris put it all together and we think it couldn't complement the aural component of the album better. He has essentially become the 6th member of the band because he is very much in tune with what we are all about aesthetically and how to reflect that in the realm of visuals. We had a pretty clear idea of what we wanted to communicate through the artwork from the start and discussed this with Stéphane with the aid of fairly crude depictions of the visual concept. He completely got it from the get go, took it and ran with it, creating what we feel is a part of the album that is just as necessary as the music itself, going above and beyond all the expectations we had.
You've also just kicked off your tour, so how would you best describe a Closure In Moscow live show?
See lyrics for Big Time Sensuality by Björk.
Are you excited to take the new material out on tour?
Yeah of course, the songs are 38% sexier and they have way more toe tappin', hip swangin'qualities about them. There are definitely more opportunities for sensual dancing in the new stuff.
In terms of growth within the band, what's the biggest change you've seen take place since your beginnings?
We're all heaps better at growing facial hair now.
Lastly, the year is well underway, so let's predict the rest of it, finish this sentence for me, by the end of 2014, Closure In Moscow will…
have won the Nobel Peace Prize, only to have it revoked weeks later for weaponizing the medal.
Essential Information
From: Melbourne, Australia
Sounds like: 'Bro Rock'
Band members: Christopher de Cinque (Vocals), Mansur Zennelli (Guitar, Vocals), Michael Barrett (Guitar), Salvatore Aidone (Drums), Duncan Millar (Bass)
Latest Release: Pink Lemonade (out now – Sabretusk/MGM)
Website: http://www.closureinmoscow.com