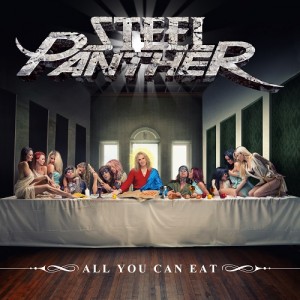 "Steel Panther have this shit down, and I'm glad that this band exists as without this kind of fun in heavy metal what the fuck would we do? All You Can Eat has me more than satisfied, although I'm greedy and going back for another helping… *presses play*…"
To quote The Simpsons – "Hens love roosters, geese love ganders, everyone else loves Steel Panther…" Followed by a "not me" from some crazy person, then "Everyone who counts loves Steel Panther" ok, had to do that as it just worked, but Steel Panther you either love or you don't and I get the feeling that there is a whole lot more love for this band than not. With more years under their belt playing shows and covers to shape their craft and with two original albums out as Steel Panther 'Feel The Steel' and 'Balls Out'(some of you may have Hole Patrol when they were Metal Shop) they have grown as a band and just gotten better (looking and talented) with age. Here today we have their third effort, aptly titled 'All You Can Eat' and I know I've been looking forward to this for a while so let's see if this buffet of songs is enough to subdue this appetite for heavy metal…
'Pussywhipped' opens with an acoustic intro which has me intrigued but I have no time to stay intrigued as the guitars jump out and punch me in the face and turn this into a riff laden track that tells me we're in for one hell of a ride. Lyrically, well, you get the idea of what it'll be about purely from the title but the tongue in cheek thing is what Steel Panther do best, and if you're easily offended, I feel bad for you and trust me, it only gets better from here… 'Party Like Tomorrow Is The End Of The World' was our first taste of the new album and in traditional 80's metal style it ticks all the boxes and is so catchy that you need to take a pill to clear up what it just gave you, and guaranteed you'll be walking down the street one day soon and you'll just start singing the chorus to yourself randomly, wait, or is that just me?
What can I say about the next three songs? Well, let's see… 'Gloryhole', 'Bukakke Tears' and 'Gangbang At The Old Folks Home' should say everything that needs to be said and if you're not already having a chuckle at the titles alone well the band isn't doing their job… Let's start with 'Gloryhole' that we were given a taste of (pun intended) at their shows here in December and again, this rocker is where it's at and even better when it breaks down in the middle to what is destined to be an amazing arm waving crowd participation moment. Now way back when, Steel Panther released an amazing power ballad called 'Community Property' but on All You Can Eat they come close to it with 'Bukakke Tears' which is a love song, it is… I won't get into the logistics here, but if you aren't aware of bukakke then google is your friend, but for a band to write a song like this and make it work, let's just say that only Steel Panther could do it, because I can't really imagine someone like Winger being upset that they didn't write it, you know what I mean? This truly is a great song, lyrics aside, musically this one is a stand out and it fades out too, I mean that is so 80's that it hurts and I love it. OK, so I've had the album for the best part of a month now and I've been singing the chorus to 'Gangbang At The Old Folks Home' at really inappropriate times without knowing, as what a song it is! That chorus is a massive throwback to the early 80's style metal and you'll know exactly what I mean when you hear it. Let's just hope there isn't a video for this one… actually…
'Ten Strikes You're Out' is a song destined to be played live at every show from now on with that 'Eyes Of A Panther' vibe, ooh but 'The Burden Of Being Wonderful' is just that, wonderful… this was the second single lifted from the album and the perfect choice. It's another balladesque track and is they sure know how to write 'em, as this one shows us, and the guitar solo should've been played on top of a mountain, and you'll get what I mean when you hear it. No sooner is that one done do we go and get our heart fucked in the ass with the not even related title 'Fucking My Heart In The Ass' ok, well it is kinda related. Over half way through the album yet and I haven't found a 'weak track' if you know what I mean… the skip button has been given a rest and rightly so as each track here stands out on its own, like this one, I dig this one and oh man, the build mid song is worthy of pyro and if there isn't a load of it blown off when they play this live at that point then there's an opportunity lost. Another fade out, stop it, you're killing me…
'B.V.S' or big vagina syndrome, well, that's all I really need to say about this one, just imagine a bitchin' heavy metal song with a song about that and you'll be good! 'You're Beautiful When You Don't Talk' and why is it that I laugh even writing down the song titles? Another slower song, as you'd expect with this sensual title, but it's a great track, as is 'If I Was The King' a song that happily takes shots at anyone and everyone and allows us to picture a world with Sir Michael Starr in charge, and I for one would happily live in it. We close the album with 'She's On The Rag' and it's one hell of a way to end a bitchin' album, and wow, lyrically if you think all the songs previous were 'too much' well take them all, put them in a blender and this one magical song comes out with no better way to have closed this new album. It sums the band up for what they are, downright bitchin' and not scared to write the songs they do.
Like I said at the start, if you're offended easily then this isn't the band for you, but in all honesty they are one of the best live bands out there today and should you get the chance to see them live (if you haven't) then go and do yourself a favour, you will have more fun than you can even imagine and as they say you get to party like tomorrow is the end of the world… Steel Panther have this shit down, and I'm glad that this band exists as without this kind of fun in heavy metal what the fuck would we do? All You Can Eat has me more than satisfied, although I'm greedy and going back for another helping… *presses play*…
Check out our interview with Michael Starr HERE
Essential Information
From: Los Angeles, CA, USA
For fans of: Heavy Metal
Release date: 28 March 2014 (Australia) 1 April 2014 (USA)
Record label: Open E Records / Kobalt Music Group
Producer: Jay Ruston
Website:  http://www.steelpantherrocks.com
Track Listing:
1. Pussywhipped
2. Party Like Tomorrow Is The End Of The World
3. Gloryhole
4. Bukakke Tears
5. Gangbang At The Old Folks Home
6. Ten Strikes You're Out
7. The Burden Of Being Wonderful
8. Fucking My Heart In The Ass
9. B.V.S.
10. You're Beautiful When You Don't Talk
11. If I Was The King
12. She's On The Rag