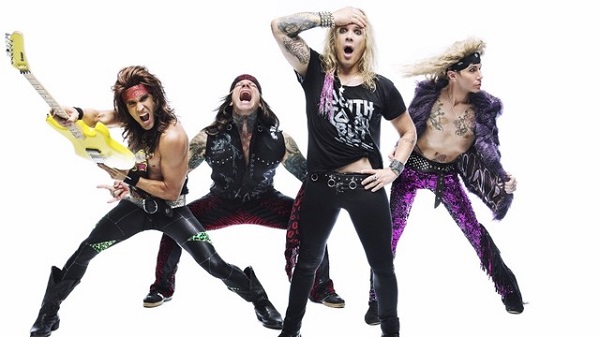 "Well we always stay true to our core which is sex, drugs, rock and roll and heavy metal, that's just what we do, but this record we decided that you know what, people are moshing to 'Community Property' we need something fuckin' heavy, a little bit darker, a little edgier…"
If you're not aware of Steel Panther, then this interview comes with one of those 'Parental Warning' advisory stickers, as this is one no holds barred band and the fans love it because it fuckin' works. One of the hardest working bands out there, Steel Panther have been around for longer than you'd think and now with two albums already under their belt and a third just about to be released, they are only just getting started. Sex, Drugs and Heavy Metal is what they're all about and praise the lord as the world needs more of that… So, let's all party like tomorrow is the end of the world…
In Barcelona and after kicking out a couple of girls from his room so we could have some peace and quiet, we chatted to Michael Starr about Steel Panther's new album 'All You Can Eat' as well as how far the and has come, touring and maybe a prediction for their return to Australia…
To start us off, it's not out yet, but if you can, can you give us one word that you feel sums the album perfectly…
Fuckin'… oh geez I need one word… Amazing!
The new album is kick ass, since 'Balls Out' I'd ask what inspired the songs, but the titles made that pretty obvious, instead, did you set out to do anything differently this time around that you hadn't done previously?
Well we always stay true to our core which is sex, drugs, rock and roll and heavy metal, that's just what we do, but this record we decided that you know what, people are moshing to 'Community Property' we need something fuckin' heavy, a little bit darker, a little edgier and that's why we fuckin' did 'Pussywhipped' and 'Gloryhole' and to give that fuckin' live energy what it needs to get even more intense and I feel this record we achieved that. I feel it's a little bit of 'Balls Out' and a little bit of 'Feel The Steel' all rolled into one, that's why we called it 'All You Can Eat' because it's got everything you want.
Well I do have to thank you for saving the world, do you feel you should've received more praise for that?
Well we did get it from the Devil, we got as much cocaine as we wanted, and we also get to continue rockin' and fuckin' bitches after the show, and I've got to tell you Troy, that's all I've ever wanted to do with my life, that's it, I don't care where I'm at, you could put me on an island in Fiji and as long as there a stage and some bitches I'm gonna sing for them. I don't care where we're at, heavy metal should be the most important thing to everybody.
I agree with you, Heavy Metal is where it's at and everyone should feel the same…
Why wouldn't you? Especially Steel Panther style because some people they might come into our concert bummed out that their chick bailed on them, or bummed out that their car got repossessed or that their Visa got taken away because they couldn't make the repayments, but you come to a Steel Panther show, somebody's smoking a joint next to you, you get high, you can listen to Steel Panther and you can laugh and have a good time, chicks show their tits, and also you just forget all about that shit, you get to escape.
Now this is your third album, remembering that Bon Jovi had Slippery When Wet as their third and well look what happened there, so is 'All You Can Eat' going to be your Slippery When Wet?
Oh God, how cool would that be, we always wish for something to strike a chord throughout the whole world that you create, and for us everything that we've put out has just been so dear to us and we're so fuckin' proud of it. So to have that type of success on any record would be amazing, but fuck, we think that all three of our records are Slippery When Wet, but you know what, the only way to judge that is by having a number one record and selling twenty million records. I don't think that's ever gonna happen in this day and age, but I'll take a million.
And why can't that happen, especially with a song like 'Bukakke Tears' which in my opinion is the best power ballad since 'Community Property' by the way…
Oh thanks dude, and the message is quite clear, it's a great message, and some people don't even know what bukakke tears are and when you hear the song, you'll know what bukakke tears are…
Seeing you this past December, the show has just grown and grown since I first saw you at the Key Club back in 2007 as Metal Skool, what's next for the live show?
Wow man… we're just gonna keep steeping it up, any venue we go to, right now we're in Europe, I'm in Barcelona, Spain, we have two semis and three busses, right, the semis are loaded with staging, video screens, lights, pyro, confetti, flames, everything you can think of, we pull up to the venue, whatever fits in the venue we stuff it in there.
Even Stix?
*laughs* Yeah… well Stix has a hard time getting through the door, he's been eating a lot, he likes to eat pizza.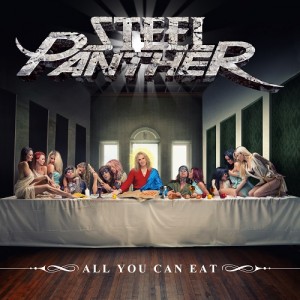 I have to mention the video aspect of the show that's been added now and I feel it just made the show that much more enjoyable, was that fun putting it all together?
Yeah it was really fun and it was really scary too as we'd only done it in the UK and once we booked the Australian tour and we saw some of the venue sizes we thought alright, lets reinvest because we want to have everybody really have an enjoyable experience and have every seat worth buying and I think the video screen really adds that. For us it was pretty overwhelming to have all the fuckin' technology on the stage, because for me I want to use every bit of it, I want to run on every single corner of the stage as you know. We don't usually get to play on stuff that big and I had my own video camera, I could point it wherever I fuckin wanted, that's a lot of responsibility man. I'm basically the ring leader of a bunch of crazy fuckin' circus animals and I've got to ring lead them.
Being here a few times now, what's your best memory of Australia you can share with us?
I'd have to say our first time over doing Soundwave, that was a really memorable experience with us as we got to tour Australia, not alone, but with a bunch of other bands that were like minded like us, they're into metal and everyone is excited to be there. It was like a big heavy metal camping trip, and I hung out with dudes that I wouldn't normally hang out with… Bush… fuckin' Bush… that's not heavy metal, a couple of guys in Bush are pretty cool and they like to fuck chicks, pretty cool. So I got to meet people, hang out and I got to find out that Australia loves Steel Panther all at the same time, so it was the most memorable time for me in Australia was Soundwave.
When will we see you back?
That's a good question, we're shooting for 2015, early, probably in the January, February, maybe even Soundwave, you never know… that would be great to play Soundwave.
When you look back at everything that's happened, is it surreal for you to see how far it's come?
Oh man, we are so, so grateful for where we're at, like before the show we all sit there and talk, we clear the dressing room out and it's just us four and man we just can't believe where Steel Panther has gone, and we don't take it for granted, and we really work hard at our craft and make sure we present a fuckin' killer show and then afterwards we get to fuckin' party because we work hard, and that's why there's a bunch of fuckin' chicks back stage.
In terms of standout 'pinch me' moments since the band started, has there been one that really is unbeatable for you?
*pauses* Well this one time, this chick was sucking my dick at the Key Club and it was right before we went on and she really wanted to suck my dick and I was like fuck, I'm getting ready to go on, I was all dressed, I was really ready to go on, and she said, well what about my friend, so I was like 'alright' and we went behind the curtain, the crowd's on the other side of the curtain and there are two chicks blowing me right before I go on, I blow my nut, they clean it all up, and right as I'm pulling my spandex back up the curtain opens and we start the show. That was a pinch me moment for heavy metal *laughs* it really was…
Now, do you guys still do the residencies in LA and Vegas?
No we don't have time to do them because we're touring so much and when we get home as you'd know from being on tour it fuckin' beats you up so we need to come home and rest up, but we still couldn't resist it, we're gonna do three Monday nights, it's called 'Having a Threesome', only three… we'll do an album release party and then we'll do two other shows and that's it. So there's no more residencies in LA or Vegas anymore.
So you've finally moved on from playing the covers?
Yeah, we're not even gonna do covers when we play the Threesome, it's the end of an era and it's the longest running era that any heavy metal band has ever had on the Strip, thirteen years strong every Monday night, no one's ever done it.
What do you think it is about Steel Panther that connects with people?
Probably the ability to escape, because when we're on stage we truly have fun and we also like to crack a few jokes, have  good time, see some boobies, who the fuck doesn't want to see that? I think the one thing that really attracts people to our music first off is that we're talking about shit that people are thinking about but never say out loud, so there you've got that. Then you come see the show and you see that we take our craft extremely serious and no one is a slouch, no one plays out of tune, I only lip-synch 30% of the show and it's really, really fun, it's a party, so when you go there you get to escape reality. It's a fuckin' blast.
Let's predict the future, finish this sentence for me, in 2014 Steel Panther will…
Hmm… Steel Panther will set the world record for selling more records than anybody in their first week on the classic 80's Heavy Metal chart. *laughs*
Well thanks for your time today Michael and hopefully we'll see you soon…
Yeah, hope so, hopefully we'll see you at Soundwave…
Essential information
From: Los Angeles, CA, USA
Band members:  MICHAEL STARR – Lead Vocals, SATCHEL – Lead Guitar, LEXXI FOXX – Bass Guitar, STIX ZADINIA – Drums
Forthcoming Release: All You Can Eat (Open E Records) March 28th (Australia) April 1st (USA) – Check out our Review HERE
Website:  http://www.steelpantherrocks.com