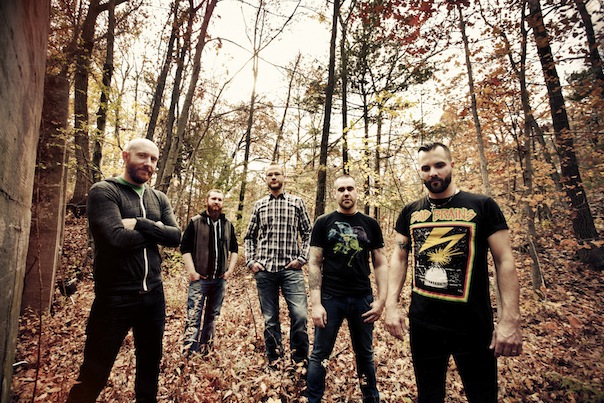 "The vibe is really good in the whole camp and the band and crew are all getting along great and I think just having Jesse so excited to be back and touring and doing it for a living, his positive vibes are rubbing off on everybody, so it's good. The morale is high. *laughs*"
From tour release: KILLSWITCH ENGAGE'S 'Alive Or Just Breathing' album was a watershed moment in metal in 2002 as it heralded the birth of 'Metalcore'. Now, more than a decade later, KILLSWITCH ENGAGE have reunited with original singer Jesse Leach. "This change is very exciting," the band said upon announcing Leach's triumphant return. "We know you're going to love it. This is truly a new era in KsE history and it is ready to shred your face off."
However, KILLSWITCH ENGAGE have never coasted on the wave of prior successes and with the band in the form of their career and Leach spitting venomous vocals at every turn.
At home in Massachusetts 'enjoying' the snow we chatted to Joel of Killswitch Engage about the band's return to Australia in April as well as future touring plans and some thoughts about new music from Killswitch Engage…
We're here because you're heading back to Australia this April for a run of shows, what can we expect to hear set wise on this tour?
Oh we're pretty psyched as the last several times we've been down it's been to do the Soundwave fest and I think it's really been too long since we've done any club shows on our own, so I think we're all looking forward to playing a little bit of a different set, playing some of the new material that we've been kind of working on as well as some of the 'Disarm the Descent' stuff as we haven't had a chance to play any of that stuff live for you guys down there so it should be fun.
You're also bringing Kill Devil Hill with you, have you played with these guys before?
Never played with them before, but definitely psyched.
When we last spoke in February of last year when you were here for Soundwave, Disarm The Descent hadn't yet been released, since the release how has the reaction been to the album?
It's been really good actually, it's been fun just releasing a new album with Jesse and hearing all the feedback over the past year, it's fun. We've been able to play more and more songs live from it as the longer it's been out, the people are more familiar with the tunes and just as a band we've become more comfortable playing it live. So we definitely have some material to play from that record that we didn't really have under our belt last time we were down there…
You were somewhat excited at the re-inclusion of the guitar solo on tracks, are you getting a chance to shred these live?
Oh yeah, most of the tunes we've been playing so far have been Adam's solos, we haven't had a chance to do mine yet *laughs* we'll get around to that.
How has having Jesse back in the band helped with rejuvenating the band?
It's really been great for everybody as there were a couple of years where Howard was on the fence for leaving and we weren't sure what was going to happen, so having Jesse back has been exciting for everybody. The vibe is really good in the whole camp and the band and crew are all getting along great and I think just having Jesse so excited to be back and touring and doing it for a living, his positive vibes are rubbing off on everybody, so it's good. The morale is high. *laughs*
How much longer are you out on tour in support of the album?
Probably on and off until at least August or so, we have some blanks obviously and a few weeks here and there we could potentially fill in, but once we get to the July / August I think we might start thinking about working on a new record.
Has this album give you any opportunities to hit up territories you haven't yet been to?
Oh for sure, I few months back we got to go to South East Asia which we'd never done before, we'd been to Japan but we'd never really been anywhere else on that side, so that was pretty cool, we got to go to Thailand and The Philippines, that was definitely a blast. We're headed to South Africa soon and none of us have ever been there, so we're looking forward to it, it will be cool.
Is there anywhere you haven't yet been that you still want to get to?
You know, we've all been talking about wanting to go to Iceland, just to see it for one and heard shows there are pretty cool and it's just a cool place, so hopefully we can make it there before the end of the cycle. There are still a lot of places in Asia we have to fill in still.
I wanted to ask about the Australian audiences, how do they compare to those around the world for you guys?
You know, Australians are really energetic *laughs* I'm not sure why that is, but its great and just good vibes and great folks and we've always had a good time in Australia, the people are so nice and the shows are so high energy and we're definitely looking forward to getting that vibe in the club scene, it's been a long time.
Have you begun working on new material while out on tour?
No nothing really yet, we've never really been one of those bands that tends to write out on the road. I think everybody works better creatively when they're home in their own spaces and stuff like that, but I think along the way people come up with little parts of riffs but we never really sit down and actually try to write on the road, we like to keep things separate you know.
Have you considered a live DVD or live recording?
We have actually; we've recorded a few shows here and there, some video and audio and stuff just to see if we get something that's worthwhile. We just recorded our show in London at Brixton, which was a good time, so we're going to go through some of that stuff and see what we have to work with, and as the months go on we'll think more and more about stuff like that.
It would be a nice little something to tide people over until the new record…
Exactly, give people some content or something to hear and hold people over.
Being there from the start, in the fifteen years since the band's inception, what do you see as the biggest evolution that has taken place?
Hmm… that's tough, I mean there have really been two, I think when Jesse left for the first time and getting Howard was a big step in a different direction for us which was really cool, and it was awesome having him step in when he did as the iron was kind of hot at the time and we had a bunch of tours lined up and he gave us the opportunity to continue where Jesse left off, and the same things happened again where Jesse has come back and to pick it up the pieces there. I think we're really fortunate to have a second and a third chance now, so it's pretty cool.
2014 is already a few months in which is scary, but let's try and predict the rest of the year, so finish this sentence for me, in 2014 Killswitch Engage will…
Continue touring on 'Disarm The Decent', hopefully hit a few places that we haven't been to before and hopefully get some new material under our belt so we can hopefully get some new material done before the year is out.
Essential information
From: Boston, MA, USA
Band members:  Adam Dutkiewicz – guitar, Joel Stroetzel – guitar, Mike D'Antonio – bass, Jesse Leach – vocals, Justin Foley – drums
Latest Release: Disarm The Descent (Roadrunner Records Australia – Out Now)
Website:  http://www.killswitchengage.com

Catch Killswitch Engage in Australia this April at the following dates:
FRIDAY 11 APRIL – BRISBANE, EATONS HILL – Lic A/A
www.oztix.com.au
SATURDAY 12 APRIL – SYDNEY, UNSW ROUNDHOUSE – Lic A/A
www.ticketek.com.au
SUNDAY 13 APRIL – MELBOURNE, THE PALACE – 18+
www.oztix.com.au / www.ticketek.com.au
TUESDAY 15 APRIL – ADELAIDE, HQ – 18+
www.oztix.com.au / www.venuetix.com.au
WEDNESDAY 16 APRIL – PERTH, METRO CITY – 18+
www.oztix.com.au
Presented by triple j's The Racket, Channel V and Soundwave Touring