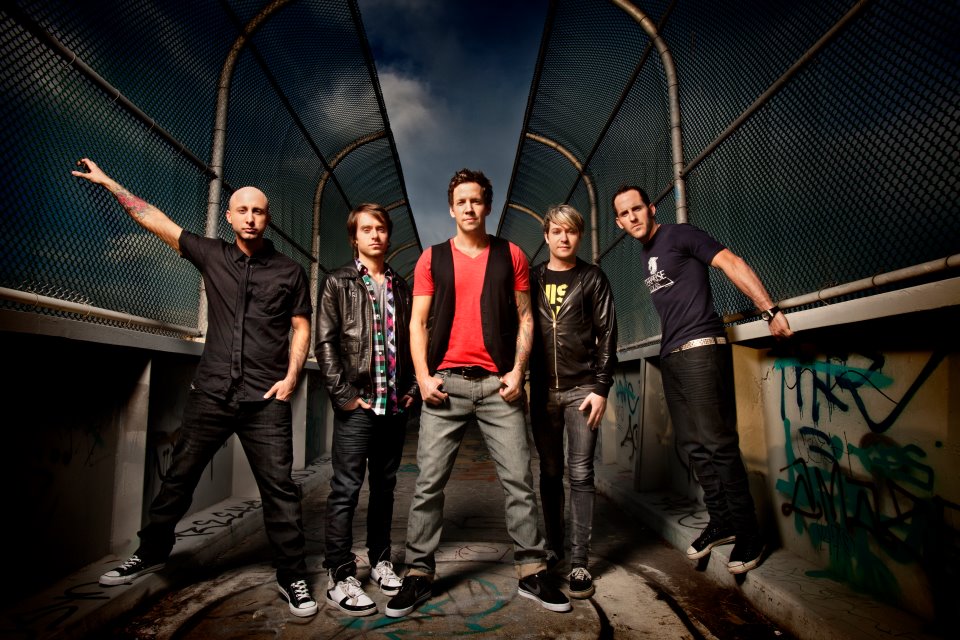 "…we're going to challenge ourselves, there's a lot of songs already there, but we don't have a record yet, so it could go in to a lot of different directions. I think the intention is to just push the boundaries of what we think Simple Plan is and what our fans want, and still at the same time keep our feet in what we are known to best do."
Simple Plan seem to be unstoppable at this point riding the wave of their last album 'Get Your Heart On' since its release in 2011. The band don't seem to be slowing down either, just releasing a new EP 'Get Your Heart On – The Second Coming!' and now back in Australia for the third time on this touring cycle which is truly unheard of for a band, but they just can't stay away… and this time as a part of the return of Vans Warped Tour, they were a welcome addition to the bill and a big drawcard on the day.
We had the chance to sit down with Sébastien and Jeff of Simple Plan backstage at the Vans Warped Tour in Sydney for a great chat about the festival, their new EP, Australia, new albums and much more…
Welcome back to Australia…
Sébastien and Jeff: Thank you…
Now, you're a couple of shows into Warped festival, how have they gone so far?
Jeff: It's been fun actually, it's slightly different to what we experienced when we were in the US, in the US it's like a big summer camp, you're always touring in busses, all the busses get together, there's a few bands flying, a few bands travelling, so we don't know the bands as well yet. It was cool to see Offspring obviously, we flew with those guys, so it's fun, it's a lot of fun.
Sébastien: And the Australian fans are just into it, the love going to shows, even yesterday in Coffs Harbour it was raining, it was crazy they were drenched and full of mud but they were sticking around for the show.
Have you had a chance to catch any of the other bands yet?
Sébastien: I just saw The Used a little bit, I love those guys, haven't seen them in a long time.
Jeff: Saw Parkway Drive yesterday and was really impressed
Sébastien: Millencolin the day before and New Found Glory a little bit as well.
You've been here more than a few times, but what's your favourite thing about Australia?
Sébastien: It's the girls… honestly, but it's crazy.
Jeff: It's insane…
Sébastien: They're so good looking here, for real…
Jeff: Sébastien and I, we were flying on our way to Sydney and on a normal American flight one out of ten you might see a cute girl, but now there's three hot ones right here on this flight to Sydney
Sébastien: Oh my god, yeah…
Jeff: It's similar to Canada, people are nice, they're well behaved, at the same time you get the amazing weather that we don't get, it's snowing at home right now. It's pretty cool to be here right now.
Sébastien: Winter's great, it just way too long, if it lasted two weeks just over Christmas everyone would love winter…
Now, you guys have had your heart on for a couple of years now, but have just released 'The Second Coming'… what was the idea behind releasing the EP at this time?
Sébastien: Yeah… it was kind of that we had the songs, as they came from when we writing 'Get Your Heart On' and we started writing our next album recently; it's not going to come out for a while we've got to write it and record it blah blah blah, and we had these songs so we figured let's record 'em, let's release 'em, give them to the fans, give them something new.
Jeff: It's a way to bridge the two records, we're kind of slow at making records, we're well aware of that. We kind of planned that a little while ago, let's make sure that this time we give something to our fans to keep them waiting a little bit because we are slow. It takes about three years, it has a lot to do with that we tour a lot, and while we're touring we're not very good at writing…
Sébastien: It takes about two years to go everywhere once we release an album, so releasing an album every two years would not make sense for us.
This is your third trip here on this album too…
Sébastien: Yes it is… and we're very happy about that…
Jeff: That explains the two years *laughs*
Sébastien: There you go…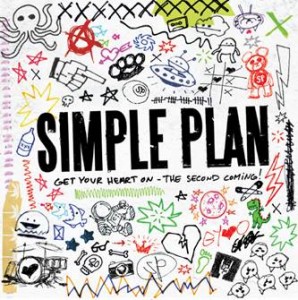 The EP is catchier than the common cold, I read that you wrote seventy five songs for the album…
Both: Yeah…
After two years away from these songs, how did you narrow down these cuts to pick which to go back and re-record?
Jeff: It was actually really hard… the toughest part was actually picking the songs for the record, there were just so many songs…
Sébastien: We agreed on maybe seven or eight out of the eleven…
Jeff: Then eventually we recorded more and just saw how they came out, and it was kind of hard, it was just about making a collection of songs that fit it together and with unity, that was the intention for the CD. For the EP itself, there were a few songs that were recorded, almost done, but we kind of built upon that and eventually we were just excited about songs, there were a few songs that we wanted to record and that's what we did.
Are you playing any of these new ones while in Australia?
Sébastien: We're not, funny enough we haven't had a chance to practise anything…
Jeff: *laughs*
Sébastien: We just came here and thought we've got sound check every day, and there's no sound check and we're like…
Both: Shit… *laughs*
Sébastien: But it turns out that a lot of fans that come they've been into the band from the very beginning so they really, really want to hear some old songs which we're happy to play anyway…
With so many songs written for the last album, what can we expect from the new album from you, when you could've easily used what you already had, are you planning something different this time around?
Jeff: I think it's important that there's a break with every record you know? We've been talking about that a lot recently, what's the notion, what's the limitation for Simple Plan, like as song writers we've gotten better, we're able to push the boundaries further and we always question how limiting the Simple Plan sound is and then we release a song like 'Summer Paradise' and we realise that the sound of the vocals, the way we arrange songs makes it sound like Simple Plan regardless of the type of aesthetic that it has, so I don't know… we're going to challenge ourselves, there's a lot of songs already there, but we don't have a record yet, so it could go in to a lot of different directions. I think the intention is to just push the boundaries of what we think Simple Plan is and what our fans want, and still at the same time keep our feet in what we are known to best do.
Sébastien: We still want to have fun, we like getting on stage and playing the songs, like Jeff said we're definitely going to try new things but stay true to who we are as well.
It's been almost fifteen years now that you've been a band, what is it that you still enjoy about being part of Simple Plan?
Sébastien: I don't know *laughs* no actually we get along, we're better friends now than when we started I think, and it's just we all get it now, When you first start a band it's like we should be like this, we should be like that, and then you go through a phase where with the music I want to be this and I want to be that, and now we're kind of in the phase where we're just enjoying what we do, we love touring and we love travelling and we get on stage and we play our instruments.
Jeff: If you start a band for the right reasons I think you'll keep on loving it, you know? All of us love music, we're passionate about it, were intense about it and that kind of keeps us passionate about what we're doing. There are shitty shows, I'm not gonna lie, there are shows when I'd rather go home, but most of the time, I would say the majority of the time the shows are amazing, it brings you a lot of energy, and God, were lucky to be doing what we're doing. It is pretty amazing to still be playing after all these years, same band members…
Sébastien: Yeah, same five kids *laughs*
Jeff: And playing music that we love with integrity, I think that's important too…
As 2013 draws to a close, besides talking to me, what's been the stand out moment for Simple Plan this year?
Sébastien: *laughs* Well talking to you last time… there you go *laughs*
Jeff: The release of our book was pretty important, it kind of brought back so many memories, it brought back a lot of memories of what we'd done…
Sébastien: Yeah a year ago…
Jeff: …and kind of reminiscing about all these crazy stories. I get asked often how does it feel to be in a band that's successful and I say I don't know man, when I'm off the road I'm just a normal guy but when I look back at those pictures I think holy shit did we do a lot of things…
Sébastien: We did a lot of stuff… but yeah the book is pretty epic, that's a good one.
Did it make you look back and think, I still want to do this or still want to do that or have you ticked off everything on your list?
Sébastien: I think the biggest challenge we strive for the most is just to keep going, like we're working on our fifth album and it doesn't sound like an accomplishment, but if that is successful we get to tour all over again and it'll be ok we did this, now let's work on the sixth one and just keep going you know?
Jeff: When you stop wanting more you've just got to die you know? That bucket list just keeps on expanding, it's never ending you know, so there are certain things that we haven't achieved in the band that we still want to do, and there are more goals that just came about as we were going.
Christmas is around the corner, your Christmas wish is to go on tour with any band ever, who would it be?
Sébastien: Hmmm…
Jeff: Very good question… I gotta say that we opened for Metallica… that was pretty sweet. I learned to play guitar with those guys it's kinda crazy…
Sébastien: It would be fun to open for the Foo Fighters, I've always been a fan, you know Dave Grohl and whetever they're doing, so that'd be cool, they're a cool rock band.
Jeff: Played with Green Day, played with Blink…
Sébastien: That list is getting shorter so it's good, we've played with a lot of the people we wanted to play with. Most of the bands we grew up listening to we've played with, so we're very lucky.
What does 2014 have in store for Simple Plan, besides the relief of no longer having your heart on?
Sébastien: Write, record… that's the plans, hopefully release as well, we're aiming for that…
Jeff: and some stuff on the side…
Sébastien: Yeah we've got some stuff we do on the side as well, but those are the plans for the band.
Now we had some fans send us some Twitter questions:
Shruti would like to know what's the recipe of having a good life? @mars_domm
Jeff: Oddly enough I think it's balance, it's balance between partying and chilling, it's balance between eating the shit that you want and then staying healthy, it's just about finding a passion and going for it. That's pretty much what it is for me. Surrounding yourself with good people too.
Sébastien: Appreciating what you have as well, it's very easy to complain about stuff, so take a minute to realise how good you have it and it sometimes helps.
Sophie wants to know your craziest fan moment… @Sophiecarlbrant
Sébastien: Well we've got some crazy fan tattoos, there's a girl in England that has our five faces tattooed across her chest, it was nuts, and then she had us sign the tattoo and then she got our signatures tattooed right underneath.
Jeff: I had a stalker believe it or not? I have a stalker that started stalking me on Twitter, no harm done, its fine, then it was like alright… facebook, request after request and messages, then I started seeing her randomly in my home town and it's getting creepy, and she's not getting the message, she sent me some very revealing pictures that I would rather not see…
Brandi wants to know who your biggest musical influences are… @BrandiCable
Sébastien: I would have to say Offspring probably, as that's one of the reasons I picked up the guitar in the first place, was jamming to Green Day and a few bands I was listening to back then and then 'Smash' came out and I thought oh my god this is so good, I need to learn how to play this, so I would watch the shows on TV and learn how to play guitar.
Jeff: For me it's the same as all the guys my age, it was Pearl Jam and Alice In Chains and Guns N Roses and Metallica and eventually it became Green Day and Blink… U2 was a big influence on me too, there's some very good U2 records, there's some very shitty ones, but some very good ones.
Joel who I believe you know… @autisticallyme
Sébastien: JetlagJoel? Yep…
He wants to know what you favourite Simple Plan song to play live and or listen to?
Sébastien: Hmm… I love listening to 'What If?' we just jammed it yesterday in the dressing room, I love that one… and to play live, I like 'Can't Keep My Hands Off You', it's fun.
Jeff: There are so many easy songs you just play and go with it and it's a feel good time, so it's a good one.
Sarah wanted to know about the DVD, there were whispers about it and then nothing… @IamSarah_h
Jeff: Yeah what the fuck's going on with that?
Sébastien: I have no idea, we filmed a whole show the last time we were in Australia, it's gorgeous, it's beautiful, we're just trying to figure out how to release it, is it going to be a DVD? Is it going to be an online thing? We're just in the midst of trying to figure that out…
Jeff: There's just no more fuckin music stores, so where do you release it?
Essential Information:
From: Montreal, Quebec
Band members: Pierre Bouvier – vocals, Chuck Comeau – drums, backing vocals, David Desrosiers – bass, backing vocals, Sébastien Lefebvre – guitar, backing vocals, Jeff Stinco – lead guitar
Website: http://www.simpleplan.com
Latest release: Get Your Heart On – The Second Coming! (EP) (Warner Music Australia)
Catch Simple Plan on the remaining Vans Warped Tour and their Perth show:
Tuesday 3 December – Perth, Challenge Stadium
Friday 6 December – Canberra, Exhibition Park
Saturday 7 December – Melbourne, Birrarung Marr
Sunday 8 December – Adelaide, Ellis Park
Website: http://www.vanswarpedtouraustralia.com/
Check out our review of the Sydney leg of Warped Tour HERE
Check out some photos from their Sydney set below and a heap more HERE