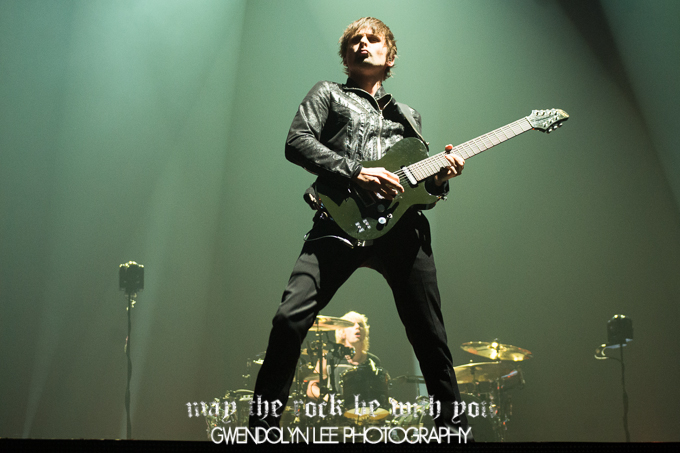 Muse are back in Australia, tonight Sydney, and I've only seen Muse once before and it was at the Big Day Out back in 2007. I was so far back that all I saw were little dots on stage and lasers, even then I was hooked, they sounded tight and some six now close to seven years on since then it's time for me to see them again, this time much closer in an arena environment.
Birds of Tokyo have been given the opening slot tonight and have had one hell of a year. Since the release of March Fires it has been non-stop, so to say they are on fire (pun intended) is an understatement. 'Silhouettic' is the opener and you just get a super cool vibe from the band but looking around, the crowd needs to get a little more warmed up, and it'll happen. Some fancy footwork helps it along and some early crowd participation also helps but, what starts to hook them the most is the songs. This band knows how to write a song that's for sure, listening to the brilliant musical progression of 'When the Night Falls Quiet' that's where it's evident and the crowd agree with me. 'The Gap' is heavy, and what a groove it hits as we watch Ian Kenny do his best Axl Rose and slink along to the song. Ooh eight people know this one, a small cheer precedes 'Circles' and it's haunting like goodness is much better favoured and known when it finishes. Lyrically this song is where it's at. 'Broken Bones' is another rocker, but as we start to get towards the end of the set, the big guns come out. 'Wild at Heart' is up and it's amazing how much of a different feel these songs have in an arena environment and this song is suited for it that's for sure. At this stage you could just about pick the last three songs, and up first is 'Plans' yep, picked it as a sea of mobile phones are held aloft to capture it them play it flawlessly. That is a song and a half of full cream dairy milk that's for sure! Oh look 'This Fire', I'm two for two, my money is on 'Lanterns' for the finish but we'll see. Back to 'This Fire' and its anthemic nature is an arena song if I've ever heard one and easily my standout from March Fires and its extended outro proves that, they sure loved that one here. Yes, I won, 'Lanterns' closes the show and all I can say is wow. This place is lit up with phones right now and it just looks amazing. The song itself is the only way this set could've closed and I tell you what, Birds of Tokyo are an outstanding band, they really are.
Muse are here, and after an absolutely mesmerizing intro with 'The 2nd Law: Isolated System', it's seriously hard to explain but every single person here was glued to the pyramid like video screen waiting for what was going to happen. What happened was Muse exploding into the stage with so much gusto and volume that the roof may have just lifted a little. This riff laden opener 'Supremecy' is so technical that it's ridiculous, and Matt Bellamy's vocals are absolutely flawless. Wow. If that level of intensity stays up then I may not make it out of here alive. 'Supermassive Black Hole' takes its spot in the set early as a mosh pit forms, and the pyramid we saw at the opening has now inverted to form a video screen above the band on stage. This band is tight… So tight that Sellys should call their new 'no more gaps' product 'Muse' as nothing is getting through any gap here tonight. 'Panic Station' sees Bellamy take to the catwalk briefly as he continues his 'can't stay still' tour of the stage, the band musically intro 'Hysteria' with that all but familiar bass riff that opens it. This one has the place in love and rightfully so oh and let's just make it better by mashing in a little AC/DC for good measure. Nice.
After a slow start on the next track 'Butterflies & Hurricanes', then rocking up, a grand piano appears as Bellamy takes to it like a fish in water. I have a feeling this guy could play anything. Ha ha wow, and that was only a middle part to the song, whoa. That was epic, simply epic. Bass player Chris Wolstenholme is currently blowing a harmonica to intro 'Knights of Cydonia' and when this song hits that amazing groove well all I can say is what you would kind of expect, smoke cannons and all. The rhythm section takes the lead on the next one as Matt returns to the piano. As the stage is immersed in purple, this ballad 'Explorers' takes the set down a few notches from the musical onslaught of the first part of the set and it may not have been a favourite of many here as notes by the audible hum of conversation heard throughout the arena, but what a song. Here are the lasers I remember from many moons ago, and the U2esque 'Follow Me' which was stupendous, and back to their newest album 'The 2nd Law' with 'Undisclosed Desires' which is a much more electro style song, in fact we haven't seen a guitar in a few songs. Oh thankfully he has one back on, and I'm seriously just blown away with this production, the staging, the video screen, the band, they're just outstanding. My only fault, I have no fuckin' idea what Matt Bellamy says when he talks ha ha.
Oh finally we rock it back up, and do we what?! Bass player Chris takes lead vocals on 'Liquid State' and that was just awesome, then back to the new album 'Madness' and the electro vibe but this time complete with fuzz style guitar solo and more lasers. Oh sweet I forget Muse sang this song and I'm ashamed of that as I like this one… 'Time is Running Out' is that song and it's played to perfection and watching the crowd during not only this one but the next as well 'Plug in Baby' which was a hook laden masterpiece, they are lapping this show up and rightfully so. 'Unnatural Selection' continues by taking it up a notch in the set, and if Queen were still around today, this would be exactly what they'd be doing in my opinion. Oh man, they rocked the outro as the pyramid came down over the band and they 'leave the stage'. Who knows what will happen next?!?!
Oh no time wasted here with that haunting music filling the arena the pyramid lifts and 'The 2nd Law – Unsustainable' gets a run, man, it freaked me out on the album (read here) but live, wow, it is just mind blowing. Now that time is running out (pun intended) there will only be a couple to go and one of these is 'Uprising' and didn't everyone here love this one!! What a way to leave the stage. All I can say is impressive. Wait, beyond impressive…
Oh they're back again! Thankfully to play 'Starlight'… phew!! I was actually thinking we may not hear this tonight after what was already a solid and magnificent set, I would've forgiven them for not playing it. The others here tonight, maybe not as it is clearly a favourite of those here and is one hell of a song.  Although with surely only one more and this one sounding like 'Innuendo' by Queen with its epic almost operatic structure at times 'Survival' is where Muse leave us and it's almost fair to say that I waited until December to see the show of the year. You must see Muse if you get the chance, seriously, you will be more than entertained, you will be blown away.
Check out our Muse photo gallery HERE
Check out our Birds of Tokyo gallery HERE
Essential Information
Venue: Allphones Arena – Sydney
Date: December 13, 2013
Supports: Birds of Tokyo
Website: www.muse.mu
Presented by: Frontier Touring
Photos by Gwendolyn Lee
Birds of Tokyo Set List:
Silhouettic
White Witch
When The Night Falls Quiet
The Gap
Circles
Broken Bones
Wild At Heart
Plans
This Fire
Lanterns
Muse Set List:
The 2nd Law: Isolated System
Supremacy
Supermassive Black Hole
Panic Station
Interlude
Hysteria
Butterflies & Hurricanes
Knights of Cydonia
Monty Jam
Explorers
Follow Me
Undisclosed Desires
Guiding Light
Liquid State
Madness
Time Is Running Out
Plug In Baby
Unnatural Selection
The 2nd Law: Unsustainable
Uprising
Starlight
Survival