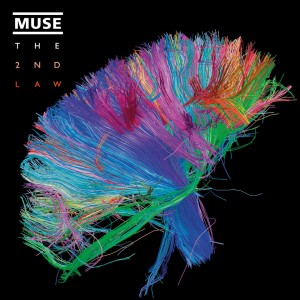 Muse is one of those bands that are hard to categorise.  Simple as that and you know they are… are they rock?  Are they opera?  Are they electro?  Yeah, I know right?  So I'm calling Muse a new genre of music called Electrockera.  Here was have 'The 2nd Law' which is the their sixth as a band, each previous have been something kinda special, so let's see if we can add 'The 2nd Law' to that list…
From the opening heavy riff of 'Supremacy' which evolves in to this song of 'epic' proportions with more parts than the model plane I got when I was 10 that I never finished it's then I start to wonder if this album will in fact run for three hours… I'm hoping not as I have stuff to do this afternoon, but let's see how it plays out.  I like the way the album has started and I'm hoping that continues, but as first single 'Madness' begins; I remember that I'd heard this and was on the fence about it, am I still?  Well, after listening to it again and putting it in to the context of the album, I've kind of fallen off the fence on to the side of liking it, not loving it, but it's like I've caught my jeans on a nail hanging from the fence and I'm hanging there, not quite on the ground yet.  Enough fence sitting analogies, you get where I'm going with this…
'Panic Station' is a nice little dance almost pop track that I can hear will be big in those clubs that I don't go to.  Don't shoot me for this and I'm not comparing at all, but 'Survival' has somewhat of a Queen feel to it and I like it, the operatic backing vocals throughout the verses and the song are a great touch as Matthew Bellamy shows off some guitar skills ripping through the song like a wet piece of paper.  What amazes me about Muse is that they are a three piece and can make this kind of sonic sounding album, and it's honestly like nothing I've heard since the… last Muse album? Here's another dance type rocker in 'Follow Me' and excuse me while I get the glow sticks out, the problem is, I really like this track as the beat is underlined by the band, with guitars and drums and bass just killing it.  Stop confusing me Muse!
Let's see what 'Animals' is like… well it took me 2:39 to get in to it, as that's when the guitar kicked in and the two minute musical onslaught begins, a lot of talent in this band, I tell ya what!  'Explorers' slows it right down, but I'm sure that'll change shortly, as most of these unpredictable tracks have also done, but wait… it hasn't done anything drastic… interesting and I'm somewhat disappointed by that ha ha. Time for the 'Big Freeze' and it's fading in, so I already like it… wow, this sounds like a U2 song, just on first listen that is, but that's good as it's old school U2, not that new stuff they do now.  I dig this track, in fact it's probably my favourite on the album at this point.  It has this great groove and tone to it, so yeah, it's hooked me.
With only four tracks left, so around an hour to go, and with an impressive two hrs previous (kidding), I'm hoping the album finishes up with some stand outs. 'Save Me' is a ballad of sorts and as soon as I typed that it became no longer so much of a ballad ha ha, you guys… great track but now we have 'Liquid State' and this is rockin' and the heaviest track on it.  The riff is powerful and the rhythm is thumping, excellent work fellas.  Holy shit… what is this? 'The 2nd Law: Unsustainable' besides the spoken parts of a woman's voice throughout the song, I'm going to try and explain this song and how it sounds.  OK, so there's this robot and it has invented a new industrial style instrument, yet it also wants to be the singer in the band but is only programmed to say 'Unsustainable' and does it so it would scare the shit out of you if you heard it in a dark alley way.  That's what this song is and it was fucking brilliant.  To finish 'The 2nd Law' we have 'The 2nd Law: Isolated System' which starts of as a piano driven piece of music, almost a perfect outro and a calming sense from the crazy ass robot that tried to kill us in the last song, but it reaches its peak and fades out, thus ending an album that was confusing and amazing.  I guess that's Muse!
There's no denying at all that Muse are one of the most innovative and in fact best live bands out there at the moment, and it'll be interesting to see how these new songs transcribe to their show.  One thing's for sure, I'll be there watching to find out…
Essential Information
From: UK
For fans of: Alternative / Rock / Opera / Electro / Muse…
Release date: 28 September 2012
Record label: Warner Music Australia
Producer: Muse
Website: http://www.muse.mu
Track listing:
1. Supremacy
2. Madness
3. Panic Station
4. Prelude
5. Survival
6. Follow Me
7. Animals
8. Explorers
9. Big Freeze
10. Save Me
11. Liquid State
12. The 2nd Law: Unsustainable
13. The 2nd Law: Isolated System