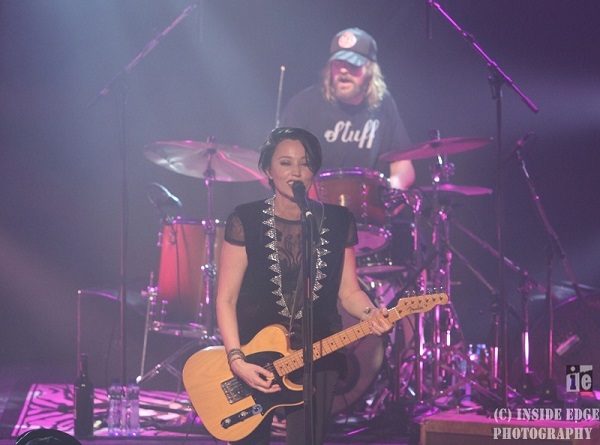 Australian rock legends The Baby Animals are back in Sydney tonight in support of their newest album 'This Is Not The End' and on the first leg of their 'Feed The Birds' tour… and now seeing Baby Animals before, numerous times actually, I'm looking forward to hearing the new material tonight at The Metro and also, being a part of the DVD the band is shooting for their first ever live concert recording…
Steve Balbi kicks off the night asking us if it's good to be alive and judging by the reception, everyone here is. Balbi of course if you don't know him is best known for his role in Noiseworks, but with his debut solo album recently released, he's here to showcase these songs for us. His songs are easy to listen to and really shows his talent but as he throws in a Noiseworks track which was not only unexpected but in what sounds like a rarity for Steve at his solo shows he completely changed up 'Touch' and almost reinvented the song into a beautiful ballad. Delving into his other project 'Move Trees' he gives us a track that rocks the place up a little and I have to say that at times his voice mimics that of David Bowie which is scary! Sorry Steve, you were great but tonight you may have been upstaged by 9yr old Jagger that was brought up on stage to play drums on a rocked up cover of 'Stand By Me' that was brilliant, but rocking out a few more he leaves with new fans. Balbi is a real talent and well worth seeing should you get the chance.
As the Baby Animals walk on stage, The Metro bathed in red and pink lights they launch straight into new album opener 'Under Your Skin' and the band sound great, the four piece is tight and Suze's voice is sounding better than ever and like a fine wine has just gotten better with age. Barely pausing for applause is another off the new album in 'Got it Bad' which plain and simple rocks and allows Dave Leslie to show off a little, not that he needs to but he sure can play.
Time for one that everyone knows, taking it back to the debut album with my favourite track 'Rush You' which tonight still retains the power it had back in 1992… As does 'Working For the Enemy' which is always a great live track and as they break it down musically tonight and extend the track for the show, it really points out the talent of the musicians on the stage. 'Bonfires' from the new album is a stand out on the release and hearing it live really brings out the vibe of the song. Sticking with another new one and slowing it down for 'Warm Bodies' and 'The Invisible Dreamer' but the latter is one of my faves off 'This Is Not The End' due to its arrangements and here with its build and guitar work make it a stand out.
Back to old territory with 'Painless' which of course gets plenty of love from those here obviously waiting to hear the hits and even more obviously, wait for it… "And I need that like a hole in the head…" ahhh I love a gang vocal and I love a song that still stands up! Tonight as Suze mentions is for a DVD and also the fact that the set list has essentially been chosen by those here so hopefully we'll get a few more gems thrown in, much like 'Don't Tell Me What To Do' right now. Dave shreds away once again which I could easily watch more of. 'Broken English' really showcases Suze's vocals and throws another slower one in to balance the set or does it? Nope, the amps get turned up and the band let loose on a heavy rockin' musical onslaught and I have to say that was hell impressive. Sticking again with the new album 'Stitch' which was great but 'One Word' up next killed it, and rightfully so. 'Hot Air Balloon' from the new album is my favourite from it and tonight that favourite was cemented hearing it played this way, tight, not missing a note and vocally this one suits Suze so well. Suze got to 'feed the birds' which is always fun to watch, but not as fun as the whiplash I just gave myself as the opening driving drums of 'Backbone' began and this song is just so fucking good, they keep the tempo up with 'Email' which is now a Baby Animals favourite for many but nowhere near as much as 'Early Warning' which was not only their debut single but also the one loved here the most tonight. After a rendition worthy of when it was released over twenty years ago, they leave the stage…
Only to return with a promise of playing all night, but let's see how long that lasts, but 'One Too Many' kicks off the encore and a great choice at that. I'm left wondering what they haven't played yet and how this will in fact, end… with still a couple not played off the new album they include 'Winters Day' which is a much more subdued track but someone walked past the amps turned everything up to eleven and 'Ain't Gonna Get' is the end result. Frantic, balls out Aussie rock and roll is what this is and there was no better way that this evening could've ended. Unfortunately, that was the end for the night, but it simply tells me that the Baby Animals are back and I for one can't wait to see what the future holds…
Check out our recent interview with Suze Demarchi HERE
Essential Information
Venue: The Metro, Sydney
Date: November 9, 2013
Support: Steve Balbi
Website: www.thebabyanimals.com

Set List
Under Your Skin
Got it Bad
Rush You 
Working For the Enemy
Bonfires
Warm Bodies
The Invisible Dreamer
Painless
Don't Tell Me What To Do
Broken English
Stitch
One Word
Hot Air Balloon
Backbone
Email
Early Warning 
One Too Many 
Winter's Day
Ain't Gonna Get