"I was just doing that because I wanted to do it, and we're very lucky as we've always had a very loyal fan base, they're quite rabid our fans, they stick there, they want more and they never sway, so they're reliable."
From Tour Release: Since exploding onto the scene in 1991 with the release of their first single, Early Warning, Baby Animals have become one of Australia's most successful rock outfits. Their eponymous album spent six weeks at No. 1 in Australia, going eight times platinum and becoming the highest-selling debut Australian rock album until the release of Jet's album 12 years later. The band toured internationally and struck up friendships with music legends Van Halen, Robert Plant, Paul Rodgers, and Bryan Adams. This Is Not The End, the band's first full-length release since 1993, marked a return to the charts. It made its debut at number 19 on the ARIA Album Chart and number three on the Australian Album Chart when released.
We chatted to Suze DeMarchi of the Baby Animals about their newest album 'This Is Not The End', their upcoming 'Feed The Birds' tour and how so long away has helped the band…
Twenty years for a new Baby Animals album… what took so long?
Well you know I went and had children and it took us about eight years to get off the label we were on and we couldn't record anyway, so it was kind of good to have a bit of a break and raise my kids a little bit because it's hard to do both, it's a bit too crazy with touring and everything. I did the solo record and I think the actual catalyst was doing the acoustic record kind of lit the fire under us again, and when I moved back to Australia that was Dave and I saying, well now that I'm back here let's go crazy and get some songs and see how we go and we just kept working until we had enough songs, well the right songs…
The title, what was the idea behind calling the album 'This Is Not The End'?
Actually that was the name of a song that I wrote for the album and it didn't make it on the album… but when we were thinking and looking for different album titles I really liked it as an album title, I thought well it's good, it really doesn't mean, it can mean anything, it doesn't necessarily mean this is not the end of the band, it's such a nice image on the cover and it could mean various things so we leave that up to the interpreter basically.
With some of the songs around for a little while, when you had these a few years back, did you have any idea that you'd be using them on an album to be released in 2013?
Well we always hoped I guess, and we put them on because a song like 'Stitch' that's been around for a while, it never got to be recorded properly and we wanted to make sure that we did that properly and that it got a bit of a Guernsey as well. 'Got It Bad' I guess, we hoped that they'd all be on an album, these days you know albums are starting to fade away a little bit you know? It's a strange old music business these days and you can kind of do things the way you want to do them now I guess, that whole format of the ten song album or the twelve song album is sort of not the case anymore. YouTube is the biggest marketing tool there is… biggest media asset there is…
Well hopefully it'll come back one day…
I know… I doubt it; don't get your hopes up…
There is a vinyl resurgence at the moment though which I'm loving….
Yeah, I know, but it's not really, it's never going to come back like it used to, there's just no way. People have so much easier access and cheaper other areas, streaming is it for the young kids, they don't even know vinyl, vinyl is a resurgence that seems to be hitting the thirty year old market. Kids sort of knew they were around but never really got the chance to listen to music that way, that's sort of a cool thing but it's a novelty…
The album is in a way a bit more subdued than the rockier Baby Animals we all grew up with, is this testament to the place you are in today?
I disagree, I think it's quite heavy this album, there's a lot of it that's equally as heavy as the first record, and I think maybe the difference is the slower ones are a lot less produced and a lot slower, maybe a little bit lighter. Like 'One Word' I may consider a bit a slower pop song, but this album has slow ones like 'Warm Bodies' and 'Stitch' so they're really light, but the heavy ones are really heavy, 'Hot Air Balloon' is heavy, 'Got It Bad' is heavy, I think 'Email', 'Bonfires', 'Under Your Skin' is one of the heaviest songs we've ever written… *laughs* I think we always like to do a good mix of heavy and soft and there's a good combo of that.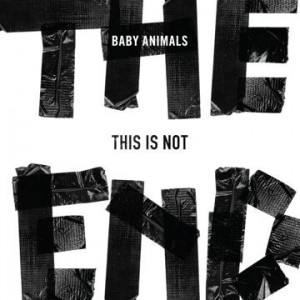 Don't get me wrong, I loved it…
That's OK, a couple of people have said that to me but I don't necessarily agree with it because when I listen to it I think 'fuck that's pretty heavy.'
Were you at all worried about being away for so long and if in a way, anyone would care again?
Yeah a little bit, in a way I wasn't doing it for that anyway, I was just doing that because I wanted to do it, and we're very lucky as we've always had a very loyal fan base, they're quite rabid our fans, they stick there, they want more and they never sway, so they're reliable. I think you really have to do it for yourself no matter what, it's such a different level to the first album which was nuts, but that's Ok too.
How has the addition of Dario and Mick helped to make the band what it is at the moment?
Well Mick we've been playing for for about four years now and he's just a really easy dude to be with and I like his style, he reminds me of Mick Fleetwood a bit, and what he brings is his solid playing, he's very easy, he's an easy character to be around, he's hilarious and he's very loyal too, he's brilliant to work with. Dario, he's just a master of the bass, he's been around forever, we've known him for a long time, he's such an amazing player, he could play anything really, and he just seemed to fit with what we were doing and the difference is that we all kind of like hanging around each other a little bit, so it helps when touring.
Your live show has not suffered in any way, in fact your show at the Standard earlier this year was one of the best I've ever seen you play, what is it about this band that shines on the stage?
We just get this energy on stage that I don't know how many bands have it, I think that's what you need to have in a band, and I think as Dave and I have played together for so long that there's a real knowing and you can just enjoy yourself and get into what you're doing and just know that the right by your side and you don't have to worry about what they're playing or maybe they're playing something wrong, or whatever it is. I've seen so many band implode because they're mad at the guitar player for playing something different, you know what I mean? We've never had that, I get blown away by what he's playing every night and having that dynamic creates that kind of real solidarity on stage. Maybe that's it…
Not to mention that your voice is sounding better than ever by the way…
Oh thanks, thanks, I had a nice break, I needed to you know. I'm feeling great, I feel vocally better than ever. Actually it's weird, I was in rehearsal yesterday and I felt really strong vocally, and back in the day I would've been struggling, so I think it was good to me to have a bit of a break *laughs* and now I use inner ears and that makes my life a lot better.
Well that's good because you've got a run of shows coming up on the 'Feed The Birds' tour, what can fans expect if they come out to see you play?
Oooh! It's going to be along show too, I think we're trying to do all the songs the fans have asked for, something like twenty three songs we might be doing. A long set, give them what they want, tell them to bring lunch, pack a snack…
You also have Steve Balbi opening for you guys…
He is, yeah, we love Steve, he's a good man he's a great musician and we feel very lucky to have him on board too.
I do have to ask about the tour name 'Feed The Birds' is that a specific reference to something?
Feed the birds came about from one show where I accidentally on purpose started feeding one of the girls up the front the red wine that I've just had a big mouthful of, so I obliged her and gave her a bit of the red wine out of my mouth and then it became feeding the birds and because they look like little birds when they're standing there and I don't know why they let me do it but they do. It's nuts but I love it, so that's where that came from… *laughs*
On that show, I got to see yourself and Sarah McLeod do 'Boys In Town' by The Divinyls, obviously Chrissy had just passed, how much of an influence was she on you?
Well I remember seeing those guys play when I was in Perth and I remember thinking, wow, she's got balls that chick and she was all over the stage a little bit demonic, she was really impressive and I think her song writing skills were really great too,  as an influence on that sort of level, yes, but The Divinyls weren't really a band I listened to in my downtime, they were always there in my periphery though and I always admired her and always admired her relationship with Mark the guitar player and the way that dynamic was, every band needs that you know? I loved her vocal style so always had great respect for her and I worked with her a few years ago when we did the Australian Symphony Rock thing and she was really sweet and we both kind of trying to do the same thing, get past the boundaries of trying to be a girl in rock, without really making a big deal of it, it's not really, I don't think it was a big deal to her, it's just what she did. We just needed to honour her and we still need to honour her and it was really nice that Sarah came down and we got to do something together. She died too young you know? She was a real trooper man, she was a brave soul, a brave woman, she was sick when we were doing that tour and she hobbled on stage every night and was brilliant and it's tough to do that, expose yourself like that when you're that sick, but I knew she was struggling but she went for it and it was amazing to watch actually.
Do you still have a favourite song to sing live?
My God… I do have, I really love 'Under Your Skin' the new one, I love doing 'Warm Bodies' live, 'Stitch' is great too as it has an amazing kind of build. I really love doing 'Early Warning' still… in fact we're going to do a bunch of old ones we haven't done in years and years on this tour that people have requested.
It's so awesome to me that songs like 'Rush You' and 'Early Warning' still get radio play up against modern music coming out, what do you think it is about what you created that still stands up after all this time?
I don't know, I think really it's about melodies isn't it? If people can sing along to something, people want to keep hearing it and I think that those songs got hammered so much back in the day that you remember them.
What does 2014 have in store for the Baby Animals?
We've got some more touring do in the beginning of the year, we've got some regional touring and we're going to try and get to a lot of places that we haven't been to in years, like Darwin and do Tassie and some of the country towns we haven't played for ages. Hopefully we'll go over to Europe and play, we'll just see where this record takes us. We'll definitely be doing some more writing for a new record…
I was going to ask, are we going to keep hearing new music?
Yeah, we've already started that, so yeah…
So it's definitely not the end?
No, not the end, not yet…
Essential information
From: Sydney, Australia
Band members: Suze DeMarchi, Dave Leslie, Dario Bortolin, Mick Skelton.
Latest Release: This Is Not The End (Social Family Records) out now! Check out our review HERE…
Website:  http://www.thebabyanimals.com
Catch the Baby Animals on their 'Feed The Birds' tour at the following dates:
Saturday, 12 October             Cambridge Hotel         Newcastle        bigtix.com.au
Friday, 18 October                 The Zoo                      Brisbane          oztix.com.au
Saturday, 19 October             The Zoo                      Brisbane          oztix.com.au
Thursday, 24 October             Governor Hindmarsh   Adelaide       moshtix.com.au
Saturday, 26 October             ANU Bar                     Canberra      ticketek.com.au
Wednesday, 30 October          The Wool Exchange      Geelong           oztix.com.au
Thursday, 31 October             The Corner Hotel        Melbourne     cornerhotel.com
Saturday, 2 November            Astor Theatre             Perth    showticketing.com.au
Saturday, 9 November            Metro Theatre            Sydney  metrotheatre.com.au