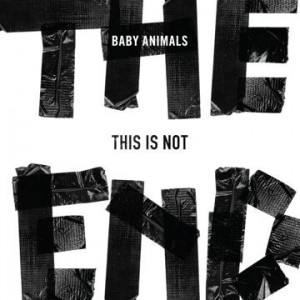 Twenty years is a long time between releases and especially for a band that was so big in their hey day like the Baby Animals were, but here we are now in 2013 and Suze DeMarchi and Dave Leslie thought it was time to return, and what a time it is. 'This Is Not The End' sees Suze and Dave team up with new members Dario Bortolin and Mick Skelton for a fresh 'slab of Aussie Rock' and all I can say is welcome back.
Opening track 'Email' was the first single taken from the album and Suze has never sounded better, like a fine wine, her voice has matured with age and is as strong as ever. This is a rocker and is already a favourite in the live environment. 'Bonfires' starts slower but is classy and smooth and as the chorus kicks in you'll subconsciously be tapping along to it but what a song. When you then have fresh new songs like 'Under Your Skin' that keep the Baby Animals style and vibe yet sound new and exciting you know that this twenty years apart hasn't been for nothing. 'Stitch' slows it down again but I have to say that musically the progression in this one and the melody they've created makes this one a favourite. The album stays mellow with 'Invisible Dreamer' but as I say that and as per the others that have tricked me, this is building, building and kablamo, this to me is reminiscent of the mid 90's but wow, released back then you have a major hit.
Six tracks in and there is a lot of the more subdued tracks compared to your rockers, but I truly wasn't expecting another 'Early Warning' or 'Rush You' as seriously, those songs still kick ass today, so why write them again? Exactly. 'Warm Bodies' is a ballad and is suited to Suze's voice but 'Things That Make You Stay' is where it's at. This is a song and a half of full cream dairy milk and I love it so much that I'm playing it again before the next track. It just has such a great feel to it, ladies and gentlemen we have a winner!! Now, 'Priceless' isn't a sequel to 'Painless' even though I was kind of hoping in some way it would be, although that's just me being stupid (as always) but the pre-chorus is vintage Baby Animals and the song itself is really well put together and it also allows Dave to get a solo in there briefly, actually, in saying that, I'd love to hear more from him as he really is one of the best, most underrated guitarists in Australia and should be out there shredding it. Although, there's still hope with a few tracks to go…
'Hot Air Balloon' being one of them and this 'groovy' track is sleazy and as interesting as the lyrics are, it's the arrangements here that I love as the build and come down from the chorus is so well played (literally) and suits the song and makes it stand out from the others. Oh look, as I mentioned above, Dave gets a chance to rip out a solo which was cool, and overall this was a cracker of a track, at one of the longest on the album they just jam an outro letting Dave go and I wish it had gone on for longer. This is a song I need to hear live.
Then we have 'Got It Bad' which has been floating around the traps for a few years and with its buzzed guitars and catchy hook this is one I'm glad they saved to put on the album as it was always too good to get lost, so at track ten it makes it and is close to the rockiest thing on the album besides 'Email' and would I have loved so more rockers on the album? Of course, but in no way am I complaining as I've loved this whole album so far. Hang on… 'Winter's Day' is the album closer and that threw me, it is such a change from the last track in all aspects, good song that's for sure, but I maybe would've put this mid album and closed it with 'Got It Bad' but hey, I'm not in the band, nor is it my album, so not really my call ha ha. It does fade out though and that's always one of my favourite things ever…
So I guess this 'new' direction from one of Australia's best rock bands isn't really a direction change, it's just what they are today and I for one am happy with this. Let's just say they're not babies anymore.
Essential Information
From: Sydney, Australia
For fans of: Rock
Release date: 31 May 2013
Record label: Social Family Records
Website: http://www.thebabyanimals.com/
Track Listing
Email
Bonfires
Under Your Skin
Stitch
Invisible Dreamer
Warm Bodies
Things That Make You Stay
Priceless
Hot Air Balloon
Got It Bad
Winters Day