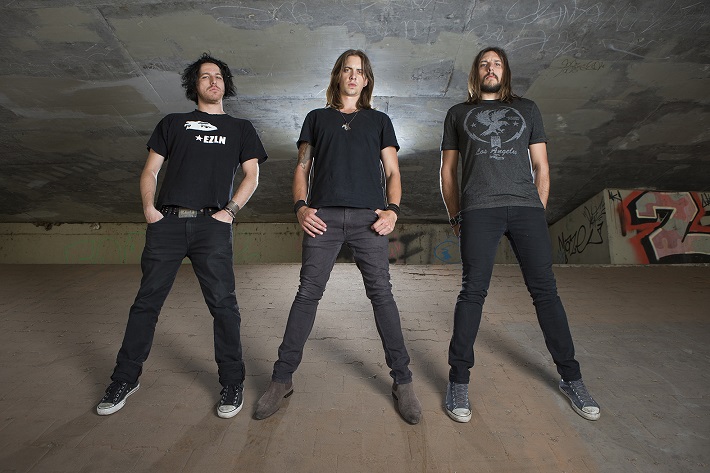 From Bio: Tracer have come a long way since forming in Adelaide, South Australia just under 10 years ago. They made two independent mini albums (the three-song Into The Night in 2006, and the seven-track L.A. in 2009), but their debut proper came with "Spaces In Between" released on Mascot Label Group in late 2011. That album was widely praised and three European tours in support of it saw Tracer named the Best New Band at the 2012 Classic Rock Awards. All who saw Tracer, the hard-rocking young three-piece from Down Under, in 2012 saw the potential. Now with their second full-length album El Pistolero that potential is fulfilled. Produced by Kevin Shirley (Led Zeppelin, Iron Maiden, Slayer, Silverchair, Cold Chisel) the record is on target to make Tracer the band that everyone is talking about in 2013.
In the past Tracer have been compared with top-drawer outfits Soundgarden, Queens Of The Stone Age, Pearl Jam, Foo Fighters, Kyuss etc. El Pistolero sees them forging more of their own identity – not that the band mind the kind words.
We totally dig the sound of Tracer and without doubt if you haven't heard them before, then get on them now as they truly are one of the Best Things You've Never Heard… so we had front man and guitarist Mike answer some questions for us.
Let's start with the basics; can you please give us the abridged version of the story of how Tracer came to be and where the name of the band came from?
Sure! The story starts with me (Mike Brown) and my brother, Leigh playing in a blues band at the tender ages of 8 and 11. The band was called The Brown Brothers and we had a little bit of success in Australia. When we got to high school though we were introduced to the world of rock and teenage angst and we changed what we were listening to from Albert King and Buddy Guy to Rage Against The Machine and Pearl Jam. At high school we met Dre in the high school jazz band and started jamming on some of our "new favourite" songs. It wasn't long before we started writing our own material and thus founded Tracer. Last year Leigh left the band and Jett is now our resident bassist and brother in rock!
As far as getting the name goes, we really have to come up with a better story. But the truth is we are named after dribble! One rehearsal we had lost Leigh, eventually to find him fast asleep in his room. When we woke him up had this insanely massive drool rope stretching from his pillow to his face. When it inevitably snapped it hit him in the face with enough force to give someone whip lash. When we had recovered from the hysterical laughter, Dre said, "Oh man, he had a massive tracer!"
Can you now please introduce each other and give us a rock 'n' roll fact or myth about each of you?
My name is Mike, I sing and play the guitar. Rock 'n'roll fact: I once took home two Swedish girls while meeting Monster Magnet at a bar in Berlin.
Our drummer is Dre Wise: Rock 'n' roll fact: Dre once saw Mike take home two Swedish girls while meeting Monster Magnet at a bar in Berlin.
Our newest member is Jett on bass. Rock 'n' roll fact: Jett is too rock 'n' roll for anybody and the stories he has told us will one day make an incredible and eye-popping read. He was also not present when Mike took home two Swedish girls while meeting Monster Magnet at a bar in Berlin.
Can you give us four words that you feel sum up the sound of the band perfectly for someone who hasn't heard you before?
Loud, heavy, thick, dark
You've released your new album 'El Pistolero' recently, with your debut album in 2011 out prior, what had you learned in those two years that allowed you to make this new album what it is?
Jeez, that would take a page just to answer that! Immediately after we finished the Spaces IN Between album we had a list of things we would do differently. You learn so much about yourself as a musician in the studio and of course the sounds and how the translate to tape. Once thing we really wanted to try to achieve is getting the atmosphere and vibe that we get live to come out on tape. We knew we wanted the drums to be more prominent and thunderous as they are on stage and we wanted that big bottom end. I was inspired to see a documentary on the Foo Fighters where Dave Grohl would put absolutely everything he had into every word of every line of every verse he sang, even when he got immense headaches. But the proof is in the pudding, his vocals always sound amazing. I tried the same thing and I got a vocal performance that I was really happy with.
How did working with Kevin Shirley as producer shape the album into what it became?
Kevin was great to work with. He really made it an enjoyable experience and since we went into the process of having a producer pretty green we were immediately put at ease by his attitude and fun nature. He worked super quick though, which was something we were not used to. But I think in doing so he captured the raw excitement that we were trying to achieve. He also made decisions really quick, which meant that we had to be on our toes for every take. We went in there with the determination to impress him and I think he picked up on that and pushed us further to get great takes. It worked!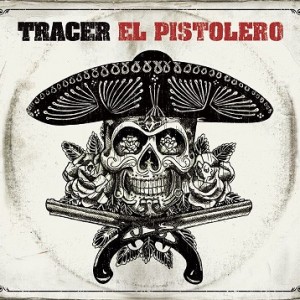 Was there a specific inspiration or concept you set out to create with 'El Pistolero'?
I had been watching the Robert Rodriguez movie "Desperado" and couldn't help but get inspired but this gun-toting, mariachi super hero on screen. So much of the music an the setting had parallels with our music and so I went about learning some of the Spanish guitar and trying to rock-ify it. When I was doing that I was writing lyrics that centred around the storyline of the movie and we thought, how far can we push this? We decided to make about half the album follow the storyline (with some artistic licence) and we also tried to push the Tex/Mex sound of the band.
In terms of your song writing, what do you consider to be the most important ingredients that make up a Tracer song?
Fat riffs, strong melodies and a balls to the all attitude. We don't really have a formula we stick to for writing and we like to keep everything really fresh by listening to a lot of different things, trying out other instruments and just experimenting with weird chords and timings. At the end of the day we sit back and listen to our songs and if we like them we play them. If we don't, we don't show anyone!
As a band, both lyrically and musically, what or who inspires/influences your music the most?
Everything inspires! Obviously music and musicians inspire us most but movies, books, poetry, TV, day-to-day life, everything inspires. For this album "El Pistolero" it was obviously the movie Desperado but for new songs I have been writing the state of the world has been inspiring it. Negative and positive. There's so much to write about and I don't think I'll stop writing until I've run out of things to say…which probably won't happen!
Touring wise, you're out on the road at the moment with The Angels, how have these shows been going, and what can people expect if they come and see Tracer live?
They've been great. A lot of die-hard pub rock fans turn out to see The Angels and I don't think they expect the harder hitting style we have. We like to crank it up and move around a lot when we play. A lot of our overseas shows end up in a boozy , sweaty evening for both the crowd and ourselves and that's just how we like it. We always try to make the crowd feel like they are part of what's happening on stage and that is the best way for having a great night. It's a cyclic thing. If the band is putting out rad music and the crowd gives back, then the band plays better. It's great when you get on that wave!
You're also no stranger to European touring and are heading back this October to support The Answer, do you find that the sound of the band gravitates more towards that international market than here in Australia?
I think touring in Australia is quite difficult and very expensive due to the distance between major cities and the lack of population here. It makes sense for any band to tour in Europe and the UK just based on those two reasons. You can drive for 8 hours here and just be in the next major city, you do that in Europe you've passed through 3 countries each with a population bigger than the whole of Australia! The style of our music also helps. There's a major classic rock/hard rock scene over there and it's still at the forefront of music. I think Australia is a little too influenced in it's music taste by the radio stations and TV programs controlling new music. It's tough here for a rock band at the moment when the "tastemakers" in the music industry have decided that rock isn't trendy enough to support. But like the 70's and the 90's I'm sure it will make a resurgence.
I personally see the Aussie rock band is starting to make their resurgence, so what do you feel that Tracer can do to stand atop of this pile of Aussie rock and give it the good kick it needs?
We're just going to keep doing what we're doing. We are making music we love, performing it the way we want and people all over the world are digging it. We are very tough on ourselves and always try to get better. Whether that be musically or trying to get the stage show together or writing songs or becoming better at music business, we are never satisfied. I think our best albums and songs are in front of us and as long as we can tough out the hard times, we'll be there when the rock revolution hits!
You've had the opportunity to open for a number of bands, did you get the chance to watch them all and adapt some of what they have done to bring to your performances?
Yeah of course. The first band we toured with, Royal Republic, was our introduction into what a touring band should do! They had a professional crew, a tour bus, endorsements, they had the whole shebang. We learnt so much about how to tour by watching them and their crew every night. We also did some shows with Black Label Society. Zakk Wylde took a bit of a liking to our band and sat with us on more than one occasion to talk guitars and other geeky stuff but his advice on how to survive and how not to get fucked over in the music business was great. He also hooked us up with some great dudes in the states, which is one of the main reasons we're starting to tour over there.
For a bit of fun, say you get the chance to open for any artist in the world that you haven't already, who would they be and why?
I'd love to open for Them Crooked Vultures. I'm a huge fan of all the musos in that band and they're one of the few bands that can jam on stage to their already awesome songs. When I saw them live, it was like seeing four musicians at the top of their game going for it. I think it would be super inspiring to see them from side of stage and hang out with them.
Lastly, here's a chance to gaze into your magic mirror.  In the next year, Tracer will:
1. Tour USA
2. Tour more of Europe to bigger and bigger audiences
3. Write our best album
Essential Information
From: Australia
Sounds like: Rock
Band members:  Michael Brown – Guitars and Vocals, Jett – Bass and Vocals, Andre Wise – Drums
Website: http://www.tracer-band.com