"Anytime you get to do something new like this it's what keeps it fresh you know, being able to plan for a tour like this and rehearse for a tour like this, it just provides a fresh new energy for the band and it's going to be cool to see how we all come together and put our own personal energy into the shows and rehearsals and just get out on the road."
Yellowcard and in particular their album 'Ocean Avenue' really took off back in 2003 with their blend of rock that combined an unlikely instrument to compliment it, in a violin, but this sound captured people's attention back then and has ever since, and the album is amazingly ten years old now, and Yellowcard are celebrating this by releasing the album re-recorded acoustically. Not stopping there, they are headed out on tour to play it all for us in this acoustic medium, now they are one of the most energetic bands I've ever seen live, so this acoustic tour will be something special to witness that's for sure and maybe a once in a lifetime for the band…
We had a great chat to Yellowcard front man Ryan Key about the re-recording of their standout album 'Ocean Avenue' as well as his love of Australia and excellent use of the English language.
Would you have ever thought when you released 'Ocean Avenue' that 10 years on you'd be re-recording the album acoustically and touring it?
Of course not, no way, when we recorded 'Ocean Avenue' we were just hoping we were going to get on the Warped tour, and that was our life long goal. So everything since then, including the re-recording and the tours we're about to go on has all just been icing on the cake, you know?
So what was the reason behind doing re-recording the album?
I think mostly it was motivated by that we had done an acoustic version of 'When You're Through Thinking, Say Yes' a couple of years ago, and kinda wanted to take that experience to the next level as far as using real drums and bass and making it more of a full band experience as opposed to just two guitars and the strings. Also the fact that we were very conscious that we needed to do something to celebrate the anniversary because it's just almost something that is expected of you by fans in today's word of music, at least in our genre it's the thing to do. So we knew we had to come up with something and we wanted to do something more than just a tour and going out and playing the record or something like that, so we decided to go for it with the acoustic recording. The best thing about it was that we were able to get an actual recording budget for the record as if we were making any other full length album, Hopeless records really got on board with the idea and allowed us to make the record with a budget and time and a studio we could work with, it was awesome.
How did all the songs transcribe to the acoustic medium?
Yeah most of them are written on acoustic guitar anyway so it's more taking them back to their roots if anything and a lot of the songs are just acoustic renditions of the album tracks and they sound very similar other than the fact that they're acoustic. Then there are a few songs where we wanted to invent them and try new things, I think three or four songs on the record are pretty far from the original versions, so you get a bit of both. We certainly made the record very string heavy and we really wanted Sean's arrangements with the violin, viola and cello to stand out and drive a lot of the songs in those songs where those instruments are present, and it's cool, there's a lot of stuff like that that you can hear now that you couldn't hear on the original record.
What is it about that album that you think resonated with the world?
I don't know, to me I guess, its heart. It's a hard thing to talk about the songs and why they're so awesome without sounding pretty ego maniacal but I guess the record for me has such a vibe of positivity and hope at a time when we needed a lot of that in our lives personally as we put all our eggs in one basket and moved to California to take this thing seriously and try to make a career out of it. While we didn't write every song about trying to make a career out of being in a band, that drive was in the songs and that hopefulness was in the songs, and I think that really connected with people at the time and I think somehow the planning was done perfectly that most of the promotion for the first couple of singles, we'd never had singles at that time before, but the promotion and radio campaign like that all happened in the summer months. I think with our band and our records, not all our records, but several of our records have had that summer feeling if that's the right way to put it and with what we do, so I guess it was the perfect storm, everything happened at the right place at the right time.
So of course you are heading back to see us in Australia this October, and other than playing the acoustic album in full what else can we expect to hear at the shows?
Yeah we're going to play the whole record through acoustically, we're really looking forward to that, I think hearing fans singing and being able to hang out and talk in that environment when you do an acoustic show, particularly the songs from Ocean Avenue which is going to be not only special for them but for us as well. Then I think we'll probably take an intermission or something, we haven't rehearsed the show yet so we're not exactly sure what it's going to be, so we'll take a little intermission and then come out and play some songs plugged in as well from our other records.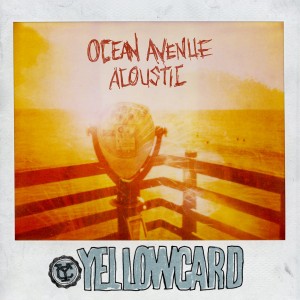 I last saw you here at Counter Revolution and it was such an energetic set. How do you in essence slow that down to play the songs raw?
I think what we do is it feels like when we're sitting around writing songs together, it's not that much different when you play a show as far as the energy between us, between the band. Then the audience is different with the vibe there, it's not as much about circle puts and crowd surfing, it's more about talking to each other and singing along together and I'm interested to see how much of the set I actually have to sing, it may not be very much you know *laughs* and that's what really takes over and provides the energy for an acoustic show or an acoustic set.
Much like a giant campfire sing along…
Yeah for sure.
You kick off the acoustic tour in August / September, are you pumped to get out there for these different shows?
Yeah we are, anytime you get to do something new like this it's what keeps it fresh you know, being able to plan for a tour like this and rehearse for a tour like this, it just provides a fresh new energy for the band and it's going to be cool to see how we all come together and put our own personal energy into the shows and rehearsals and just get out on the road. I mean that's our favourite thing to do man is tour, especially to come to places like Australia, and I will say with 100% certainty that Australia has been and will continue to be one of the top three markets in the world for Yellowcard. When we came last year for our headliners after Counter Revolution had happened, we just could not believe it man, the shows were sold out, we haven't sold that many T-shirts at a show in ten years, at all of those shows, it was just this crazy, overwhelming response for us coming back to Australia for those headliners, so I think going forward that's going to be something that we get to enjoy, coming to Australia and how much support we get there.
Are you going to be able to head out to any new territories on this acoustic run?
Yeah we are, we're got two plus two, we're going to South Korea to play a festival there and we're going to South Africa for the first time.
Now 'Southern Air' was released just over a year ago, obviously you have the acoustic album about to be released, but are currently working on new original songs for a new studio album?
No not yet, I think it'll be a little while, there's so much to focus on with this tour and getting ready for it and learning the 'Ocean Avenue' songs and learning how to play them and it's going to take a lot of work on my part to learn how to sing these songs as comfortably as all the other songs I play every night you know what I mean? I don't want to get out there and in a two hour set be burned out not even seven songs in because I don't remember how to sing 'Miles Apart' correctly because it's been almost ten years, so I'm going to have to work on that a lot. There's a lot of things that come before writing new songs and I feel it's not like we haven't provided enough new material or material in general for the Yellowcard fans of the world, so I think everyone can hold tight before we release some new stuff.
I agree with you completely, some bands love to constantly write, so wasn't sure if you had new songs floating around?
No we're a studio band when it comes to writing, when it's time to make a record we get a studio and set aside time for writing, there isn't a whole lot of material that comes to light before the recording.
So over the ten years since Ocean Avenue, can you pick a standout moment of your career, besides selling the most T-shirts of your career in Australia that you can share with us?
*laughs* By the way I meant in the world that we'd sold that many T-shirts on that trip, just that it had been years since we'd had that kind of response in general anywhere it was huge, not just for Australia. Yeah, there's been so many man, first time I went to Japan, that was my first international destination on tour with the band, that was just such an incredible experience to be able to wow, if you'd have told me when I was a kid that I'd be going to Japan first of all but then going to Japan to play rock shows then I don't know what I would've done, but I certainly wouldn't have believed you, so there's that.  Playing the Video music awards in the last death rattle of music television playing music videos, I think we're pretty proud to be one of the last bands to be able to take home a Moon man like for a video that was actually played in its entirety on MTV, I know they still give Moon Mans away but I'm not really sure what for anymore *laughs* Moon Men, did I say Moon Mans? Moon Men, I was an English major in college *laughs* and so yeah there's so many amazing memories, but that would be two I guess I can give you, our first trip to Japan and winning a VMA.
What would you say the biggest difference between Yellowcard 2013 compared to Yellowcard 2003?
I would say focus, maybe that would be the word I would use, we see the purpose and the meaning behind all this in a whole different light that we did back then, not to say that we aren't still out there having a great time and having fun and enjoying our time on the road and making records, but there's a different air of knowing that everything we do is for our future both personally for our families and collectively as a band and for our continued career. So I think we're much more aware of that, we're much more aware of every decision we make and making those decisions together, learning from both the mistakes and successes we've had over the years, so we've learned a whole lot along the way and I just think we're a better band mentally than we were back then.
Lastly, have you got a message for your Australian fans?
Yeah we're stoked for the tour, I'm so excited that we get to bring it to Australia, based mostly on the fact on like I said that last headlining tour we did was one of the highlights in my whole career with the band was that tour in Australia, I can't even tell you, it was too good to be true really. Coming back and being able to come back right time which is during this Ocean Avenue tour, I'm really excited that we're coming. I guess lastly I'll say that we are going to play the whole record and then take a break and play some more songs but probably don't look for an encore because when we're done, we're done because we're probably going to have played a lot of music by then *laughs* and we just can't wait man, thanks to you guys and everyone down there for all the support you're giving us.
Essential Information
From: USA
Band members: Ryan Key – vocals, guitar, Sean Mackin – violin, vocals, Ryan Mendez – guitar, vocals, Longineu Parsons III – drums, Josh Portman – bass
Website: http://www.yellowcardrock.com
Forthcoming release: Ocean Avenue Acoustic (16th August UNFD / Hopeless Records) – Check out our review HERE
Don't miss Yellowcard with special guest Toy Boats in Australia this October!
Fri 25 Oct – Brisbane | The Tivoli (18+)
www.ticketek.com.au | Ph: 132 849
Sat 26 Oct – Sydney | Enmore Theatre – (All Ages)      
www.ticketek.com.au | Ph: 132 849
Tue 29 Oct – Melbourne | Palace Theatre – (18+)  
www.ticketmaster.com.au | Ph: 136 100
Thu 31 Oct – Perth | Capitol – (18+)
www.oztix.com.au | Ph: 1300 762 545
Presented by Frontier Touring