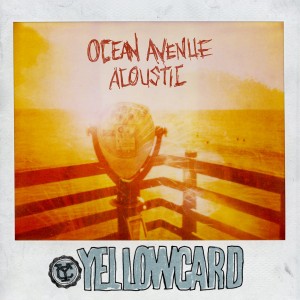 In summary: This project was a perfect one for Yellowcard, the songs translated perfectly, they are played perfectly and ten years on I have that feeling of excitement I had when I first picked up 'Ocean Avenue' in 2003, and hopefully when you listen to it you will too…
First off, it's hard to believe that Yellowcard's album 'Ocean Avenue' is ten years old… I remember being in the US in 2007 and walking around Santa Monica and seeing 'Ocean Avenue' and the song instantly jumped in my head and stayed there for well most of the rest of the trip, what I'm getting at is that Yellowcard made something special with that song and this album. It was the one that catapulted them to heights they couldn't have imagined and it was well deserved. So instead of reissuing the album with a bonus track or two, the guys have re-recorded their killer album acoustically, thus giving us a different side to the songs, some remain the same arrangement wise but some are stripped down and given some new love.
'Way Away' of course leads off the album and as prominent as it was before, the violin (a staple part of Yellowcard's signature sound) is a standout here and I get the feeling that it will be put to the best use during this entire album. The song keeps its ferocity and feeling although given the acoustic treatment it shines and I personally can't wait to hear this live in the acoustic setting this October when the band hits Australia. 'Breathing' is another in the same vein as the previous track and I'm only two songs in but thoroughly enjoying it, mostly because I know what track three is, and yes, of course it's the title track. As I mentioned above this one hooked me way back when, but I have to say, this acoustic version keeps it exactly as it was just stripped back and sounds exactly like I'd imagine when it was written, a group of friends sitting around playing it and guaranteed to high five each other when finished because of the awesomeness they had just created. This song still stands up today and today it stood just that little bit higher in my opinion.
'Empty Apartment' is one I love purely for the fact that Ryan's vocal register has dropped here from the original and because of that has almost made it a new song, this has now become a haunting ballad throughout that is simply amazing, as far as reworking the song, this may be the winner on the album as this was delightful. 'Life of a Salesman' brings the tempo back up and although still keeping that 'punk' vibe to this song the lyrics completely suit this arrangement and destined to be a sing along song at the live shows. Another favourite of mine off this album is the huge ballad 'Only One' and I was most looking forward to hearing how they'd do this one when I heard they were doing an acoustic album and I have to say that they didn't disappoint. From the 12 string guitar used to just to the harmonies to the perfect use of strings throughout and just the overall feel of the song this is a standout, and please don't hurt me when I say that I actually now prefer this version to the original… the harmony guitar / violin solo in this song wins everything too, just putting it out there.
'Miles Apart' is an exact version of the original minus the plug ins… fair to say that this is one that you really couldn't change up too much, whereas 'Twenty Three' has been slowed down from the intense original and I find that this tempo works so well for this song and almost feels like a completely new song, a great revisit. 'View From Heaven' originally sounded like it was an acoustic ditty anyway, so this was an easy get, the hoe down country vibe on this one is fun, yep, that's the word for it. Fun. 'Inside Out' always was a great song, sorry, still is a great song, and not much has changed, this is simply given the acoustic treatment and no reason to complain as it's true to the original. 'Believe' again, true to the original, but the 'Everything is going to be alright' and 'Be strong Believe' lyric really mean something when sung this way and listening to all that's going on musically in this one I love the layers and vibe here.
With only two songs to go, I've seriously enjoyed this album and a sure fire sign of that is that it was so easy to listen to, there are no cringe worthy songs on this album, never were in my opinion, but mellowing out some of the songs has made this an album you can just throw on and enjoy. 'One Year, Six Months' begins with a piano and it remains as the main instrument throughout the track replacing the guitar, it truly sounds majestic, and I have to say that I much prefer the single layered vocals on this track compared to the original and wow, what a version. Closing the album as always is 'Back Home' and a much more mellow rendition of the song, and again, don't hurt me, really, don't, but I prefer this one to the original. I'm not sure if it's because of the maturity that is shown through these performances, but after ten years these songs still stand up, and to hear them reinvented after a decade is pretty special in itself, but when they sound this good, well, congratulations Yellowcard, you've made a classic.
Overall, this project was a perfect one for Yellowcard, the songs translated perfectly, they are played perfectly and ten years on I have that feeling of excitement I had when I first picked up 'Ocean Avenue' in 2003 and hopefully when you listen to it you will too…
Check out our interview with Ryan Key of Yellowcard HERE
Essential Information
From: USA
Release date: 16 August 2013
Record label: UNFD / Hopeless Records
Website: http://www.yellowcardrock.com
Track Listing:
1. Way Away Acoustic
2. Breathing Acoustic
3. Ocean Avenue Acoustic
4. Empty Apartment Acoustic
5. Life Of A Salesman Acoustic
6. Only One Acoustic
7. Miles Apart Acoustic
8. Twenty Three Acoustic
9. View From Heaven Acoustic
10. Inside Out Acoustic
11 Believe Acoustic
12. One Year, Six Months Acoustic
13. Back Home Acoustic
Don't miss Yellowcard with special guest Toy Boats in Australia this October for their Ocean Avenue Acoustic tour!
Fri 25 Oct – Brisbane | The Tivoli (18+)
www.ticketek.com.au | Ph: 132 849
Sat 26 Oct – Sydney | Enmore Theatre – (All Ages)      
www.ticketek.com.au | Ph: 132 849
Tue 29 Oct – Melbourne | Palace Theatre – (18+)  
www.ticketmaster.com.au | Ph: 136 100
Thu 31 Oct – Perth | Capitol – (18+)
www.oztix.com.au | Ph: 1300 762 545
Presented by Frontier Touring