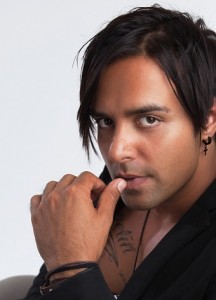 Former Taxiride vocalist and songwriter Jason Singh is set to release his long anticipated solo album titled Humannequin on September 20th through Ambition Records, distributed by EMI Music Australia.
Former WEA Records Managing Director Robert Rigby whom was responsible for introducing Taxiride to Warner Music heads Ambition Records.
"I have had a long history with Jason and Charles each respectively with Taxiride and Savage Garden in my days at Warner Music. I am really thrilled to be working with them again and to have Jason on our label; he is a top rate song smith and talent," Robert says.
Taxiride enjoyed nationwide success with two Top 5 ARIA platinum selling albums and six Top 40 ARIA charting singles including three Top 10 chart entries with Get Set, Everywhere You Go and Creepin' Up Slowly. The later achieving the #1 most addition to this, the band received international airplay and successfully toured through North America, Europe and Asia.
Jason also had two recent Top 10 ARIA Club hits; The World As You Know it and One World  – "The club hits gave me  a lot of confidence in my ability as a songwriter and fuelled  my desire  to make  my own album  of original songs."
For the new album, respected producer Charles Fisher was recruited to handle production duties. "I first met Charles in a café in LA. We had a fantastic discussion about song writing and music generally. Fast forward a couple of years, I'm preparing songs for my own album and heard that Charles had relocated from LA to Melbourne. I made contact and visited him at his home studio to play him the songs I had been working on. Upon hearing the demos I'd recorded, Charles expressed a keen interest in producing the album. We immediately clicked as a creative team".
Charles Fisher is one of Australia's most successful record producers having 40 gold and platinum albums to his credit. Charles of course produced Savage Garden's debut album, which went on to sell more than a million units in Australia and over 15 million copies worldwide. The single from the album Truly Madly Deeply reached #1 in the US Billboard Singles Chart making Savage Garden one of Australia's most successful international recording artists.
The first single to be released from Humannequin is 'Hold On Forever'; a big sounding multi-formatted pop rock dance track that once again displays Jason's innate sense of melody and classic song writing ability.
Hold On Forever will impact radio Monday 12th August and will be available digitally Friday 16th August.
Jason Singh – Humannequin
Album Release Date: 20th September 2013
Single (Hold On Forever) Digital Release Date: 16th August 2013
Website: www.jasonsingh.com.au
Facebook: www.facebook.com/iamjasonsingh
Twitter: www.twitter.com/jasonsingh