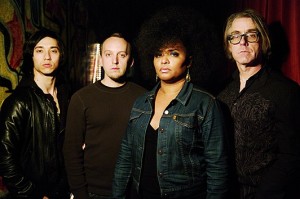 US garage-rock legends THE BELLRAYS paid a visit to Australia in June 2013 after a lengthy break from touring the Oz territory. Following the run of European shows (and some recording) that pre-ceeded the hectic promo / touring schedule here in Australia, it all took its toll on singer Lisa Kekaula, who's voice almost gave out just in time for her first Sydney gig in 6 years.
Still wowing the crowd of die-hard followers at the Manning Bar, the first thing Kekaula and bandmates suggested to promoter Nightmare Music, was that they return to Sydney as soon as possible to do another show at 100% full strength.
The BellRays are set to return this November and will play Sydney's home of rock (a headline show) at the iconic Annandale Hotel on Friday 22nd November.
In their only Victorian show The BellRays (USA) will headline Melbourne's CherryFest 2013 on Sunday 24 November hosted in AC/DC Lane and The Cherry Bar. CherryFest is Australia's only street rock n roll music festival and will feature 14 acts across 2 stages from 12 noon.
Cherry Bar Owner and Booker James Young reflects, "As the only business in AC/DC Lane Cherry feels an obligation to bring this internationally iconic Laneway to life. Having The Bellrays playing in AC/DC Lane in front of 800 sun-drenched beer-soaked music lovers as our CherryFest 2013 headline act will be something Melbourne will never forget. Let there be rock. Let there be The BellRays in AC/DC Lane".
Nightmare Music Presents…
THE BELLRAYS
Friday 22nd November 2013
SYDNEY, Annandale Hotel – NSW
TICKETS: www.oztix.com.au 
* Tickets on sale Monday 29th July 2013
Sunday 24th November 2013
MELBOURNE, CherryFest 013 – VIC
TICKETS: www.cherrybar.com.au
* On sale – to be announced
The 'Black Lightning' Album is out now on Sultan Sounds / MGM
Check out our chat with The BellRays from this year HERE