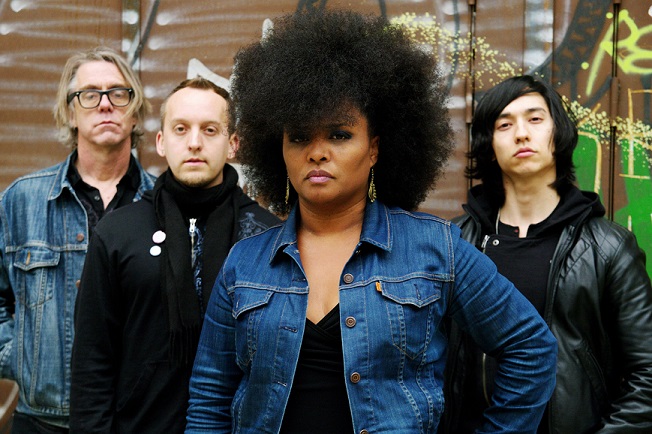 From Tour press release: Blues is the teacher. Punk is the preacher. With a band like the BellRays it's all about emotion and energy, experience and raw talent, spirit and intellect. Exciting things happen when these things collide. And Australian audiences are about to witness all the above things when the BellRays return this June for a 5-date tour.
Bob and Lisa made the BellRays happen in 1991. They wanted to play music and they wanted it to feel good. They wanted people to WANT to get up, to NEED to get up and check out what was going on. So they took everything they knew about; the Beatles,  Stevie Wonder, the Who, the Ramones, Billie Holiday, Lou Rawls, Hank Williams, the DB's, Jimmy Reed, Led Zeppelin (to name a very few) and pressed it into service.
It was never about coming up with a 'sound', or fitting in with a scene. It was about the energy that made all that music so irresistible. It was the history BEFORE Led Zeppelin that led them to that point. The Beatles thought they were playing R&B. It just came out like 'Rubber Soul'. The Ramones were trying to be Del Shannon or Neil Sedaka and out came 'Rocket to Russia'.
With the BellRays there was no conscious effort to 'combine' rock and soul because they didn't see them as divided in the first place. Blues was teaching. Punk was preaching. The BellRays were always listening.
We had lead vocalist Lisa Kekaula from the BellRays answer some questions for us as they began their Australian tour. Check them out.
Thanks for taking the time to answer these questions for us, Lisa. Now, for those here in Australia that haven't heard of the BellRays before, can you give us say five words that you think sum up the band sonically…
High energy rock and roll
So just how did you come up with the blend of musical genres that musically became BellRays sound?  
It was not a conscious effort and was quite organic. We simply started to play what we play naturally. Our allegiance was to the songs.
You're heading back to Australia in June for some shows, give us an idea of what a typical BellRays show involves, and what can people expect if they come out and catch one of your shows?
Since we come to the stage bringing it all, if you are in the audience you can expect to be called out. We expect to put on a show and we expect the audience to participate.
With a back catalogue now of fourteen albums, how do you put together a BellRays set these days?
We do what feels good to play. We play songs from other CD's as we see fit. We've never had a "hit" and because of that there are no real expectations in that regard. We've always done what feels good.
Being here before, do you have any memories of a previous trip you can share with us?
We love Anzac cookies and that has been all Bob and i have been thinking about.
Your newest single 'On Top' has just been released in Australia, and is as rockin' as it gets… is there a story or inspiration behind this one that you can share with us?
It's about what people are willing to trade for fame.  In a reality tv culture where people are ready to do whatever for "15 minutes of fame" without the blink of an eye or being culturally shamed for behaving badly. We've gotten to a point where being ill mannered is a badge of honor.
With 'Black Lightning' out for some time but now getting released in Australia before the tour, have you been working on new material that we may get to hear sooner rather than later?
Yes we have been working on a new record. "Black Lightning" is really enough for Australia to chew on at the moment. Don't be greedy.
Lisa, many would know you from the Basement Jaxx 'Good Luck' single, how did that help exposure wise for you and the band?
Well people here know me and some know the band. I've never had a "machine" of any kind behind me and talent really isn't enough make people take notice. That is just the truth of the matter.
There have been a few line-up changes over the years and you've gone through more drummers than Spinal Tap, do you feel that this current incarnation of BellRays exactly where it needs to be?
The BellRays are really good with these guys and we like them and they like us. We wrote "Black Lightning" with them in mind.
At over twenty years as a band now, is there still anything left to do that you haven't done?
Get rich or die tryin'
What does the rest of 2013 have in store for BellRays?
Finishing work on the new release.
Lastly, do you have a message for your Australian fans?
MAY THE ROCK BE WITH YOU!
Essential information
From:    Riverside, CA, USA
Check them out if you like: Punk, Rock & Soul
Band members: Lisa Kekaula, Vocals, Robert Vennum, Guitar, Justin Andres, Bass, Stefan Litronik, Drums
Website: http://www.thebellrays.com
Latest release: Black Lightning (Sultan Sounds / MGM)
Catch the BellRays on tour in Australia now
Wednesday, 12th June, 2013
Corner Hotel, MELBOURNE – VIC
TICKETS: $40.00 + bf from corherhotel.com, oztix.com.au
or in person at the Venue and Oztix outlets
Thursday 13th June, 2013
The Hi-Fi, BRISBANE – QLD
TICKETS: $35.00 + bf from thehifi.com.au
phone 1300 THE HIFI or in person at all Oztix outlets.
Friday 14th June, 2013
The Manning Bar, SYDNEY – NSW
TICKETS: $40.00 + bf from www.manningbar.com
phone 1300 762 545 or in person at all Oztix outlets.
Saturday 15th June, 2013
Coolangatta Hotel, GOLD COAST – QLD
TICKETS: $27.00 + bf from oztix www.oztix.com.au
phone 1300 762 545 or in person at all Oztix outlets.