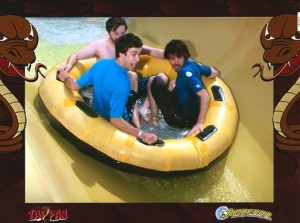 In between recording their next shout-a-long anthem and rubbing shoulders with the country's leaders, Canberra's finest slacker punk trio Super Best Friends have found time to squeeze in a series of pre-season training shows as they gear up for the release of a new single and music video.
The 1,2,3! Tour will see the band play shows in Canberra, Sydney & Melbourne on the 1st, 2nd & 3rd of August with a fistful of new songs and some fine local supports in tow.
The Besties (as they're known to their fans) kicked off 2013 with a bang, touring with Emperors in WA, following up last year's 'Handshake' EP Tour which saw the band headline in Queensland, New South Wales, Victoria and South Australia.
They've previously supported acts like British India, Children Collide, Violent Soho and Hunting Grounds on the road and Birds Of Tokyo, Frenzal Rhomb, Regurgitator, The Beards and Regular John at home.
Gun Fever, Reckoning Entertainment & International Music Concepts present
SUPER BEST FRIENDS
THE 1,2,3! TOUR
Aug 1 – Phoenix Bar, Canberra
w/ Too Soon! & Revellers
Aug 2 – 'Mum' @ The World Bar, Sydney
w/ special guests
Aug 3 – 'Black Night Crash' @ Rochester Castle, Melbourne
w/ special guests