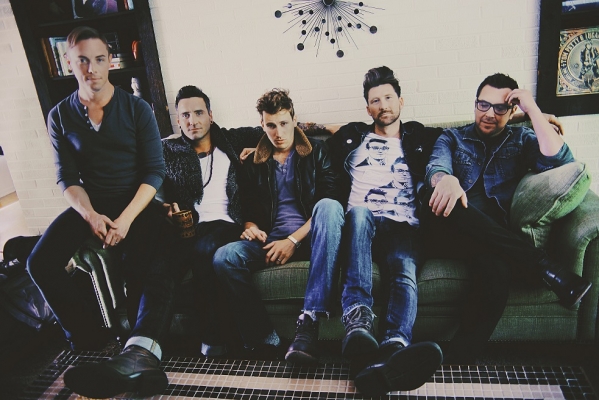 "My favourite moments are the moments when I'm in the crowd, on top of the crowd and they're just screaming along with me every word of the song. That to me is the biggest rush, the biggest adrenalin rush, some of the greatest memories and moments of playing in a band ever is just those few moments of being absolutely connected to the crowd."
Anberlin are a band we could almost claim as our own here in Australia, and if they had it their way they'd happily take that. With nine visits to our shores over their career and some special moments shared on these trips they just keep coming back for more and are welcomed every time with open arms and vocal chords. Heading back for their tenth visit they couldn't be more excited.
We chatted to Anberlin front man Stephen Christian about the bands love of Australia as well as the prospect of new material, why their fans are so important to them and more…
You're heading back to see us this September, after your 'Night with Anberlin', what can we expect this time around?
Well we have not done anything in Australia since our 'Evening With…' which was quite some time ago, about a year and a half ago and usually we come once or twice a year. First off you can be absolutely excited because it's about time we head back, this will be the first time touring on our new record 'Vital' in Australia, and on top of that we're going to bring a band called 'The Maine' from The States, they're really big, they're a really great band so we're really excited to be able to hang out with those guys.
You're also bringing along William Beckett, have you played with him before as well?
Yeah, we actually brought his band The Academy Is…  to Australia about three and a half years ago, so we've been friends with him for a while and we're excited to have him back on foreign shores and to be hanging out with that guy every day.
You mentioned your last trip here for a 'Night with Anberlin' tour was almost two years ago, now that is a long time between drinks for you and us, what took so long? Were you mad at us?
It is, so what happened was we had a tour booked and it fell through and our manager was trying to scramble and get us a different tour, but instead we said why don't we take our time and play a proper tour, we didn't want it to be hap hazard we wanted it to be special and to be big and be at the right time and this was the right time.
I could be wrong, but is this your ninth visit here?  Just what is it that keeps you coming back?
Nope, tenth… man it's the crowds, literally it's the people there, we were talking the other day and said if the band ever ends in five or ten years or whatever, we talked about even our last tour ever being in Australia, that's how much we love it. We fell in love with the country, we fell in love with the people, and the shows have just always been exciting every time we come back.
What do you think it is about the combination of Anberlin and Australia that works so well together?
I mean honestly we've talked a lot about this in the band, we don't know… I think it was one of those things where Anberlin was kind of one of the first indie rock bands to hit foreign shores and that kind of gave us an edge up on some of the other bands. Then soundwave really helped, the fact that we've played there a few times and people really grabbed onto us from there. Radio stations and all of that just kind of adds up for us to keep coming back.
Being here so many times are you going to start buying property, is that the next step?
I hope so, I'm hoping I get there and somebody gives me a property and I'm just going to move there.
So, what's your favourite place to go to here?
There's a few, you guys have glorious food there, honestly some of my favourite restaurants are there, but I think I couldn't decide between a city and I don't want to play any favourites between cities, but I'll just say I love it all. Any chance I can be in a city near a beach, which is literally every city in Australia I love it. It reminds us a lot of Florida where we're from as well but cleaner. *laughs*
Being here so many times, do you have a stand out memory of Australia you can share with us?
Well I do have a funny memory of actually the last time we were there, we were boarding a plane and this lady got on and she was sitting at the back of the plane, we were all at the back of the plane, we don't fly first class, we're not that big *laughs* and I heard her go 'Oh no, my daughter just called me and said Anberlin is on this plane on the flight, I wonder who she is? She must be up front in first class…' and the whole flight she is talking about this woman that must be on the flight and the whole time someone kept pointing to us and saying 'well I think that's them right there' and she said 'oh no, that's probably just her crew…' *laughs* it was so funny, we just heard her say the whole flight that she can't wait to meet this woman Anberlin but we were sitting right next to her.
I've seen you live before, and the energy definitely shines through on stage, what is it about playing live that you enjoy?
That's it… my favourite moments are the moments when I'm in the crowd, on top of the crowd and they're just screaming along with me every word of the song. That to me is the biggest rush, the biggest adrenalin rush, some of the greatest memories and moments of playing in a band ever is just those few moments of being absolutely connected to the crowd.
You were here last with the 'Evening With…', so how did you balance that compared to what you normally do with the intensity and energy?
Well we wanted to make it special, we wanted to make it special for Australia, like I said, this will be out tenth time, but that was our ninth and so we didn't want to be boring or bland like 'oh… Anberlin's back again…' and like I said to the crowds in Australia, we will probably never do this again, and honestly we won't, we will never do that again, that was a once in a lifetime tour opportunity. For us as musicians it was awesome, because we got to play so many more songs than we usually play in a set and so many acoustic songs and translate them in different ways and show Australia that we're not lying, we love Australia and so to be able to play a show like that or bring a band like The Maine, or something like that t show Australia that they're important to us goes a long way and shows people still care about us and we're coming back for our tenth time and people are still coming to the shows and that we love so much.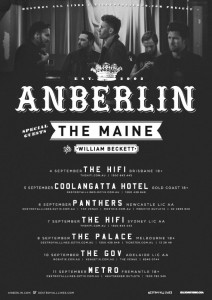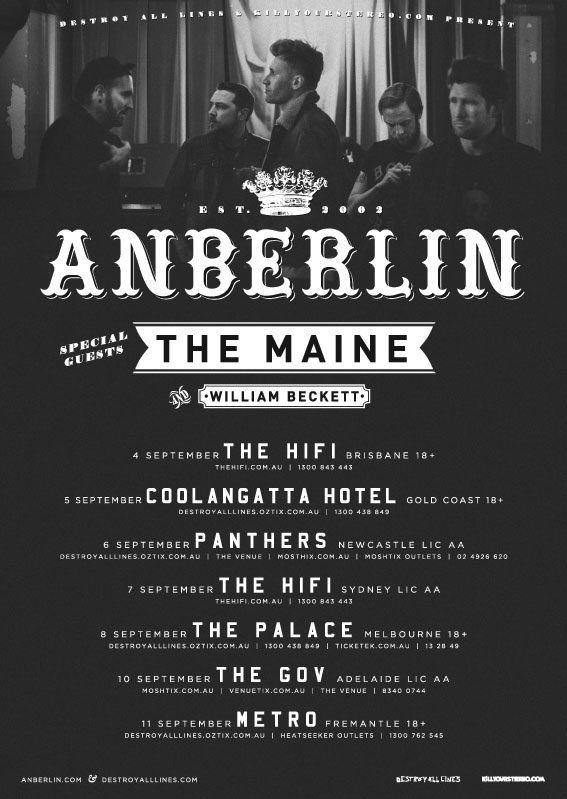 You seem to be one of the most accessible bands in relation to your fans at shows, why is that so important to you as a band?
Because we don't believe in 'Rock Stars' we don't believe that we're more important or we're better or we're any more special than anyone else so we want there to be as little as a chasm between us and our fans as possible, and if that takes doing meet and greets or acoustic performances at local record stores or whatever it takes to feel like these guys aren't rock stars or they're hiding behind their tour bus or whatever the case may be. That's kind of like a persona that we like to exude, that we're not better than anyone else.
I have to say that Vital is such a great album, it felt like it was in fact 'vital' for you guys to make it and there was so much energy throughout. Was that something you aimed for when making it?
Yeah I think in a few ways, we definitely felt like this one needed to be more energetic, we sat down and talked about the fact that some of our favourite moments of playing live was those brutally energetic moments, so why not make a record in which we would want to play the whole thing through in a live set, I think that had something to do with it. Also I had just got done recording a Anchor & Braille record which is a lot slower, they're very much on the slower end of the spectrum so I think everything inside me was ready to play and ready to record something with a lot more vigour.
It's one heck of a rock record too, did you set out to intentionally make some of the tracks so heavy for you guys?
Absolutely, I think that was Christian and Joey's mastermind in trying to create a deeper, heavier more brutal sound.
It's been out for around nine months now, have you already been writing for a new album?
Yeah, we're always writing, we're perpetually writing, so it doesn't matter if we're in the studio or touring on the record or if the record's been out for a year, either way we are always constantly writing. It doesn't negate the fact that we believe in 'Vital' we're still going to push another single here shortly, we're going to be creating another video, we're going to be doing some more tours on it, so we're going to be doing a lot more to promote it, but we're still writing. I think in 2014 we'll definitely see a new record.
I have to ask as you do have Adelaide, so let's just say you were going to write a song about another place in Australia, where would it be and why?
I think it would have to be probably Sydney because Perth just doesn't have a ring to it you know? *laughs* Perth is a very hard name of a city to add it to a song.
Yeah, very hard to rhyme with…
Um… worth, that's about it… 'I don't know what you're worth, you remind me a lot of Perth…' that's about it, I have no idea, that doesn't even make sense. *laughs*
What does the rest of 2013 have in store for Anberlin?
So right after Australia we're going to be doing a headline tour in the United States and then we're going to be heading out the UK and Europe, so it will be a lot of fun, I'm really looking forward to this fall, a lot of travelling, but a lot of good times with some really good bands. Then perhaps December play some radio shows, but really concentrate a lot on writing, then December / January hopefully record a record.
Then we'll see you back here in maybe February?
I sure hope so…
Essential Information
From: Florida, USA
Band members:  Stephen Christian – Vocals, Guitar, Deon Rexroat – Bass, Joseph Milligan – Guitar, Nathan Young – Drums, Christian McAlhaney – Guitar
Website: http://www.anberlin.com
Current release: Vital (Universal Music Australia) – Check out our review HERE
Catch Anberlin on tour in Australia this September with The Maine and William Beckett:
Wednesday 4 September – The HiFi, Brisbane – 18+
Tickets from thehifi.com.au or 1300 843 443
Thursday 5 September – The Coolangatta Hotel, Gold Coast – 18+
Tickets from destroyalllines.oztix.com.au or 1300 438 849
Friday 6 September – Panthers, Newcastle – Lic AA
Tickets from destroyalllines.oztix.com.au, Moshtix outlets, The Venue or 02 4926 620
Saturday 7 September – The Hifi, Sydney – Lic AA
Tickets from thehifi.com.au or 1300 843 443
Sunday 8 September – The Palace, Melbourne – 18+
Tickets from destroyalllines.oztix.com.au, Ticketek.com.au or 13 28 49
Tuesday 10 September June – The Gov, Adelaide – Lic AA
Tickets from moshtix.com.au, venuetix.com.au, The Venue or 8340 0744
Wednesday 11 September – Metro, Fremantle – 18+
Tickets from destroyalllines.oztix.com.au, Heatseeker outlets or 1300 762 545