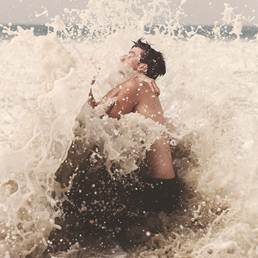 In summary: "Well done Anberlin, you've made one heck of a record."
Reviewing albums on first listen is always like flirting with disaster, what if it's no good, but by no good what if it turns out to be a 'grower' and I'm not doing it justice by only reviewing it off the first listen?  These are the things to worry about when reviewing an album this way.  Although, in saying that, if 'Vital' the sixth album by Anberlin can be judged on the opening track 'Self Starter' then this albums growth can be stunted, quick, someone throw it a packet of cigarettes.  What a start and welcome return to the guys… but it doesn't stop at the opener, 'Little Tyrants' is rocked up and even has one hell of a guitar solo in it, I know right?  Guitar solo… God bless… but Hmm… what's happening here on our next track 'Other Side'?  We have an electric style piano intro and verses, diving head on into a big chorus, interesting, but good interesting, I kinda like it.
'Someone Anyone' is the newest single lifted from Vital and the perfect choice, from the opening riff to a chorus that has your foot tapping and head nodding along at the same time (a talent to do) but this song is great, and if I wasn't playing the 'first listen' game, I'd put this one back on.  Alas… Next we have 'Intentions' and wow, in an almost AC/DC style riff to open it then joined by some Depeche Mode keyboards this could be very, very interesting… and it was and it worked, a great electro style rocker. Can I say the same about 'Innocent'? No, as this is a ballad, its ok, see, first listen, could grow on me, but it hasn't grabbed me straight away like the previous tracks, I couldn't get in to the vibe of this one, lyrically I dig it, but the whole package wasn't it for me.  Maybe I'll go back to that one later…
SEE!  There we go, someone plugged the guitars back in and turned those suckers up!  Here we have 'Desires' and I desires to hear more of this one (see what I did there?) oh yeah, here is the winner, just give it the $10,000, and this must be a staple from now on until the end of time in Anberlin's live set.  This is big, angry and loud.  I'm impressed with this one in case you hadn't guessed.  I don't need to hear any more of the album, I'm done, BUT in the interest of what I'm doing here, I'll keep going…
'Type Three' starts in the same vein as 'Innocent' but I'm hearing build, come on, you know you want to… there's some drums, good… it doesn't reach the heights I was expecting but the balance in this track is perfect actually.  The underlying piano riff makes this song and I actually quite like this one. 'Orpheum' is almost new romantic at times but has a hook of a chorus that I dig, as 'Modern Age' gets loud again, showing that balance on the album yet again and showing some killer production here, lots going on in the track but it's clean, excellent guitar work in here make it a stand out. Lastly and rounding out the album is 'God, Drugs & Sex' at just over six minutes I worry, as that spells experimental for me, but instead it's a good enough track that doubles as a duet with a female vocalist and didn't feel like six minutes at all.  A great closer to 'Vital'
So, my first listen experiment has concluded that 'Vital' is a great album, very strong, some hits on there if given the chance, it'll most definitely get a second, third and even a fourth spin in the near future.  Well done Anberlin, you've made one heck of a record.
Essential Information
From: Florida, USA
For fans of: Rock
Release date: 12 October 2012
Record label: Universal Music Australia
Producer: Aaron Sprinkle
Website: http://www.anberlin.com
Track Listing:
1. Self-Starter
2. Little Tyrants
3. Other Side
4. Someone Anyone
5. Intentions
6. Innocent
7. Desires
8. Type Three
9. Orpheum
10. Modern Age
11. God, Drugs, & Sex