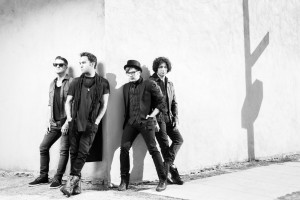 The Frontier Touring Company confirms the return of American rockers Fall Out Boy to Australia this October, this time bringing Melbourne's own British India along for the ride.
No strangers to our shores, Fall Out Boy played a pair of intimate theatre shows in March this year that sold out almost immediately after going on sale. Australians eager to catch their first glimpse of the band following their three year hiatus from the music scene and, by all accounts, were blown away by the explosive live show:  Check out OUR review of the show HERE!!
'The recently reunited Chicago quartet is as focused as ever when it comes to delivering action-packed sets readymade for impassioned sing-alongs and hectic crowd surges.' – Nova FM
'This show was everything the die-hards would've wanted and the energy feeding back to the band even from the very back rows at The Metro was incredible.' – TheMusic.com.au
This October, Fall Out Boy will head Down Under once again with Adelaide, Sydney, Melbourne and Brisbane being treated to the tight harmonies, soaring vocals and acidic sharp songwriting that the band are renowned for.
The Chicago quartet, made up of Patrick Stump on rhythm guitar/vocals, Pete Wentz on bass, Andy Hurley on drums and Joe Trohman on lead guitar, have firmly left their mark on modern music both as artists and pop culture figures since first banding together in 2001.
Four studio albums, tours across the globe, a handful of critical awards, a comic book, a fashion line, a chain of bars and a video game remake later, the band announced in 2009 that they would be going on an indefinite hiatus to pursue other projects.
During this time, the band stepped away from Fall Out Boy's signature sound with a range of solo projects. Stump released his solo debut, guitarist Joe Trohman and drummer Andrew Hurley went heavy metal with super-group The Damned Things and Pete Wentz kept busy with his electropop project Black Cards, writing a novel and hosting reality show Best Ink.
First rumours of the Fall Out Boy's return to songwriting began to circulate in early 2012 but the world had to wait with bated breath until February 2013 for official confirmation from the band of their comeback.
The track 'My Songs Know What You Did in the Dark (Light Em Up)' heralded Fall Out Boy's triumphant return after three years of absence from the stage and record shelves. The single was the first taste of the band's fifth studio album, Save Rock and Roll (out now through Universal Music), which sees the band collaborating with the likes of Big Sean, Courtney Love and music icon Elton John.
The time apart definitely lent itself to some phenomenal songwriting with the album debuting at #1 on the iTunes chart of 27 countries across the globe, debuting at the top of the Billboard 200 Chart, reaching #2 on the ARIA Album Charts and selling 154,000 copies in America alone during its first week:
'Save Rock And Roll is Fall Out Boy's biggest-sounding album to date… Ten years, almost to the day, since the release of their first full-length album, and Fall Out Boy are going stronger than ever.' – FasterLouder
'Save Rock And Roll is bonkers, brilliant and it's Fall Out Boy like you've never heard them.' – Kerrang!
'… life is more fun with Fall Out Boy than without them.' – Rolling Stone
Injecting a home grown flavour into the tour, Melbourne based rock quartet British India will be appearing as Fall Out Boy's special guests for their entire run of Australian shows.
Currently rocking out at venues nationwide on their Controller tour, British India have become a favourite of many fans and critics with their distinct brand of sharp lyrics, jagged guitars, swelling riffs and infectious hooks.
British India's released their fourth studio album Controller earlier this year, their first since signing with Liberation Music, which scored them their third consecutive debut in the Top 10 of the ARIA Album Charts. Filled with radio favourites like 'I Can Make You Love Me', 'Summer Forgive Me' and 'Plastic Souvenirs', this album is testament to the quartet's maturity and further honing of their brilliant talent since their last offering.
'…a band that will surely be scoring some serious international recognition before we know it.' The Brag
'The accomplished quartet are taking care of business just fine with a cracking new album that rocks, grinds, sways and races along in all the right places. Part pub rock, part punk and with a big bag of melodies and hooks.' – ???? Sunday Herald Sun
Do not miss the chance to see Fall Out Boy with special guests British India take the stage across the country this October. Lock the dates in your diaries and settle in for a run of powerful and explosive performances by these two rock powerhouses that may just be the rock shows of the year.
FALL OUT BOY with special guests BRITISH INDIA
OCTOBER 2013
Frontier Members pre-sale via www.frontiertouring.com/falloutboy 12noon AEST Wed 7 Aug to 12noon AEST Thu 8 Aug
General public on sale from 10am local time, Friday 9 August
Tue 22 Oct Adelaide | AEC Theatre (All Ages)
Ticketek.com.au | Ph: 132 849
Fri 25 Oct Sydney | Entertainment Centre (All Ages)
Ticketmaster.com.au | Ph: 136 100
Sat 26 Oct Melbourne | Festival Hall (All Ages)
Ticketmaster.com.au | Ph: 136 100
Sun 27 Oct Brisbane | Convention Centre (All Ages)
Ticketek.com.au | Ph: 132 849
www.falloutboy.com | www.facebook.com/falloutboy
Twitter @falloutboy
www.frontiertouring.com/falloutboy | www.facebook.com/frontiertouring
Twitter @frontiertouring