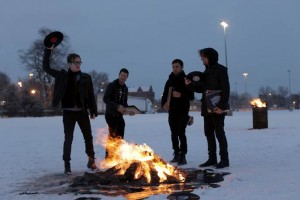 It's been four years since Fall Out Boy have been in Australia and just over three since the band went on a hiatus, but now Fall Out Boy are back and in Australia on a whirlwind promotional tour to promote their forthcoming album 'Save Rock and Roll' and tonight, we'll see if they can in fact do just that…
Now I've seen FOB a couple of times on previous trips here and their show is always fun, it's loud, it's wild and usually on a much bigger stage.  Tonight as they take the stage at Sydney's Metro Theatre I can't help but think I'm in for something pretty special here… this gig sold out in a matter of minutes if not seconds, so you know that everyone here will be feeling the love tonight and realistically probably everyone around them as it'll be a nice little squeeze tonight.
It's well over an hour and a half before FOB are set to take the stage, and the venue is already at least three quarters full and only going to get fuller as the minutes tick down. So while we wait, there's a DJ playing some noise that's making a lot of the kids happy. Yeah I think I'll duck out for a minute. Right now he's having a house party in his house… Ok as the tunes turn to some that I enjoy as do those here singing along to the likes of The Killers, Good Charlotte, Paramore and even some Fall Out Boy for good measure you can tell they're ready and this warm up is only setting things up for what will be a pretty cool night.
As the intro begins, the band take to the stage to a roof raising reception and we will now be watching a show under the stars as that thing is gone! So if that is anything to go by there are two certainties tonight A) I'll be deafer than I already am and 2) this could be one if the best shows of the year. The band gathers at the drums and it's a hands in and go team as the band launch into 'Thriller' and it's on, it's like the first time they've played it, if this energy stays up, well we are in for a treat. Straight into 'I Slept With Someone in Fall Out Boy and All I Got Was This Stupid Song Written About Me' and this has them going wild. I mean wild. The band is sounding amazing tonight, I've always been a huge fan of Patrick Stump's voice but tonight it sounds better than it ever did before. Maybe the hiatus has helped, let's put it to that. They keep going with 'A Little Less Sixteen Candles, a Little More "Touch Me"' and really, Stump could take a rest as the crowd know every word to every song and trust me they're showing us their love for Fall Out Boy right now.
Going old school with 'Dead on Arrival' and with Joe flying around the stage it's so cool to see again, I do love some stage antics.  Uh oh… Pete Wentz has said this next song is designed for a circle pit. Can The Metro cope with that? Well 'This Ain't a Scene, It's an Arms Race' tells me that yes, it can. That went off and a stand out of this set and of their catalogue that's for sure! It's back under the cork tree with 'Nobody Puts Baby in the Corner' followed by 'I'm Like a Lawyer With the Way I'm Always Trying to Get You Off (Me & You)' which even though it slowed the set down from the mayhem so far, this one was almost as loved as all those before. Who am I kidding? They won't be able to set a foot wrong tonight; I'm just waiting for them to start singing the phone book to more than likely a standing ovation… 'Tell That Mick He Just Made My List of Things to Do Today' sees them all jumping around the stage but thanks for playing, we have a winner. 'Grand Theft Autumn / Where Is Your Boy ' is referred to by Pete as their national anthem and not only is everyone standing for it but they're singing along. That was outstanding!! 'Hum Hallelujah' has them all clapping and man it's hot in here. You'd think the now roofless Metro would help but alas it's a stinker in here, but a sold out rabid FOB crowd I guess generate some heat. As crowd surfer after crowd surfer gets passed to the front the show just isn't slowing down and I know I don't want it to at all. What's next is all I want to know, as for me there's a sense of anticipation after each song, turns out it's 'Dance Dance' and they hated this one ha ha, I kid, all I can say is I'm glad I'm not in that pit. That's one hell of a song I must say, they played it like they still love it too. Always good to see, maybe it was the break and the rejuvenation of this kick ass band but that song was perfect tonight.
'What a Catch, Donnie' from their last album Folie à Deux slows it back down and you know what? Just thinking, I'm surprised there's been no new ones yet… What's with that? I was sure we'd be saturated with tracks from it considering the album is due in a couple of weeks…  Now I'm wondering if we'll get any at all? The hits continue with ' The Take Over, The Breaks Over' and guess what? It was awesome. I really I can't fault these guys at all tonight. The band is tight, they truly look like they're enjoying the show and these songs to me have never sounded better. With some witty banter about Australia they launch into 'I Don't Care' which sounds heavy and watching the animal Andy Hurly smash the shit out of his cymbals on this one is great, he's a drumming machine!
Oh ok, here we go, time for a new one as they justify the need for the new album and the title 'Save Rock and Roll' which they say sounded good as they are convinced everyone was going to make fun of it anyway so why not? I now have to say that 'My Songs Know What You Did In The Dark (Light Em Up)' sounded fucking amazing. Yes, it deserved the f bomb. This was heavy as you want and was actually beyond outstanding. You know what? They can keep the old stuff, that song just single-handedly won the night, wow is all I can say. I for one cannot wait for the new album and I have to say, man, these guys know how to write a song… plus with Butch Walker at the helm on the new album as producer it can only get better in my opinion. That new sound is maybe just what the world needs and yes, maybe the title is apt…
'Disloyal Order of Water Buffaloes' was a nice throw in, didn't expect that one at all but I did expect this one, 'Beat It' and their rocked up version, this is perfect for this environment and it was well loved as it was back in 1983… Joe tackled the Eddie Van Halen solo and that's ballsy even on paper but he did pretty good I must say. Oh thank god, I was worried they may not play this as time was clearly getting on… but 'Sugar, We're Goin' Down' is my favourite FOB song and I'm thinking it's also a favourite of many here too, and who am I kidding? They were always going to play it… As it faded out they left the stage as the chants instantly began moving from a 'Fall Out Boy' to a 'one more song' and of course it worked…
Back for the encore, after being commended for our chanting abilities, it's time for 'Thnks fr th mmrs' which is the obvious choice, not only because the song is awesome but a perfect way to sum up the night. Oh but they don't leave us there, we've got one more to go and it's old, way back! 'Saturday' is well received by the diehards and as Pete Wentz takes a microphone and braves the crowd at the front much to the love of those down there, he remains in one piece, but unfortunately with that song  they're done tonight…
So, thnks fr th mmrs tonight Fall Out Boy, you've just made a few new ones for the sold out crowd tonight, those lucky enough to be here, you best be coming back and seeing us very soon. Your old fans and soon to be new ones await their saviours of Rock and Roll…
Essential Information
Venue: The Metro Theatre – Sydney
Date: March 25, 2013
Website: www.falloutboy.com
Set List:
Thriller
I Slept With Someone in Fall Out Boy and All I Got Was This Stupid Song Written About Me
A Little Less Sixteen Candles, a Little More "Touch Me"
Dead on Arrival
This Ain't a Scene, It's an Arms Race
Nobody Puts Baby in the Corner
I'm Like a Lawyer With the Way I'm Always Trying to Get You Off (Me & You)
Tell That Mick He Just Made My List of Things to Do Today
Grand Theft Autumn / Where Is Your Boy
Hum Hallelujah
Dance Dance
What a Catch, Donnie
The Take Over, The Breaks Over
I Don't Care
My Songs Know What You Did In The Dark (Light Em Up)
Disloyal Order Of Water Buffaloes
Beat It
Sugar, We're Goin' Down
Thnks fr th mmrs
Saturday