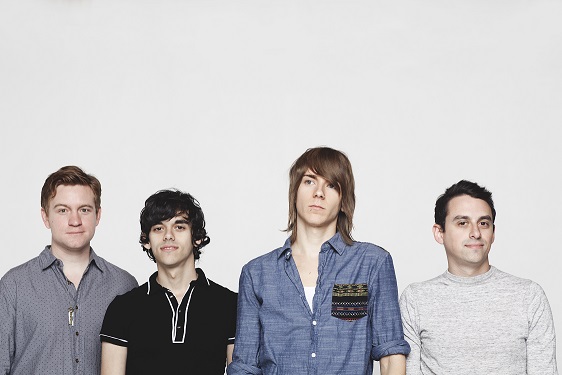 From Bio: THIS CENTURY formed in 2007, and has quickly become one of the more exciting pop/rock bands to enter the scene. Their unique combination of anthem pop and a die-hard grassroots fan base has led them to extensive tour dates with the likes of Good Charlotte, The Maine, The Ready Set, Breathe Carolina, Hey Monday and many others. The band has most recently seen a large rise in popularity in Southeast Asia, where their songs "Sound of Fire", "Everywhere, Everything", and "Bleach Blonde" have all reached #1 on top 40 radio formats and continue to receive consistent radio attention.
We dug the pop rock styling's of these guys and thought they were worthy of being one of our Best Things You've Never Heard so we had guitarist Sean answer some questions for us.
Let's start with the basics; for those that may not be aware of you, can you please give us the abridged version of the This Century story and where the name of the band came from?
Ryan and I met in a previous project that eventually split and began forming what would become of This Century.  Alex (my brother), met Joel in high school while he was singing a rendition of a Stevie Wonder song and asked him to audition for the band. Everything sort of took off from there. We were originally called Evident Earth but were forced to change our band name because of the fact that it was a terrible band name.  One day I happened to say, "we need to come up with a band name sometime this century" and the big light bulb came on. That's the actual true story on that.
Can you now please introduce each member of the band and give us a rock 'n' roll fact or myth about each of you?
Joel Kanitz (vocals) –
Ryan Gose (drums) – Once strangled a bear with only one hand.
Sean Silverman (guitar) – Has set several guitar amps on fire simply from shredding to hard
Alex Silverman (keys) – Can play approximately 1,000 instruments, many with his eyes closed.
Now, you have twenty seconds in an elevator to try and get someone to listen to your new album before they reach their floor and get out, what do you say to them?
You're about to hear the most beautiful accumulation of organized sound to hit your ears since the first recording of music was ever created…oh and hope you don't die!
'Biography of Heartbreak' is the name of your new album, but is there a story behind this song and title?
It was one of the songs written earlier on in the process and seamed to carry the weight of everything the record stood for. Sometimes you just get lucky and land upon something that feels right which was the case with this one.
In terms of your song writing, what do you consider to be the most important ingredients that make up a This Century song?
Has to be catchy, has to make you want to dance, has to juxtapose heartfelt messages guarded behind an upbeat feel.
Both lyrically and musically, what or who inspires/influences your music the most?
Tension probably inspires in the most. As weird as that might be to say, whenever that uncomfortable tension happens, interesting music ensues.  Not all tension has to be bad…it's all about harnessing it to create a great song.
This is your second full length album, did you set out to do anything differently this time compared to your debut?
This time around we were fortunate enough to have the luxury of time which I think really helped solidify the song writing process for us.  On the first record we got really bogged down on just completing something with a full picture/vision in mind. For this record we just took our time with the whole thing and focused on how to be a more cohesive band and come up with a vision that felt as connected to us as we'd ever been.
Touring wise, what do you have in the pipeline for the remainder of 2013?
We've got plans to head on overseas hopefully for a bit and then make our rounds through the states again in the fall…lots planned!
I have to ask, is Australia on your touring radar?
Absolutely! Australia is always on the radar, now we just have to find a way to get ourselves over there…we're thinking train would be tough so we're looking in to other options.
You've played with many a band throughout North America, have you been able to pick up anything from watching these bands that you now use in your shows and helped you grow as a live band?
Yeah tons…we've had the pleasure of performing with a lot of incredibly tight bands who know how to do things right. At the end of the day it's about professionalism and being humble no matter what the situation. Performing is so much more a team sport than people realize…there's techs and managers and lighting engineers and sound engineers to where if one is out of balance, it changes the entire dynamic of the performance.
A band now for six or so years, how have you already seen the band evolve in the time between your beginning and now?
We love each other more. I know that sounds like a funny thing to say but it's true. We know each others quarks and oddities and how to push each other's buttons.  This of course has become a great advantage because we've been able to musically communicate on an entirely different level to where certain things almost become second nature.
For a bit of fun, say you get the chance to open for any artist in the world, who would they be and why?
The Killers would be a huge dream come true for all of us…they've always been one of those bands that we've mutually adored forever and would do anything to share the stage with one day.
To get a little further insight into the band, let's say you were able to cover one song for your live set, what would it be and why?
We'd probably cover the song "Drive" by The Cars. It's one of our absolute favorites and kind of became a tour anthem about a year back.
 Lastly, here's a chance to gaze into your crystal ball.  In the next year, This Century will:
1. Tour as many new places as humanly possible
2. Perform the new record in its entirety
3. Try and stay sane
Check out our review of 'Biography of Heartbreak' HERE
Essential information
From: Phoenix, AZ, USA.
Check them out if you like: Pop / Rock
Band members:  Joel Kanitz – Vocals, Sean Silverman – Guitar, Alex Silverman – Bass, Ryan Gose – Drums
Website: http://www.thiscenturyband.com