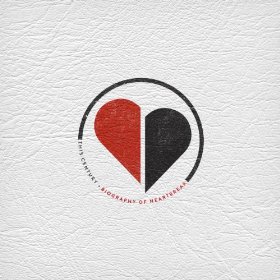 I love a bit of pop rock, you just can't beat that easy to listen to element of it and there are bands out there doing it and doing really well from it. I think of bands like 'All Time Low', 'The Maine' and 'Hot Chelle Rae' that have carved their niche. Enter This Century with their second album 'Biography of Heartbreak' and proof to me that pop rock is alive and well.
If opener 'Slow Dance Night' is anything to go by then this will be fun. The guitars are nicely blended with keyboards and at times an electronic element which does work for this band. 'Love Killer' is catchier than the common cold and 'Bleach Blonde' takes it poppier in that Simple Plan 'Summer Paradise' style and this song has already gotten This Century plenty of love internationally which is great and just one of those perfect 'promo' style songs. Now, what's next?
'Tip Toe' ahhh now this one I dig. Great melody and great feel to this one, most definitely a winner and most definitely needs to be a single. The keyboard driven pop rock continues with 'My Weakness' and with a little All Time Low kind of feel running through it, I like it. 'Run and Hide' goes back to that almost calypso sound at times throughout the verses and reminds me of Jason Mraz. The album continues with a big ballad 'Forbidden' which I like and of course a big chorus = a happy Troy. With only a few tracks left the album does a good job keeping this bands style going and this catchy pop rock we've just had on 'Biography of Heartbreak' stays true. The title track and is a great choice for the albums namesake and fits well this far in to the album. We finish with 'deadly weapon' and it's almost fair to say that this is the standout on the album, musically I dig it and it has a great melody and groove to it that works. Well done.
This Century won't change the world but they fit very nicely into the genre they play. I expect we'll hear a lot more from these guys soon…
Check out our Best Thing You Never Heard feature on This Century HERE
Essential Information
From: Phoenix, AZ, USA
For fans of: Pop Rock
Release date: Out Now
Record label: Rude Records
Producer: Colby Edgeworth
Website:  http://www.thiscenturyband.com
Track listing:
Slow Dance Night
Love Killer
Bleach Blonde
Tip Toe
My Weakness
Run & Hide
Footsteps
Skeletons
Forbidden
Sideways
Fool's Game
Biography of Heartbreak
Deadly Weapon