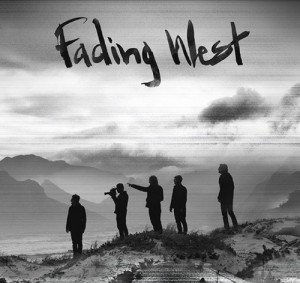 SWITCHFOOT ANNOUNCE FEATURE FILM AND NEW ALBUM FADING WEST SET FOR RELEASE IN OCTOBER, 2013
Grammy-award winning rock band Switchfoot are pleased to announce the release of their ninth studio album as well as the details behind their new feature film, both titled Fading West.  The new album will be released this October on Atlantic Records/Word, while the 80-minute film, including footage from their 2012 Australian tour will serve as the opening act on the band's storyteller-style US tour beginning September 20th.
A departure from the fuzzy, blistering guitars and bold rock sound of Vice Verses, Fading West takes the classic Switchfoot style and infuses a vast array of cultural influences collected during their 2012 World Tour that can be heard within the rhythms and sonic tapestry of the new record. With daring synth lines, inventive guitars and anthemic harmonies, this collection of songs is bigger and more powerful than anything the band has released to date. Rooted in the same hopeful message and quick turn of phrase that fans have come to love is a renewed expression of change, hope and discovering your place in the world.  While not a direct soundtrack, tracks from the new album can be heard throughout the film.
Inspired by such films as Rattle and Hum and Endless Summer, the Fading West film follows Switchfoot as they travel the globe in search of new musical inspiration and perfect waves. Directed by Matt Katsolis and filmed during Switchfoot's 2012 World Tour, the film charts the creation of the San Diego-based fivesome's upcoming ninth album in its earliest and most unpredictable stages. Part rock documentary, part surf film, and part travelogue, Fading West offers rare glimpses of the longtime surfers on their boards and in the waves, captures the frenetic energy of their live shows, and in the end portrays a journey both epic and intimate.  See the Fading West Official Trailer here.
The 9th Annual Switchfoot Bro-Am surf contest and concert returns to North County San Diego July 12-13, 2013. The festivities include the Switchfoot Bro-Am Auction Night Soiree, Moonlight Beach in Enchinitas featuring a variety of activities including a charity surf contest, a nerf surf jousting exposition between surf contest heats, The Rob Machado Bro Junior, and a live concert with Switchfoot on the beach along with special guests Gentleman Hall, Pacific Air, 78 Violet, and Gungor.
https://www.facebook.com/switchfoot
http://www.switchfoot.com/bro-am
https://twitter.com/switchfoot