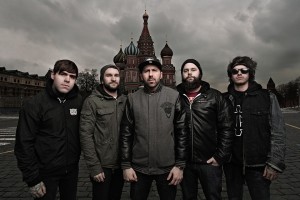 Destroy All Lines & Killyourstereo.com present – OBEY THE BRAVE – Australian Tour 2013
Forming in Canada and featuring ex-members of Despised Icon and Blind Witness, Obey The Brave are heading to Australia for the first time this coming August. Despite having formed a mere 18 months ago, Obey The Brave has already made an impact on the metalcore scene with their debut full length Young Blood released by Epitaph in August last year.
Boasting a strong DIY ethic the band has quickly built a loyal and solid fan base and had a network of over 14,000 fans on Facebook before they had even released a song. Their album Young Blood is a culmination of each individuals influences as Lepage told Killyourstereo.com last year: 'When we started writing, we just told ourselves that we'd do music everyone would like and have everyone's influences in it. In this band, we listen to everything from Smashing Pumpkins to Pantera to Alice In Chains.'
Staying true to what they believe in, Obey The Brave have admitted they aren't trying to re-invent the wheel yet they simply endeavor to deliver music they are passionate about. 'Nowadays it's hard to create something new, and when you do, the critics are strong and you get a certain reaction. Doing this band, we knew we weren't making something new, but we knew we were doing it the right way!'
Having already toured in 20 countries, Obey The Brave are ready to bring their tight and impressive live show to Australian stages.
You can check out the video for the song Get Real here
And the video for Live and Learn here
Check out our chat with Alex Erian of Obey The Brave from last year HERE
Make sure you catch Obey The Brave when they are in your city.
Tickets are on sale Thursday June 13 at 9am.
Friday 16 August 13 – Blackmarket, Adelaide (18+)
Tickets available at the door
Saturday 17 August 13 – Bang, Melbourne (18+)
Tickets available at the door
Sunday 18 August 13 – Mordialloc Metal & Hardcore Fest (Allen Mclean Hall), Melbourne (AA)
Tickets available from Oztix on 1300 762 545, www.destroyalllines.oztix.com.au and Oztix Outlets
Tuesday 20 August 13 – Pott Belly, Canberra (18+)
Tickets available from Oztix on 1300 762 545, www.destroyalllines.oztix.com.au and Oztix Outlets
Wednesday 21 August 13 – The Vault, Newcastle (AA)
Tickets available from Oztix on 1300 762 545, www.destroyalllines.oztix.com.au and Oztix Outlets
Thursday 22 August 13 – Hot Damn, Sydney (18+)
Tickets available at the door
Friday 23 August 13 – Studio Six, Sutherland (LIC/AA)
Tickets available from Oztix on 1300 762 545, www.destroyalllines.oztix.com.au and Oztix Outlets
Saturday 24 August 13 – Thriller, Brisbane (18+)
Tickets available at the door
Sunday 25 August 13 – Tall Poppies Studios, Brisbane (AA)
Tickets available from Oztix on 1300 762 545, www.destroyalllines.oztix.com.au and Oztix Outlets