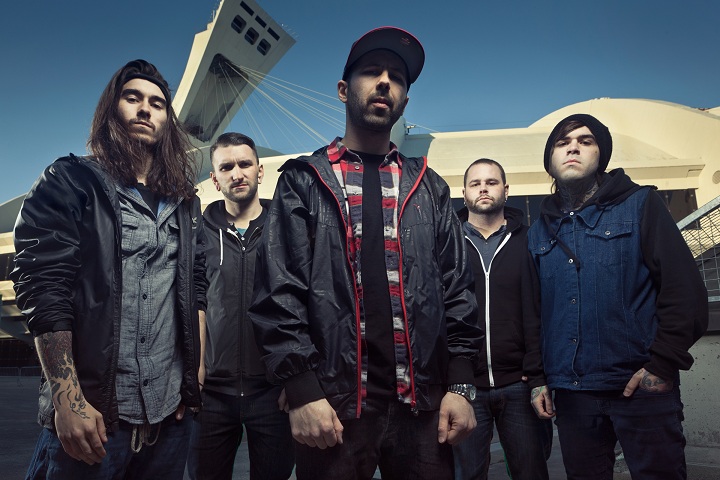 "The opening track 'Lifestyle' says straight up; "We're not trying to reinvent the wheel, we keep it simple, we keep it real." We're just a bunch of friends hanging out playing music for the right reasons, tied by our common goals, we all want the same thing, we're all on the same page and it's just as simple as that."
Obey The Brave first emerged onto the landscape of aggressive audio at the foot of 2012, combining some ex-members of heralded deathcore outfit Despised Icon and metalcore quintet Blind Witness. Their debut album 'Young Blood' is one hell of a first impression for fans of heavy music. It's metalcore that leans more towards the "core" and, like Erian's aforementioned lyrics above make clear, the appeal doesn't come from anything revolutionary, but rather the ferocity and passion with which these familiar elements are combined and delivered.
We chatted to Obey The Brave front man Alex Erian about the band, their debut album and what being on a label like Epitaph means for him and the band…
You've only been together since January and have a debut album out that sounds like you've been doing it together for years, what is it that made it work so well?
Well we've all played in a lot of bands in the past, we definitely knew what we were getting ourselves involved in, definitely knew what to do and what not to do and we luckily we all have that band experience or touring experience or recording experience and we've all been in various bands prior to this one, so definitely made things a while lot easier when starting 'Obey The Brave'.  Essentially we started out mid 2011, I used to be in a band called 'Despised Icon', some the dudes used to be in a band on Mediaskare called 'Blind Witness' and some of the other guys were the local heroes in 'Darkness Rites' which were a melodic death metal band.  As I said we all just grew up in the same scene, we were all friends and once our bands all ended sort of had the same time, we were all still very hungry to keep playing music, to keep recording records and playing shows and being on the road and doing that whole touring lifestyle.  We're just a bunch of friends that gathered and started a band and we're all on the same page and things have been going really smoothly so far, so knock on wood, we're stoked so far.
The creation of the band itself, seemed it was really a case of good timing with recruitment if you like of the members, was it something that worked perfectly or was there some work to get 'Obey The Brave' to where you wanted it from the start?
I mean, I was in a mindset where I had been touring for a good six or seven years straight full time and all my previous band mates wanted to try out something different and I did and I quickly tried to follow my friends footsteps in 'Despised Icon' and I just stumbled across a wall, and thought 'wow man this is really not what I want to be doing' like I had a great 9-5 job, very steady job, great pay check, great team, it was just really not what I wanted to do.  So as I progressed in 2011 I just did everything I could to get back in to that whole music lifestyle and it's been an adventure man, just starting over, all over again and actually being lucky with it twice and getting a deal on Epitaph and all that, it's just a combination of good timing, good friends and a lot of hard work I guess.
Being your debut album, did you set out to do anything on 'Young Blood' specifically to introduce 'Obey The Brave' to the world?
The opening track 'Lifestyle' says straight up; "We're not trying to reinvent the wheel, we keep it simple, we keep it real." We're just a bunch of friends hanging out playing music for the right reasons, tied by our common goals, we all want the same thing, we're all on the same page and it's just as simple as that.
By bringing in members from different bands, was everyone able to bring something to the table in the recording process that others may not have considered previously?
To be honest, the whole writing process was mostly a collaborative effort between John the guitar player and I, he normally comes up with the skeleton of the song and then I'm like that really picky bastard that says 'Hey man, you should rework this song structure, try to flush out that riff, try to improve that one, what do you think if we try this instead?' and next thing you know we're got a song on our hands.  Everybody definitely has a word to say on the music, everyone definitely had some input in to how the songs were put together and recorded, it's all very important for us that everybody is playing music that they're passionate about and not just playing what they're told.  This is 'Young Blood' it's not just John Campbell and Alex Erian, we are 'Young Blood.'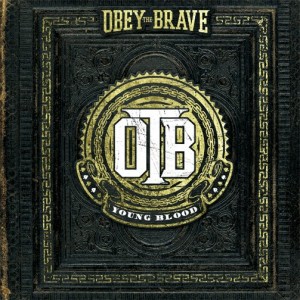 Was there a specific concept you were going for when putting the album together?
Everything was sort of based on that mindset I was in in 2011, if we just take a look at 'Young Blood' the album title and all the lyrical content, Young Blood, as cheesy as it may sound man, it's just about staying young at heart and doing everything you possibly can to achieve those goals.  I grew up with a lot of people that wanted to be this or that when they grew up, the next thing you know ten years later they wake up down the line and think how did I get caught up in this grind, this is not how I pictured things, this is not what I wanted to do, this is not where I want to be and Young Blood is just doing everything it possibly can to get where you want to be.  So 2011 was just a big year of change for me, me coming to the realisation that music isn't just a phase for me, it's something that I want to do, something that I want to be, it's a way of life, it's a lifestyle, so just me being faced with the fact I was no longer in a touring band and here I was in 'Despised Icon' selling thousands of records and playing in thirty five different countries, played all the big festivals like Wacken and all that, I was on top of the world, I was having a great time and all of a sudden all that came to an end and I just really, really missed it.  I was miserable to honest because of that, this is just me being honest and 'Obey The Brave' is just me regaining that positive state of mind, it's just doing everything I possibly can to keep my head up, stay positive and overcome whatever obstacles may come my way in front of that big life plan that is music ha ha ha.
Is it fair to say then that songs like 'It Starts Today' and 'Time For Change' relate to that situation?
The fact that we released the single 'It Starts Today' on the album street date is very symbolic for me. 'It Starts Today' is the first song I wrote with 'Obey The Brave', it's quite simply, me just coming to that realisation that I'm not where I want to be, and today is the day where things end and things start, the ending of something I did not want to be part of and the beginning of a new era or a new story in my life and me quite possibly doing everything I can to get to where I want to be essentially.  So 'It Starts Today' and actually releasing it on the street date is just a way for me to yell victory at the top of my lungs ha ha ha.
What do you think it is that will make 'Obey The Brave' stand out over other bands?
It's hard to say man, we were all in bands back in the day and we were all trying to invent this or come up with the freshest new idea and stuff like that and this time around with 'Obey The Brave' quite frankly, like we say in 'Lifestyle' the opening words on the record are quite simply 'Not trying to reinvent the wheel, we keep it simple, we keep it real.' So it's just us in a nutshell, we're not trying to come up with a new style of metal and try to impress everyone with this or that, we're just trying to play music that we strongly feel passionate about and that we really associate ourselves with, so I guess the key word would be just staying genuine and really acknowledging our musical root sand what comes out of our heads.
The album has only been out a week but the buzz around it and the band has been huge, what do you think it was that attracted to the band so quickly?
I mean we try to pace ourselves, we've been sitting on these songs for a little while and at one point we were considering releasing all of them all at once but we really wanted to make everything count, so steadily but surely we would release a single every two months or so, accompanied by a music video and I think that really helped us stand out and just the general support from the fans out there and them just realising that we were doing everything DIY, we had no publicist, we had no label by our side, we had no booking agent, nothing, we were doing everything could to promote ourselves, book ourselves , record out of our own pocket, pay for videos out of our own pocket, working day and night to get this shit done and I think people saw how strongly we felt about this band and instantly related to that and to the music and fair enough.  Thanks to all these social networks out there because that's the only thing free that offers itself to us and people have been helping us spread the good word, here we are eight months later with already a few tours under our belts, a bunch of tours in the works and a record that's been out for a week and yeah man, it's unreal…
What does being on a label like Epitaph mean for the band?
If for instance 31 year old Alex was to meet 13 year old Alex and would tell him 'Yo dude, fifteen / twenty years from now you're gonna be singed to Epitaph' I would've been 'Fuck you man. Impossible' cause back then I was listening to what I used to call Skater Punk, I just picture myself in 93, 94 and 95 listening to Pennywise 'Unknown Road', NOFX 'Punk In Drublic, Rancid '…And Out Come The Wolves' or 'Let's Go', Millencolin 'Life on a Plate' or even Offspring 'Smash' a timeless record.  All these classic punk rock records and here I am actually like a label mate with all those dudes, so it definitely feels like I won the lottery.  I definitely worked hard to get where I am now and definitely up to the challenge, it's quite an honour to be an Epitaph records artist, it's definitely an honour.
Obviously touring will be a big part of the band, so what can people expect of they come out to see one of your shows?
Anyone that's heard 'Young Blood' what you hear on CD is what you get live, no fireworks, no studio magic or anything. We consider ourselves a live band before anything else, our record really translates well live and definitely a lot of chaos, a lot of energy, this band to us is a way of venting all of our frustrations, so intensity would be another way to describe it.
You've been here before, but are there any plans to come and play for us in Australia?
The fine people at the agency group are working on that right now, so if all goes to plan we will be touring Australia at some point in 2013, and extremely looking forward to that.  I've had the opportunity to tour Australia once for about a week or so in late 2010 with Despised Icon, such an amazing run, had a great time and definitely looking forward to reliving that all over again.
Have the other guys been here before?
No they have not, all they're heard are some of my tour stories and that's it ha ha.
I know with some bands on a debut they write so much material that a second album follows very quickly, could this be the case for 'Obey The Brave'?  Even though the debut just dropped, can we expect to hear new material sooner rather than later do you think?
It's the type of thing the label probably doesn't want you to say, but yes we actually already started writing new material not because we're obligated to, not because we're tired of the new record or whatever, just because we're all about playing music and we enjoy it, we enjoy coming up with new tracks, we already have songs in the works, definitely want to be productive but not sacrifice quality for quantity.  If all goes to plan we will probably have another record out a year from now, so that's definitely our intention to get our music out there.
Essential Information
From: Montreal & Ottawa
Band members: Alex Erian – Vocals, Miguel Lepage – Bass , John Campbell – Guitar, Greg Wood – Guitar, Stevie Morotti – Drums
Website:  www.obeythebrave.com
Latest release: Young Blood (Epitaph Records)