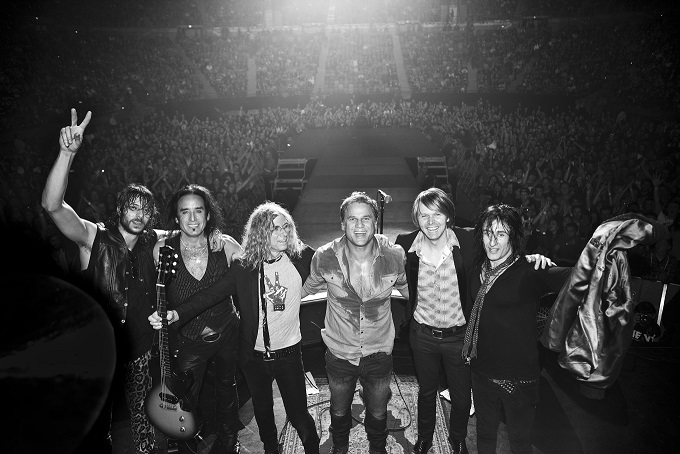 "Well for me after all these years of touring, and playing live I just wanted The Dead Daisies to be a true band, no bells and whistles, just keep it really simple and make it rock and good melodies and guitar riffs."
A legend of the Australian music scene for well over twenty five years now, Jon Stevens is of course best known for his work in Noiseworks, but now with his new band The Dead Daisies, he's excited to be bringing us this new band and new material. With its classic rock vibe and groove, and with it already picking up momentum, this is definitely a band to check out now and to look out for in the future.
We caught up with Jon as he'd jetted back in from Adelaide while on tour with Jesus Christ Superstar, so we chatted about The Dead Daisies, their sound, shows and upcoming US tour as well as a little catch up on what Noiseworks have been up to…
I have to start by asking what's the reaction been to the band so far?
Fantastic, and I'd expected it funnily enough because I think the thing with The Dead Daisies is that it started out with just David (Lowy) and I just writing songs together and getting excited about that and then getting everyone involved and had a couple of gigs come up and think 'oh, we're going to play some shows *laughs*' and all of a sudden there's all this interest and stuff and it's just really exciting. With the Uproar festival coming up in August, it's really going to be a lot of fun and just a great thing to be a part of and to launch the band.
That was my next question, you've just been announced to head to The States on the Uproar festival, how did that come about and are you ready for the festival circuit?
I' m ready to head out anywhere, we're all seasoned professionals I suppose so it's not about being ready, it's just about going out and playing and doing what we normally do, whether it's on the Uproar festival or to ten kids down the street, we're gonna play the same you know what I mean? So yeah I'm ready to go home for a minute because I've been away the last couple of weeks, I just got back, I was doing the superstar tour…
You've recently been busy with the support slots for the ZZ Top and Aerosmith tours, how were those shows for you guys, were people very receptive?
Very, very receptive indeed, and because we didn't really say anything we just turned up and played and it took a while for people to go 'fuckin' hell that's Jon Stevens, and that's that other guy' so it was one of those ones where they're into it and then they realise, but the songs you know, they dug the music first and foremost, but the level of players that are committed to their instruments, and that as a force of nature is always a good thing.
The band seems to be recruiting; now with Dizzy Reed from Guns N Roses joining the US tour, do you think this will be the norm with certain players coming and going?
Pretty much, I think obviously David and I are the core, and Charley is pretty keen to get more involved and same with Richard, so these are all works in progress and developing and I'm open to it all. I'm not really that precious about it and all that kind of thing, everybody works for other people you know, and I work for myself, so does David. If they become permanent members of the band then awesome, but at this stage the revolving door policy is based purely on the music and wanting to be involved, different people and that's really good and I want to keep it that way.
When was the last time you played in the US?
Probably been a few years, last time was really with INXS when we toured for months on end.
Are you pumped to be getting back for some shows?
I'm excited to get over there and play some shows with my band, you know?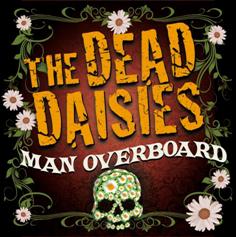 You're giving away your 'Man Overboard' EP to coincide with the US trip, but when we spoke to David Lowy recently he mentioned that a full length album was already done, when do you think we can expect to hear that?
It's probably by the time we finish this American tour, the single is out and now there's the EP and we'll just keep putting music out.
From a song writing point of view, how do you approach The Dead Daisies material as there really is that classic sounding vibe, was that something you set out to do specifically?
Classic sound is that the songs work on acoustic guitar, that's how we wrote them, we just sat around playing acoustic guitars, if they work there, they work anywhere. That's basically the bottom line. Well for me after all these years of touring, and playing live I just wanted The Dead Daisies to be a true band, no bells and whistles, just keep it really simple and make it rock and good melodies and guitar riffs.
I enjoyed the interactive video for 'Lock N Load' were you happy with the end result?
Yeah, I think it was kind of cool for people to have a choice. As far as being happy with it, the song is such a heavy song lyrically that we talked and the story and we talked about doing the whole doco style and really making it hit home and it was like 'nah, the song speaks for itself let's go the opposite' and I think the video was kind of quite cool and as much as it was a different sense, there wasn't all the blood and the gore *laughs* of the song.
It's such a rockin' track and of course with Slash on there, how did all that come about?
I've known him for years, we've been mates for years and we wrote a bunch of songs together and basically when The Dead Daisies became real and we recorded that song David and I, it was that song I pulled that song out and said you know what, I love this song and it sounds like The Dead Daisies. So, I guess in a sense it probably set it up as well, because it was an afterthought funnily enough *laughs*, yeah because I'd forgotten about it, I've got tonnes of songs and Slash and I wrote a whole bunch of stuff and it just seemed like the one I felt fitted The Dead Daisies, so I sent Slash The Dead Daisies stuff and said, 'here's what we're doing, I want to record our song, what do you think?' Obviously if he hated the band he'd say no way, you've got to pay respect. He went 'Love it, fuckin' love it, it's awesome' so then it was the case of we've got to re-record the song, when do you have time to put the guitars on it? That took a while because he's pretty busy, but thank goodness he went in one afternoon in L.A and threw it down.
Are you slowly now working your way through all incarnations of Guns N Roses and hope to one day have played with them all?
*laughs* it's quite funny really isn't it… funnily enough, Dizzy I've met before when I was with INXS, he came to one of our gigs, he's a great bloke. I don't know, a friend is a friend is a friend you know.
How different is it for you in The Dead Daisies compared to playing in Noiseworks?
Oh it's probably because it's so fresh, the music is so fresh and new for me and the musicianship is just beyond, and it's great to be with guys that just get it and that are just very very experienced, and we're just having fun, and out of that stuff just tends to breathe a bit more. When you mention Noiseworks, for me as a young man, Noiseworks to me was the be all and end all for all of us and it eventually broke the band up, and there was fallings out here and there, the typical sort of band thing, but now as older and wiser more experience blokes we were able to play together as Noiseworks, and we're nearly finished an album, I've just got to find time, I go in at the end of the month and finish up the Noiseworks album, which is awesome. But, completely different band, completely different personalities, but Noiseworks is an awesome band.
You're a busy boy, jumping on the Jesus Christ Superstar tour as well, but in a different role this time around, are you looking forward to getting back on that show?
Yeah we just got back from Adelaide and Perth, now that is pretty amazing to be reinvolved in that I've got to say and I'm really enjoying it, it's an amazing production. I'm playing Pontius Pilot, this time around which is more of an acting role, it's kind of weird as there's not much singing *laughs*, this whole show anyway, it's a dramatization, it's modern take on it and I'm too old to play Judas, let's put it that way, well in my mind anyway, I could sing the shit out of it no problem, but it's the UK production so they just needed to get me up to speed on Pilot and that was that.
After the US tour, what does the remainder of the year have in store for The Dead Daisies?
We're looking at going to Europe in November and December, but certainly want to get some Australian dates in there, hopefully we can get some traction by doing this US tour with the music and if we can get something played over there then I'm sure then unfortunately maybe people will play it over here, we have to go overseas to get something happening, played in our own country, It's kind of weird. You know what? I think we're just an old boy band, like One Direction, we should be called No Direction *laughs* or Full of Direction… anyway *laughs*
Well best of luck on the tour and with the EP and we'll see you soon.
Thank you man, appreciate it.
Check out our chat with David Lowy of The Dead Daisies HERE

Essential Information
From: Australia
Band members: Jon Stevens as lead singer and front man (Noiseworks, INXS), Richard Fortus on rhythm and lead guitar (Guns N Roses),  Charley Drayton on the drums (The Divinyls, Cold Chisel),  Jim Hilbun on bass and sax (The Angels, The Divinyls), David Lowy on rhythm guitar (Red Phoenix, Mink, The Angels), Marco Mendoza on bass (Thin Lizzy, Black Star Riders), and Alan Mansfield on keys (Robert Palmer, Dragon). Plus anyone else who comes along…
Website: http://www.thedeaddaisies.com
Latest Release: Man Overboard EP. You can download it for FREE here…