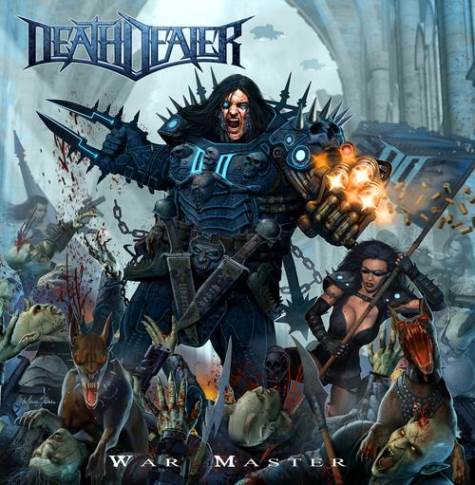 "Well… it's not exactly power metal, it's not exactly thrash metal, I've been in the business too long and I hate putting a description on it, but I would say it's Heavy Metal, it's just Heavy Metal. It's got bits of everything in it, brutal, thrash, power, it's just the only thing I can say it's just righteous Heavy Metal. Righteous."
From Bio: Featuring members that previously worked with the likes of Manowar, the Dictators, Rob Halford, Lizzy Borden, Udo Dirkschneider, and Cage, the newly formed DeathDealer are a true heavy metal force to be reckoned with. And their over-the-top debut, 'Warmaster,' certainly proves this.
Comprised of vocalist Sean Peck, guitarists Ross the Boss and Stu Marshall, bassist Mike Davis, and drummer Rhino, DeathDealer is setting out to convert the metal masses to their brand of manly metal.
Some say it was Tony Danza, but today and for about forty years, the real Boss has been Ross… You may know him from Manowar or maybe The Dictators, but now with Death Dealer, he is metal once more and we chatted to Ross The Boss about this kick ass new band and how it all came together and about their debut album 'Warmaster' check it out…
How did Death Dealer come about and why was now the right time to put this new band together?
Why was it the right time? Well first of all the band was started by Sean Peck and Stu Marshall about fourteen months ago, they called me on facebook, I was contacted on facebook, and it's a really interesting story, Sean goes 'Hi Man, what's going on… blah blah blah' and it was at election time and we were talking about politics and then he asked if I'd like to play on a couple of songs he did. I was like yeah sure, fine, great, as I'd played with a lot of people like that and I thought sure, we started talking and then the next day Stu Marshall calls me and I really didn't know who he was and he says 'I know you've been talking to Sean, you're one of my idols and I love the way you play guitar and I grew up on your music…' and I'm working with Sean and it's really pretty cool. So when I finished talking to him I did a little research and found out Stuf was this really amazing guitar player and Sean was this amazing singer from 'Cage', so the next day Sean calls me and says 'how you doin?' I say I'm fine and what's going on? He says 'Well what do you think? I have a concept for a band' I say 'You have a concept for a band?' he says 'It's called Death Dealer' I say 'You've got a name for it already?' he goes 'Yep' I say, 'OK, well who's in the band' he says 'Well, it's me singing, Stu on guitar and you if you agree to be in the band, and then I have this guy Mike Davis from Halford and Lizzy Borden' and I say 'Who's the drummer?' he says 'Rhino' and I said 'Rhino? I'm in the band…' *laughs*
A metal band forming on facebook is pretty much the most metal thing ever I have to say…
It's unbelievable, it's amazing how it happened and then when I agreed to do it, we all got together on the West Coast and we had a bunch of songs and we laid down the basic tracks on a lot of them and then we all went our separate ways home again. Finally we just started internetting and skyping and working on the record that way to do the rest of the record.
How would you describe the sound of Death Dealer?
Awww sheesh… well… it's not exactly power metal, it's not exactly thrash metal, I've been in the business too long and I hate putting a description on it, but I would say it's Heavy Metal, it's just Heavy Metal. It's got bits of everything in it, brutal, thrash, power, it's just the only thing I can say it's just righteous Heavy Metal. Righteous.
I listen to it and it's like you've taken the best from a mix of Heavy Metal bands out there and created the best album that Priest never made, did this sound for the band evolve naturally or was it clear from the start?
Yeah it's a combination of the five of us, and these songs and I think it's just a very special chemical reaction between the five of us and these songs you know? As time coming together like this, it was one of those things, I just can't describe it, it's amazing how it went.
What about working with Stu, a fellow Aussie, with the twin guitar assault, the sound on the album is amazing, was there just that perfect balance when you started playing or did it take a little while to get that going?
Well it took us a little while, but the thing about Stu is that I really admire him and we really got to be good friends and I'm the kind of guy that I've done so many things already in my life, in my career, that I don't care about competition, I don't care about that, all I care about is the song and the way the band comes off. The two of us, we really admire each other, and I don't sound like him and he doesn't sound like me, there's no possible way that's going to happen, so together what we do is a great thing, our individual solos are individual of course but when we play together it's probably the most fun thing for me to do, it's really, really great. We admire Thin Lizzy as a band, we're big fans of the two guitar players so we're really looking forward to pushing that out.
This is your first time playing with Rhino also I believe, both coming from different eras of Manowar, was it awkward at all or did that in fact make it a better instant working relationship?
The first time I've ever played with him in a group, right. We've had jams and it's truly a special thing for me to work with Rhino. Rhino is a tremendous guy, he'd dedicated, great singer, great songwriter, great musician in his own right, and I'm so happy to be working in a band together, we've always wanted to do it.
Song wise, how did they come together and what inspired the tracks that ended up on 'Warmaster'?
Like I said, we went to Sean's house early on and we worked it out, there was a couple of songs written already, but most of them were ideas, half songs and we all put them together at Sean's place on the West Coast and then we kept building on it.
The title itself, is there a specific meaning behind it you can share with us?
The tremendous cover art by Marc Sasso, I mean that guy is The Warmaster, we're not saying we're a band and we want war, it's a fantasy thing, Warmaster, we are declaring that a state of war exists in coming out with this, there's no doubt about it, that's on our minds but as far as The Warmaster goes, that guy is the Warmaster.
The cover art is brutal and takes me back to those killer old metal album covers, was that intentional or did the sound of this band just lend itself to this imagery?
Exactly, you have to see in the preorder packs, we sent them out to our most crazy fans; they wanted it before the album got released and the art book, and Marc Sasso's liner notes and our liner notes and Marc Sasso's sketches are unbelievable. Some of the stuff he's done, his work is amazing. I think this has been missing for a long time in metal this kind of band, I really think it's been missing.
With it being done for a while now, are you excited to finally be able to unleash it on the world?
Yeah, we have a Japanese release and it's going great, the record came out last week in Europe and so far the reports have been amazing, it's been really great. Everybody that has the record loves it, it's basically selling itself.
Touring wise, what are the plans for Death Dealer and could we expect to see you down here in Australia anytime soon?
You know what? We're going to visit Japan maybe in late November or next year and we want to add Australia when we're there, I wouldn't be surprised if we added more than two dates in Australia, hopefully. As many as we can get, but we hope to put Australia of course, there's quite a bit of interest in Australia that's for sure.
It seems that there's some excitement around this band and album, are you already writing for a future release?
Yes, we do have a bunch of songs for phase two, and we'll be going to LA at the end of next week on the 30th and we'll commence with rehearsal for shows and song writing too. We stay ahead of the game, that's the deal.
How do you see Metal now compared to when you started playing it back in 1980?
Well I would say in 1980 that Heavy Metal was really the language of everyone, Rock and Roll was the language of everyone, nowadays its huge, but it's fractionalised I would say. To the audience it's gigantic, but it's spread around the world. Back in the 80's when MTV started it was all over MTV, so it had massive exposure.
I'm finding that a lot of the bands from back then say your Maiden's and Priest's are having a bit of a resurgence, and it seems that this sound is becoming more prominent again and it's great…
Yes, Heavy Metal is in great shape, it really is in very healthy shape, all the old bands, all the classic bands, Rush is still around, Priest, Maiden, Slayer, Anthrax, Metallica… there's a really healthy atmosphere around Heavy Metal.
You mentioned you're going back in to write, but what sort of touring do you have set up for the remainder of 2013?
Well as you can imagine, dates are being added as we speak, so we're looking at four shows on the West Coast, one in Mexico in two weeks. We have a European run set for November we will lead off with that.
Essential information
From: Global!
Check them out if you like: Heavy Metal!!
Band members: Sean Peck – Vocals, Stu Marshall – Guitar, Ross the Boss – Guitar, Rhino – Drums, Mike Davis – Bass
Website: http://www.deathdealer.co
Latest Release: Warmaster – check out our review HERE